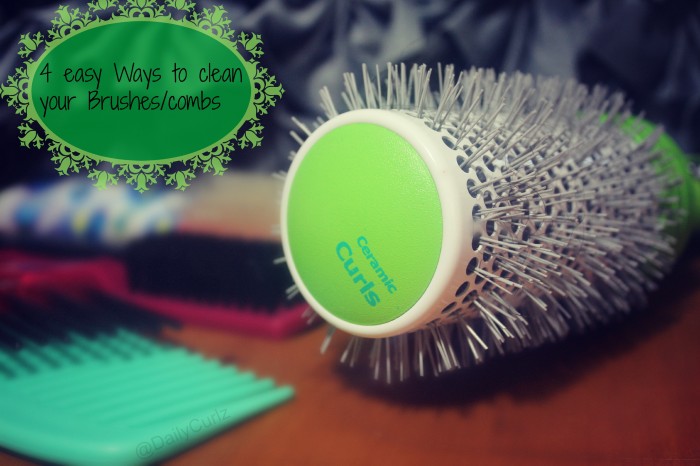 I have amazing natural hair brushes and combs, after trying a few, I finally got the ones I needed for all my natural hair necessities. It is common that we forget about the " cleaning", but keep in mind that used brushes and combs collect all sorts of  things like dead skin cells, product build up, dirt and more.
I don't know about you, but I'd like to continue detangling and taming my hair without developing a raging case of bacteria and dandruff, so it is very important to clean your brushes/combs at least once a month— There are four household items you can use to clean your hair brushes or combs.
1. CLARIFYING SHAMPOO: Fill a bowl with lukewarm water and add clarifying shampoo. Swirl each brush around in the water until you've worked up a lather and rinse beneath the faucet until the water runs clear.
2. CASTILE SOAP: Made from 100 percent plant oils. This true soap, biodegradable and very earth-friendly, is just amazing to clean your brushes and combs. You can use bar or liquid, if you are using a bar just wet your brush and swirl around on it and rinse out the lather, if you are using liquid, add it to lukewarm water, swirl the brushes/combs in it till lather and rinse.
3. DISH DETERGENT" Not my favorite option, but hey, you have to work with what you have, right? You can use dish detergent the same way you shampoo above.
4. A MILD OIL: Take a few drops of olive or almond oil and start massaging all the gunk out of your brushes to remove any build up or dirt, then follow with any of the options above.
Any of these techniques also apply to your makeup brushes, and despite of the technique you use to clean your brushes or combs, make sure to rinse it well and let it air dry. Some hair brushes may ruin if you let them dry standing upward because the water will settle into the glue that's holding all the bristles together, and everything will start coming apart, instead, lay your brushes flat on a towel.
Español
Después de tratar varias opciones de cepillos y peines para mi cabello rizado, puedo decir que tengo los que necesito para cada necesidad. Muchas veces nos olvidamos que los cepillos y peines también necesitan una lavada de vez en cuando, pero ten en cuenta que estos atrapan sucio, células muertas de la piel, producto y mucho más .
Yo no sé ustedes, pero me gustaría seguir desenredado y domar mi cabello sin el miedo de desarrollar una enfermedad en el cuero cabelludo, bacteria, caspa y hasta algo peor, por lo tanto es muy importante el lavar los cepillos/peines por lo menos una vez al mes – Hay cuatro ingredientes caseros que puedes utilizar para limpiar los cepillos o peines para el cabello.
1 . CHAMPÚ CLARIFICANTE  : Llena un recipiente con agua tibia y agrega champú. Agita cada cepillo en el agua hasta que haga espuma , luego enjuga bajo el grifo hasta que el agua salga clara.
2 . JABON DE CASTILLA:Hecho a partir de aceites vegetales, este verdadero jabón, biodegradable y muy amigable con la Tierra , es simplemente increíble para limpiar los cepillos y peines. Puedes utilizar barra o líquido, si estás utilizando una barra pasa la brocha mojada por el jabón hasta hacer espuma y luego enjuaga, si estas utilizando líquido añadirlo al agua tibia, revuelve el cepillo/peines de hasta hacer espuma y luego enjugar.
3 . JABON LIQUIDO DE FREGAR:No es mi opción favorita, pero bueno, hay que trabajar con lo que uno tiene a mano.Puede utilizar el detergente para lavar platos igual que el champu.
4 . UN ACEITE SUAVE : Toma unas gotas de aceite de oliva o de almendras y empezar a tasajear toda la mugre de tus cepillos para eliminar cualquier acumulación o sucio, sigue con cualquier metodo de lavado de arriba.
Cualquiera de estas técnicas también se aplica a los pinceles de maquillaje, sin importar el método que uses para para limpiar los cepillos o peines, asegúrate de enjuagar bien y dejar secar al aire. Algunas brochas hechas de pelo se pueden arruinar si se les deja secar de pie hacia arriba porque el agua se asentará en el pegamento que está deteniendo todas las cerdas, y todo se puede despegar, en vez pon lo pinceles planos sobre una toalla.