When I first saw this beautifull Ebony color women in the back of one my favorite artist I was amaze with her beauty, color and of course her hair. By that time I was thinking about cut all my relax hair and at some point to see her so proud , so pretty, so fear, gave me the courage to do it…
I wants to interview he r for so long, and I was afraid as a public figure she didn't want it to… and OH my surprise,she is so humble, nice and lovely..
who is Amara la negra?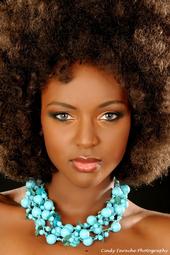 Diana Danelys De Los Santos, also known as Amara "La Negra" is a sensual artistic lady with a style of her own; Singer, Song Writer, Actress, Model & Dancer.  she is  signed to The Label EDB/Dejav Vu Latino and currently working as a TV Host in
Mega Tv
"
A Tacon Quitao
" Mon-Fri 5pm-6pms.. Amara is versatile singer who will captivate you with her beauty and talent.A Fearless Diva  born in Miami, FL. she is Dominican/Italian decent.she is the only child of an immigrant mother who entered the United States through the Mexican border. She  come from a family with a hard-working single mother who struggled to always support her artistic career. She took her to all the audition
Where are you from and how natural hair is visualize there? 
I'm Proud to Say I'm Latin. but even happier to say I'm Dominican. Born and Raised in Miami, Florida. In My Country They Would call my kind of hair. "BAD HAIR"  "PELO DURO" For which i truly disagree. I Love My Hair. I Think It Has Much Personality as ME!
How long you have you been natural?
About 5 years now.. It took a Long time but I promised to Never cut It of.f So if its Big now I wonder how will it look 10years from now?!! lol
What is your hair regimen?
No. I wash My hair once a week! it takes me about 5hours to wash condition and untangle! (which is the worst part!!!!!!!)
How hard is for a woman in the media goes against the type of beauty we always see on Tv? Its Pretty Hard.. I'm always being Judged and Questioned. but i love being rebellious and going against what everyone has to say. I always Have some Hair Stylist Trying to  Change My Look. about Being Myself and Having My Own Look has Gotten Me To Where I am. And I very Proud of that. The biggest legends In the history of music Only Made it Because they Weren't scared of being Themselves.. Like Me. Who's to say What Truly Beauty is..
Have you have obstacle for your hair?
All the time.. sometime when i go to auditions or casting calls my look is not hat there looking for especially in the Latin industry. but i also cant complain i do book a lot of work that's to my unique look!
Do you have any hair product of your preference?
Organic product… Natural are the best!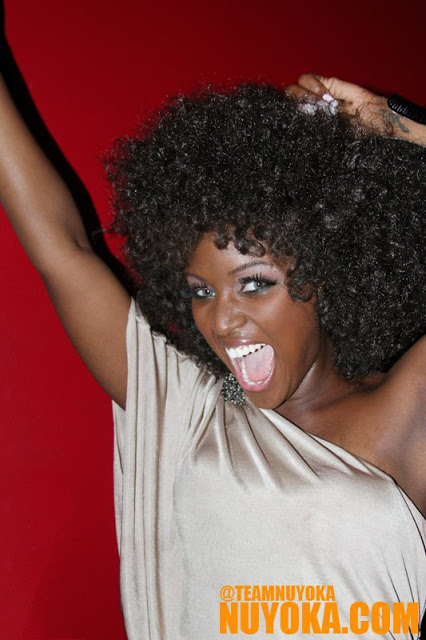 Want to see more photo click the link? quieres ver mas fotos? has click en este link http://fmpv.zenfolio.com/p313197818/slideshow
EspanolLa primera vez que vi a esta hermosa mujer con ese color de ébano bailando en un vídeo de uno de mis artistas favoritos, me quede encantada e impresionada de su belleza, de su color y claro de su pelo. Por ese tiempo yo estaba pensando en dejarme el pelo al natural y cortarme todo el desrizado y al verla en la pantalla de algún modo me dio la fuerzas para hacerlo, si ella se veía tan hermosa, tan imparable, tan orgullosa también yo podía, no?
Desde que comencé mi blog he querido entrevistarla y tenia miedo de que fuera demasiado DIVA y no me hiciera caso, pero para mi sorpresa, es la persona mas humilde, cool y amorosa….
Quien es Amara la negra?
Diana Danelys De Los Santos es su nombre, es una sensual artista que posee un estilo propio, Cantante, escritora, Actriz, modelo y bailarina que actualmente fue firmada por EDB/Dejav Vu Latino. Trabaja en como presentadora en 
Mega TV
A Tacon Quitao
  Lunes a Viernes 5pm -6pm… Amara es una artista versátil que te cautiva con su belleza y talento.. Es una Diva nacida en Miami, FL. Descendiente de Dominicana/Italiana, es la única hija de una madre inmigrante que entro a Estados Unidos por la frontera de  Mexico. Viene de una familia de madre soltera que ha luchado y hecho hasta lo imposible por ayudar a su hija en su carrera artística, llevándola a todas sus audiciones.
De donde eres y como se visualiza el pelo rizo o crespo en tu país de origen?
Es un orgullo para mi el decir que soy latina, pero mas felicidad me da el decir que soy Dominicana, nacida y criada en Miami, Florida. En mi país a este tipo de pelo le llaman "CABELLO MALO" "PELO DURO" en lo cual yo estoy totalmente en desacuerdo. YO AMO mi pelo. Y creo que tiene mucho personalidad; como yo..!!
Que tiempo llevas con el pelo natural(sin alizados)
Como 5 años. Me tomo mucho tiempo el decidirme, pero hice la promesa de nunca cortármelo, si esta grande ahora imagínate en 10 años!! jajjajjja
Tienes algun regimen para tu pelo?
No. Me lavo el pelo una vez a la semana! me toma como 5 horas el lavarlo, acondicionarlo y desenredarlo (Lo cual es la peor parte de tenerlo natural)
Que tan difícil es para una mujer en el medio en el cual trabajas el ir en contra de los estándares de belleza que siempre vemos en la televisión?
Es muy difícil…Siempre he sido juzgada y cuestionada. Pero amo el revelarme y el ir en contra de lo que la gente dice.. yo siempre tengo un Estilista detrás de mi tratando de cambiar mi look.. Ser quien soy y como soy me ha llevado a donde estoy hoy y me siento muy orgullosa de eso. Las grandes leyenda de la música han llegado a ser lo que son porque no les da miedo el ser quienes son… como yo…Nadie puede decir ni dictar lo que la verdadera belleza es///
has tenido algún obstáculo por tu pelo?
Todo el tiempo.. algunas veces cuando voy a audiciones, mi look no es lo que están buscando en especial en la industria Latina. Pero tampoco me quejo yo he conseguido muchos trabajo por mi imagen única.!
Tienes algún producto de tu preferencia? 
Productos Orgánicos.. Mientras mas Natural Mejor!