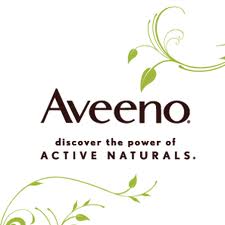 When I was told about this Campaign I was super excited not only because I was going to be able to try Aveeno products, -well, not really try them because I have been using Aveeno products for a longgg time lol, shhh- but because I will have the opportunity to give my followers the same products that I am trying at the moment, and I say at the moment because I will be doing a series of reviews and giveaways of some J&J products, yayyyyyy, for a total of four, so even if you don't win this time, please come back next month for another great giveaway. Ok. No more chit chat, let's get to the review.
Aveeno Nourish+Moisturize Shampoo
I like nourish, moisturize shampoo despite it has sulfate in it or not, which this one has. I don't mind using a shampoo with sulfate on my daughters hair  during summer months because they are very active pool swimmers and I feel that they need at least one Shampoo a week that really cleans and helps with the chlorine and products build up…This Aveeno Nourish+Moisturize Shampoo was really good on their hair and didn't strip their hair, it made the detangle process a little easier and it smells really good.
For those of you that follow hair type their hair is wavy (the smaller) and 3a, 3b (the oldest).
This Conditioner is a keeper it is infused with Nourishing wheat complex and Hydrating Oat protein and my hair just loved it; as my hair is getting longer the datangle process can be quiet a challenge and  for some reason the conditioner that worked in the past doesn't work that well anymore, This 
Aveeno Nourish +Moisturize Conditioner
did a wonderful job in mine and my daughters hair, it was easy to take out of the bottle, and the smell is very delicate and clean. One thing that I particularly liked about this conditioner is the fact that a little bit of products goes a long way…
I am very excited about this product because my skin as my hair needs daily moisturizer, so far I like a lot the consistency of the product, it is non grease which I appreciate a lot in a lotion especially if it is for my face. It has Soy Complex 
and natural light diffusers
 in it Clinically proven  to naturally even out skin tone and immediately reflect light to bring out skin's natural radiance. Gentle enough for sensitive skin and daily use, this moisturizer is also oil-free, hypoallergenic, noncomedogenic, and contains SPF 30 UVA/UVB sunscreen to protect skin from premature aging. 
This is one of my favorite body lotions of all time, In the winter time my skin gets so dry to bleed and this lotion is my ally to battle dry skin. This naturally nourishing lotion contains Natural Colloidal Oatmeal blended with rich emollients and is now proven to help skin build a "moisture reserve," so skin can replenish itself. Its fast-absorbing. It's fragrance free, non-greasy.
One of you will be able to try these wonderful products, just follow the Raflecopter widget below and good luck.
These are my opinions. This is not a monetary compensated post..
Cuando supe de esta campaña me puse muy contenta, no solo porque tendría la oportunidad de probar varios productos de la marca Aveeno – bueno aquí entre tu y yo, tengo varios a
ños usando estos productos, jejjje , shuuuu – pero también porque ustedes mis lectoras también tendrían la oportunidad de ganar los mismos productos que yo este usando en el momento, y digo en el momento porque serán una serie de 4 rese
ñas y 4 concursos de varios productos de la familia J&J , yessss. así que si no ganas en este momento vuelve  para entrar en el próximo concurso..
 ok. no mas charla, vamos a la rese
ña.. (Para el concurso solo sigue las instrucciones de Rafflecopter arriba) 
A mi me gustan los champús que sean humectantes, ya sea que tengan sulfato o no, que en este caso este si tiene sulfato. A mi no importa el usar Champús con sulfatos en los meses de verano en mis hijas y esto es por que ellas son unas nadadoras activas y no salen de la piscina y hay veces que siento que necesitan una limpieza profunda con un champú mas fuerte para sacarle bien el cloro,y la acumulación de productos por lo menos una vez a la semana…Este champú le limpio muy bien el cabello, no se lo dejo reseco y note que ayudo un poco en el proceso de desenredado pues es un champú muy humectante. Para lo que llevan eso del tipo de cabello; una lo tiene ondulado y la otra seria un tipo 3a, 3b
Este acondicionador me encanto, contiene una infusión de de germen de trigo y proteínas de avena y a mi cabello esto le acomodo super bien. Mientras mi pelo se esta poniendo mas largo es todo un reto el desenredarlo y por alguna razón mi cabello se cansa de los productos y dejan de trabajarme bien, si para colmo de males, jejjej. Este acondicionador le probo de maravillas a mi cabello, huele a limpio y fresco, es fácil de sacar del envase, cosa que yo agradezco mucho. Algo que cabe recalcar es que con un poco de producto es suficiente para hacer el trabajo…
Cuando vi este producto, me puse muy contenta porque mi piel al igual que mi pelo necesita humectantes diarios, hasta ahora me gusta mucho la textura o consistencia del producto, no es graso lo que aprecio mucho en productos de la piel y  sobre todo en productos para la cara. Contiene complejo de soya y difusores naturales que según muestras clínicas se ha comprobado que ayuda a aclara la piel y ha tener un tono mas uniforme para  un rostro mas radiante inmediatamente después de su aplicación. Es efectiva en piel sensible y seguro para usarse diariamente. Es libre de aceite, hypoalergenico y contiene protector solar 
SPF 30 UVA/UVB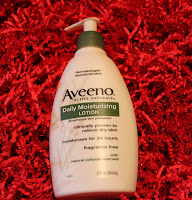 Esta es una de mis lociones para el cuerpo favorita de todos los tiempos, en la temporada de invierno mi piel se vuelve tan reseca que hasta sangra y esta crema es mi aliada para combatir la resequedad de la piel. Esta crema humectante contiene avena y una mezcla de emolientes que ayudan a la piel a crear una reserva de humectantes para que esta sea capaz de producirla. Se absorbe muy rápido, no tiene fragancia y no es grasosa.
Estas son mis opiniones. No recibí ningún pago monetario por esta entrada.