Este articulo esta disponible en: Español
Cantu Shea Butter Natural Hair products review. With over 36% percent of African American women wearing their hair natural, up from 26% last year, Cantu created a new, six-piece collection of styling and treatment products for women with natural hair and those who choose to use products with the fewer harsh chemicals.
The Cantu for Natural Hair collection claims to have  high quality formulas that nourish and protect hair from styling damage. With no Mineral Oil, Sulfates, Parabens, Silicones, Phthalates, Gluten, Paraffin, Propylene Glycol, PABA and DEA.  All of the Cantu for Natural Hair products benefit from 100% Pure Shea Butter for added moisture and nourishment for all hair types.
The Cantu Naturals Collection
(all the next descriptions are their claims)
Deep Treatment Mask:  the Deep Treatment Mask helps heal dry, damaged hair and provides intense moisture without all the chemicals and harsh ingredients.  It repairs hair by imparting much needed strength back into hair.  12 Oz.jar
Creamy Hair Lotion: Soften, moisturize and detangle curls, leaving them light, shiny and bouncy! This product can be used on wet or dry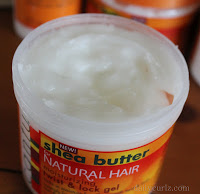 Moisturizing Twist & Lock Gel:  This non-flaking formula will hold twists in place while adding shine for definition.  To comb twist, free hand twist or double strand twist: section hair and apply Twist & Lock Gel to the section.
13 Oz.jar
Coconut Milk Shine & Hold Hair Mist:  Rehydrate and refresh curls with lasting moisture and shine.  This light mist will eliminate frizz, gently moisturize and leave high shine to any style.  8 Oz.bottle spray
Coconut Curling Cream:  Define curly, kinky and wavy hair with this hydrating conditioner that adds manageability to curls, leaving them soft, shiny and deeply moisturized.  This cream provides intense moisture to parched locks with some hold to define curls. 12 Oz.jar
Moisturizing Curl Activator Cream:  Define, moisturize and restore curls, leaving them smooth, frizz free and full of life.  This product can be used as a light leave-in conditioner that won't weigh hair down.  12 Oz. bottle
What does my hair have to say?
In general I love the smell, of course it is Coconut; my favorite scent in the the whole wide world.
I like the fact that you can find all of the the Cantu for Natural Hair collection  for $6.99 at Walgreens and Walmart stores nationwide.
The  Deep Treatment Mask  did not help in the detangled process that much, I had to detangled first and then apply the DC.
The consistency is appropriated for the container, I really appreciate that, because I hate when I have to battle a war to take a products out of a bottle.
I did not  use the Moisturizing Twist & Lock Gel all over my hair, because I don't like gels, but I did use it on my edges and it did not dry out my hair as some gels do.
My favorite was the  Coconut Curing Cream , because it left my curls defined, hydrated, soft and shiny as it said in the bottle and a little bit more…happy me 🙂
The Moisturizing Curl Activator Cream  is an amazing product , it is right there in the middle of cream and gel (or something) I didn't use it all over my hair because I was afraid of a crunchy feeling, but I put it to the test  in that front part of my hair that never, ever curls and the results was unbelievable, it did leave my hair a little hard but soft, shinny, and well defined and elongate…
I don't think my hair looked this shinny, ever…
An image speaks more than a thousand words, here are my hair pictures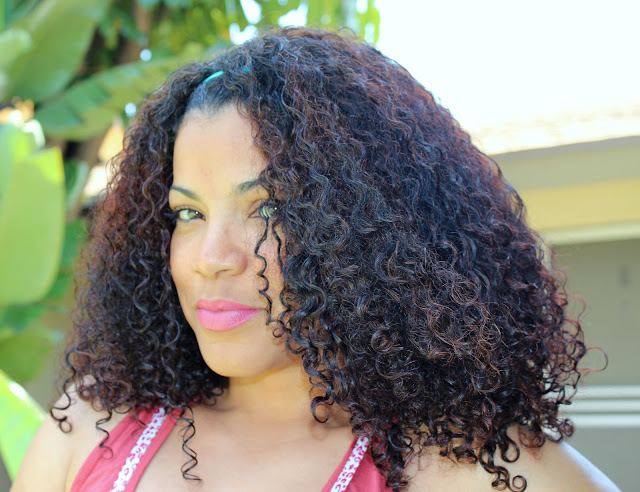 SaveSave
Este articulo esta disponible en: Español