I was invited to the event by Bigelow and Collective Bias, all opinions and pictures are my own, feel free to pin it.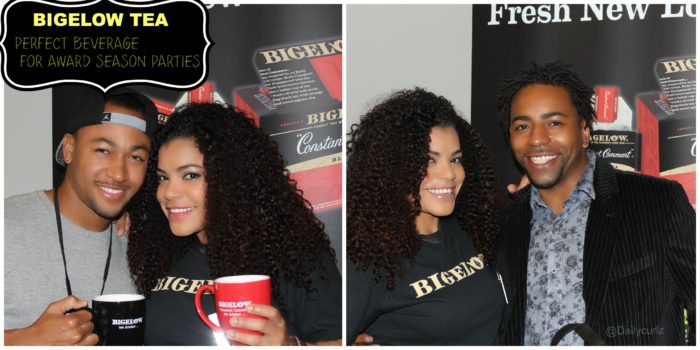 Celebrities, gifts, tea? Count me in, lol, last Saturday I was invited by Bigelow to "Celebrity Connected" an event that occurs the day before a Hollywood awards ceremony, where celebrities attend to pretty much learn about 40+ participating vendors and in most cases, take the products home. This event is super fun, casual and allows me to not only meet celebrities, but to learn more about Bigelow tea and what makes it a trend tea. I learned that drinking tea is a healthy trend among celebrities, specially the youngest ones that are surprisingly aware of it's benefits.
As I took pictures with celebrities, tweeted and posted a  lot of pictures on my instagram account (@dailycurlz), I learned a few trend facts about tea, and why so many celebrities drink it as their beverage of choice during award season over coffee to keep them focused and looking their best at all times.
Antioxidants.
Less caffeine than coffee. Tea may reduce your risk of heart attack and stroke.  Tea protects your bones.  Good for your teeth. Boosts your immune defenses. Helps keep you hydrated.  Calorie-free.  Increases your metabolism.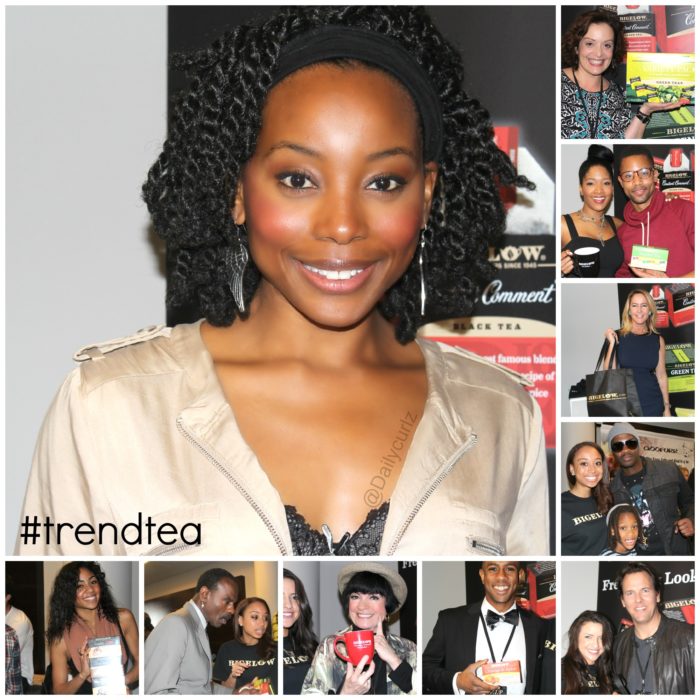 There are so many benefits of drinking tea and for me, it is a very important part of my new year's resolution, I am not ready to give up coffee yet, but I will be adding tea to my routine and only a small cup of coffee in the morning " baby steps" .
What about you? Are you a tea drinker? Which one is your favorite tea? 
Español
Fui invitada a este evento por Bigelow y collective bias, todas las opiniones y fotos son mías, así que puedes darle pin con confianza.
Celebridades, regalo, té? Cuenta conmigo , jejjej. El sábado pasado fui invitada por la prestigiosa marca de té Bigelow a "Celebrity Connected" un evento que ocurre el día antes de una entrega de premios de Hollywood, donde las celebridades asisten a conocer y aprender acerca de 40+ proveedores participantes y en la mayoría de los casos se llevan una muestra a casa. Este evento es super divertido y casual, y me permitió no sólo para conocer  las celebridades, sino para aprender más sobre el té Bigelow y lo que lo hace un té de tendencia. Me sorprendió el conocer que el consumo de té es una tendencia saludable entre las celebridades, especialmente entre los mas jóvenes que sorprendentemente son muy conscientes de sus beneficios.
Mientras tomaba fotos con las celebridades, tuiteaba y publicaba imágenes en mi cuenta de Instagram (@ dailycurlz ), aprendí mucho sobre los beneficios de tomar té, y por qué para tantas celebridades esta es su bebida predilecta durante la temporada de premios, como una alternativa del café para mantenerlos enfocado y en su mejor apariencia en todo momento.
El té:
Puede reducir el riesgo de ataque cardíaco.
Ayuda a mantenerte hidratada.
Menos cafeína que el café.
Aumenta el metabolismo.
Bueno para los dientes.
Aumenta las defensas.
Protege los huesos.
Libre de calorías.
Antioxidante.
El tomar té tiene tantos  beneficios para la salud y la belleza y para mí es una parte muy importante de mi resolución de año nuevo, yo no preparada para dejar el café todavía, pero voy a ir añadiendo té a mi rutina y sólo una pequeña taza de café en la mañana " Paso a paso "
¿Y tu? ¿Tomas té? Cual es tu favorito?