I told you in my past post how important it is to maintain a clean scalp to get rid of dead skin, flakes and to promote healthy hair growth,. Today I will show you a few ways to maintain a healthy scalp for soft, longer hair … For these DIY scalp treatments you can use pretty much any oil you have available like extra virgin olive oil, coconut oil, jojoba oil etc..
Start with dry hair, divide your hair into sections and with a soft brush, massage your scalp to stimulate blood circulation and get those dry skin loosened up.
 Then, apply the mixture of your choice (cotton ball or application brush will do it) all over your scalp and follow by a nice massage with your fingers in a circular, gentle motion. Leave the mixture for about 10 (if you wish) and wash and style as usual.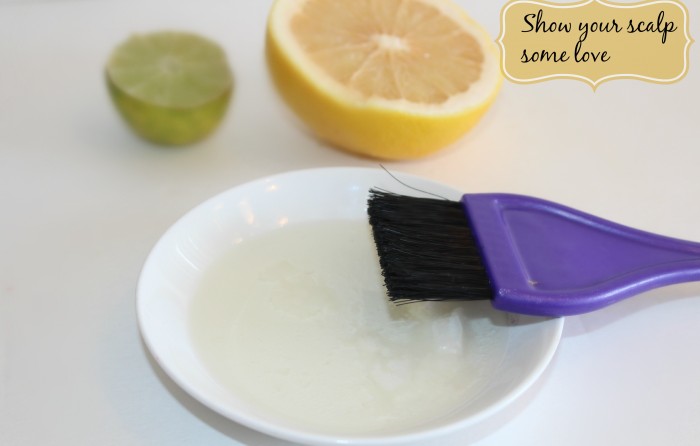 Mix 5 tablespoons coconut oil with 4 drops tea tree oil, and 4 drops of rosemary oil. There you go!!
Take 4 tablespoons coconut oil, mix it with 2 tablespoons lemon juice and 1 tablespoon grapefruit (benefits of grapefruit here) juice. Yummy
Mix 3 tbsp ground Oatmeal with 1 tsp olive oil.
Español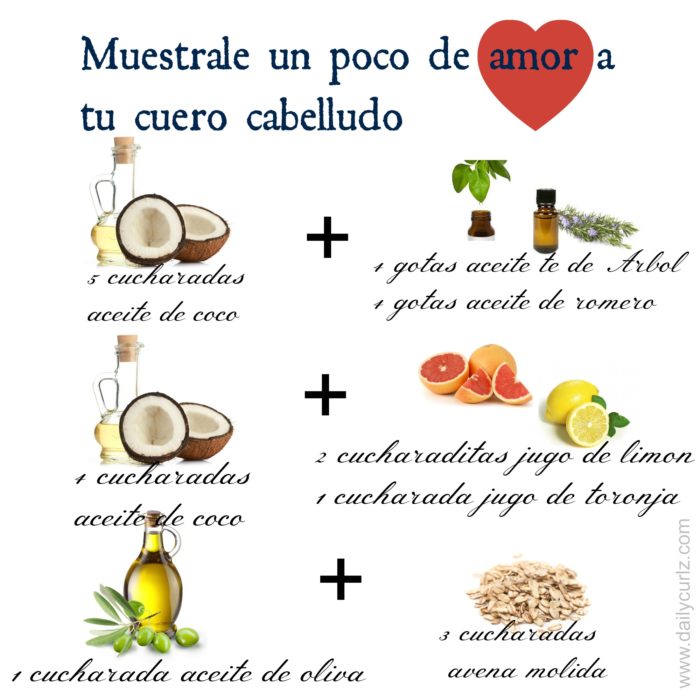 Ya les he hablado de lo importante que es mantener un cuero cabelludo limpio para remover piel muerta, caspa y para promover el crecimiento del cabello sano. Hoy les mostraré algunas maneras de mantener un cuero cabelludo saludable para un cabello suave y saludable… Para estos tratamientos caseros del cuero cabelludo se puede utilizar casi cualquier aceite que tengas disponible como el aceite de oliva extra virgen, aceite de coco, aceite de jojoba , etc .
Comienza con el cabello seco, dividiremos el cabello en secciones y con un cepillo suave vas a dar masajes a tu cuero cabelludo para estimular la circulación de la sangre y aflojar cualquier acumulación de productos.

A continuación, aplica la mezcla de tu elección (usa bola de algodón o un cepillo de 

aplicación

 ) en todo el cuero cabelludo y seguir con un buen masaje con los dedos en movimiento circular suave. puedes dejar reposar la mezcla durante aproximadamente 10 minutos, lavar y peinar como de costumbre
Estos son 3 tratamientos diferentes;
Mezcla 5 cucharadas de aceite de coco con 4 gotas de aceite de té de árbol y 4 gotas de aceite de romero. Disfruta!
Tomar 4 cucharadas de aceite de coco, mezclar con 2 cucharaditas de jugo de limón y 1 cucharada de jugo de toronja (beneficios de la toronja). sabroso!
Mezclar 3 cucharadas de avena molida con 1 cucharada de aceite de oliva.