While I was watching a very Popular Spanish show, the chef mentioned that Gelatin is very good to help hair growth, healthy skin and strong nails. To be honest this was a total surprise to me and I went to my computer and did a lot research on it; it is incredible what I found and I wanted to share it with you.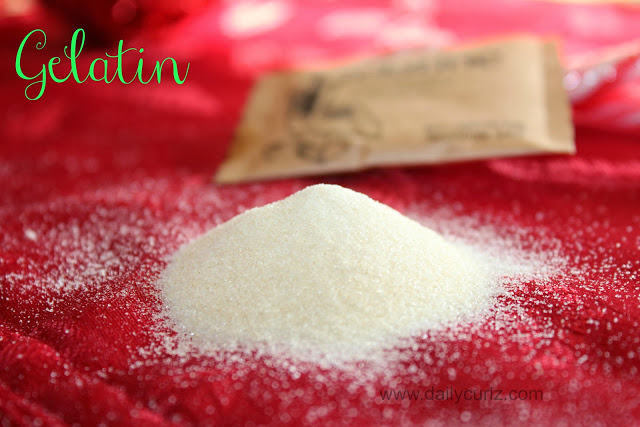 Gelatin is a mixture of peptides and proteins produced by partial hydrolysis of collagen extracted from the skin, bones, and connective tissues of animals such as domesticated cattle, chicken, pigs, and fish. Gelatin is present in many food and non-food products, in low-fat foods it is used to simulate the mouthfeel of fat and to create volume without adding calories. You can take all the Gelatin benefits to help your weight loss plan and to reduce cellulite; it is recommended to consume 10 grams daily of gelatin in their natural state in a glass of water, orange juice, or grapefruit juice to enjoy its benefits.
Gelatin can be used in cosmetics in a non-gelling variant under the name hydrolyzed collagen. Gelatin is also used in nail polish remover and makeup applications.
Gelatin has a lot of uses for our hair, it is a very natural and affordable way to hold, add volume and deep treatment. Gelatin is used by synchronized swimmers to hold their hair in place during their routines as it will not dissolve in the cold water of the pool.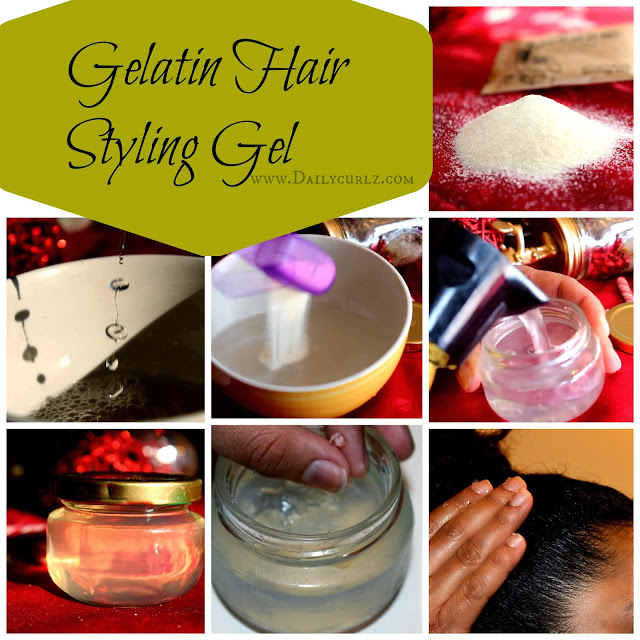 Hair styling gel
1 tps unflavored gelatin
1 cup boiling water
4 drops of your favorite essential oil.
Mix the boiling water with the unflavored Gelatin, mix to dissolve. Pour the water (mix) in a sealed container and put it in the freezer till firm.
Use it as a traditional gel
It will last for about a week in a refrigerator.
It can be removed with rinsing and some shampoos.
Very high in protein, so you will be doing a protein treatment as well
Some hair don't like protein.
The next day after usage, I noticed a white residue on my hair 🙁
Natural Voluminizer: 
Add a tsp of Gelatin to your shampoo and use as usual.
Gelatin Deep Treatment
1 tps Gelatin
1 cup of water
1tsp Aloe gel
Mix well and aply on wet, clean hair, leave it on for about 20 minutes, rinse and style as usual.
Mientras yo estaba viendo un muy popular programa de español , el chef menciona la gelatina como muy buena para ayudar el crecimiento del cabello, piel sana y uñas fuertes, para ser honesta esto fue una sorpresa total para mí y me fui a mi computadora y hacer un poco de investigación. Es increíble lo que encontré y quise compartirlo con ustedes.
Ahora vean el video para mas información.
La gelatina está presente en muchos productos alimenticios y no alimenticios , en los alimentos bajos en grasa es útil para simular la sensación en la boca de la grasa y para crear más volumen sin añadir calorías. Puedes obtener todo el beneficio de la gelatina para ayudarte en tu plan de pérdida de peso y para reducir la celulitis, se recomienda consumir 10 gramos diarios de gelatina en su estado natural en un vaso de agua o jugo de naranja y/o pomelo para disfrutar de sus beneficios.
La gelatina se usa en cosméticos en una variante no gelatinosa bajo el nombre de colágeno hidrolizado. La gelatina también se utiliza en maquillajes y en removedor de esmalte .
La gelatina tiene un montón de usos para nuestro cabello, es una manera muy natural y asequible para mantener, añadir volumen y como tratamiento profundo. La gelatina es utilizada por los nadadores sincronizados para mantener el cabello en su lugar durante sus rutinas, ya que no se disuelve en el agua fría de la piscina. Mas en el video.
Tratamiento Profundo se deja por mas o menos 20 minutos!!