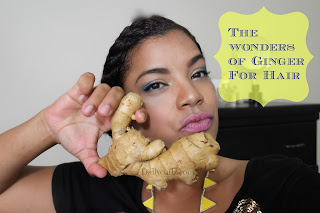 After my two recent posts using ginger on my healthy recipes, I noticed that a lot of people don't know how powerful Ginger is to regulate blood circulation and its inflammatory property. So you already know that you can add it to your drinks and smoothies, but Ginger is very powerful and has been used for years as a hair loss treatment because it has natural properties like laxative, tonic antiseptic and anti inflammatory.
Ginger also:
 Improves the scalp blood circulation, which leads to boosting hair growth because it provides the nutrients  and supply of oxygen the hair follicle needs.
You can use ginger for hair thinning, dandruff and premature grey hair.  This wonderful root contains essential fatty acids that helps your hair re-grow.
Hair loss.
Before we start with this amazing hair treatment, please notice that if you use ginger as a natural treatment your hair may lighten. Sesame seed oil can darken your hair.
You can refrigerate any leftovers, but since it is a natural treatment, the potency can lower down or even be lost after a few days.
Results may very from person to person. Consistency is the key to any hair treatment, and remember your beauty from the inside out, so eat healthy, drink a lot of water and include some exercises in your routine.
30 to 40 minutes is more than enough to leave any of this mixture on your scalp. You may need to shampoo your hair after the use of these treatments.
1.-Hair loss Borracho Ginger treatment.
All you need is slices of ginger roots and add brandy to it. leave the mixture for a few minutes before massaging your scalp with the mixture. Use it 2-3 times a week.
2.-Sesame seed,Jojoba oil and Ginger hair potion.  
You will have to start by grating a ginger root and mixing it evenly with sesame seed and jojoba oil. Wait a few minutes and add a juice of a lemon to your mix.  Rub this mix on your scalp in a circular motion.
3.- Ginger Hair Juice. 
On your blender machine add about 6-8 ounces of ginger roots to a 1/4 cup of water, blend it well, train the juice with a cloth. Now you have yourself a ginger juice, massage it into your scalp (you know, with circular movement)
SaveSave