Hola bellas, it's summer time and we all know the summer sun can be brutal on your face and hair and what's better that protects your beautiful face and curls with a trendy hat (after applying sunblock,
here
are my favorites) And even though some people think that we curly girls can't wear hats, Si podemos "yes we can". Need some tips to fit all that hair into a hat?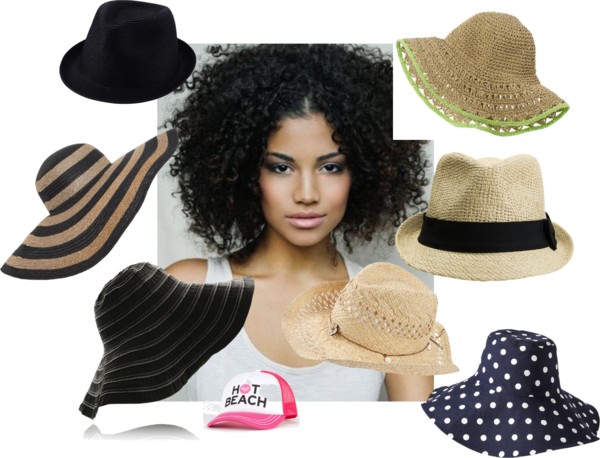 Put your hat on while your hair is damp. 
If your hair is dry, use your water bottle to moisturize and wet your hair a little, so your hat can easily(sort of) get into place.
Do a loose and low pony tale, put the hat on and then remove the rubber band..
Use the hats while your hair is twisted or braided.
Hat on curls
How you style your hair during summer? Hat? please share your comments here and share your hat summer curl style on our 
Facebook 
 page to see it. 
Hola bellas, el verano ya esta aquí y todas sabemos que el sol del verano puede ser brutal en la cara y el pelo y  que es mejor para proteger tu bello rostro y rizos que un sombrero de moda,(después de aplicar bloqueador solar,
aquí
están mis favoritos) Y a pesar de que algunas personas piensan que las niñas rizado no podemos usar sombreros, Si podemos "yes we can". Necesita algunos consejos para poder acomodar todo ese pajón dentro de un sombrero?
Ponte el sombrero mientras que tu pelo esta húmedo.
Si tu cabello esta seco, usa tu botella en spray para hidratar y humectar tu cabello un poco, para que el sombrero puede (casi) entrar fácilmente en su lugar.
Haste una cola de caballo floja y bajita, ponte el sombrero y luego retira la banda de goma. 
Utilice los sombreros, cuando lleves twists o trenzado.
Y tu como llevas tu sombrero? deja tu comentario aquí y comparte tu foto en nuestra pagina de
Facebook 
 para ver esos hermosos pajones sombrerudos 🙂