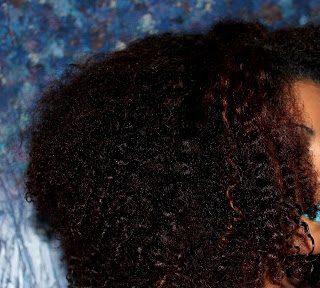 Porosity is the term used in the science of hair care to describe how easily water and other matter can diffuse back and forth through the cuticle layer and into or out of the cortex. Hair is much like a sponge, capable of absorbing water and other substances from the environment, and also susceptible to losing precious moisture and lipids to the environment. Maintaining an optimal balance of moisture in your hair preserves its suppleness, strength, and shine. This is especially important for those of us with curly hair, as it greatly influences the health and beauty of our tresses.
The individual scales of the cuticle overlap one another like the feathers of a bird or scales on a fish. This amazing system of flexible and responsive scales allows diffusion of oils and moisture into and out of the hair as needed. Porosity is determined by how tightly the cuticle scales adhere to the surface of the hair shaft and also by how thoroughly adjacent scales overlap one another.
Low Porosity: Hair described as having low porosity is characterized by a very tightly bound cuticle layer, where the individual cuticle scales lie flat and overlap one another. Low porosity hair is often quite shiny, especially if it is a darker color. Overall this type of hair is considered to be quite healthy. If your hair repels water when you attempt to wet it, that is a good indication that it has low porosity. It can be quite difficult to process, because it resists penetration of the chemicals being used.
Low porosity hair is more prone to an excessive accumulation of protein if deep conditioning products are used and will feel very stiff and straw-like. It requires products rich in moisture and emollients and also benefits most from products that contain humectants, which attract moisture to the hair and hold it there. If hair with very few or very small openings becomes dry for some reason, it can be more difficult to restore proper moisture balance to it. In this case, a deep conditioning treatment with moderate heat would be a good way to ensure the cuticle is sufficiently opened up to allow moisture to enter into the cortex.
Normal Porosity: Hair possessing average porosity will generally require the least amount of maintenance. It allows moisture to pass into the cortex as needed, but resists permitting too much water to penetrate. Repeated works by various research groups have found that healthy hair of average porosity can absorb water up to a maximum of 31.1% by weight. Normal porosity hair has a tendency to hold styles well. Perming or coloring can be done in a predictable manner, following the usual guidelines of the product. However, one must note that these processes will damage the hair and increase its porosity over time. An occasional deep conditioning treatment with a protein-containing product will be of benefit, but proteins should not be included in the daily regimen.
High Porosity: High porosity is an unfortunate result of damage to the hair. Chemical processes, harsh treatment, and environmental exposure are all responsible for causing cumulative, irreversible damage to the cuticle layer. This damage creates gaps and holes in the surface of the hair shaft—essentially chinks in its armor. Hair with this type of uneven, pitted and rough surface is prone to damage from more and more sources, resulting in a cascade of effects that culminate in unmanageable and unlovely locks.
Hair with a great deal of porosity has been found to be capable of absorbing significantly higher amounts of water than hair or normal or low porosity (up to 55%, in contrast with 31.1% for healthy hair). Excessive absorption of water from the atmosphere causes frizz and tangling on humid days. Total immersion of high porosity hair during bathing, swimming, or shampooing can lead to significant breakage due to loss of elasticity from the sheer weight of the water absorbed. It also takes on color much more quickly and in higher concentrations than normal porosity hair when undergoing a chemical color process.
People with high porosity hair should use products with lots of moisturizers and emollients and also use anti-humectants in high heat and humidity climates in order to seal their cuticle against excessive absorption of moisture from the air. Protein treatments can also be very helpful for patching some of the holes in the hair, but one must follow up with moisturizing products in order to avoid a stiff texture. Rinsing with a slightly acidic rinse will help flatten and seal the cuticle. Some clear color applications have proteins in them than can patch the gaps in your hair also. Consult your professional hair stylist for more information about such products.
Genetic or Biological Contributors to Porosity
Genetics and hair type (straight, wavy, or curly) contribute to how tightly the cuticle layer adheres. Some people have a circular hair shaft, which is optimal for cuticle scales to lie flat and overlap one another, resulting in low porosity. Other types of hair are more elliptical or even flat and ribbon-like. This geometry doesn't allow for all of the cuticle scales to lie flat and overlap one another along the axis of the hair, especially at the outer edges of the hair strand. This creates areas of discontinuity in the cuticle layer, which adds porosity to the hair.
In a similar fashion, curly hair has a tendency to be naturally higher in porosity than straight hair. This is because the spirals in the helical configuration of the curls create areas where individual cuticle scales are raised slightly away from the longitudinal axis of the hair. The curlier the hair is, the more breaks you have in the smoothness of the surface, so the porosity is invariably increased.
External Contributors to Porosity
Environment: Exposure to UV rays for prolonged periods can fuse cuticle scales together, which inevitably leads to further damage of the cuticle layer. It is a good idea to cover your hair when in the sun or use products which contain sunscreen agents.
Chemical Processing: Perms, relaxers, and coloring processes all require the cuticle to first be opened via application of an alkaline solution. This allows the chemicals to access the interior of the hair shaft in order to make permanent changes to the structure of the proteins that are the building blocks of the hair. All of these processes are capable of doing permanent damage to the cuticle layer. This damage builds up with repeat use of the chemical process. Bleaching is the most damaging process, followed by perming and relaxing, with most permanent coloring processes being the mildest.
Heat treatments: Heat from a blow dryer, flat iron, curling iron, or hot curlers can all cause irreparable damage both to the cuticle and the cortex of the hair. These tools can heat water inside the hair past the boiling point and cause the hair to rupture from the inside out. It is not difficult to see how this could increase porosity.
Mechanical Damage: Combing, brushing and friction from scarves, and hats, and scrunchies all cause damage to the cuticle layer. Over time all of these can result in torn and ripped cuticles, thereby increasing the porosity of the hair. Curly hair should only be combed with a wide-tooth comb while it is wet and coated with a conditioner for maximum slip. This minimizes friction and subsequent damage to the scales.
Shampooing with sulfates and soaps: In previous articles, we have discussed that the cuticle layer is comprised not only of keratinous scales, but also a layer of fatty acids on the top surface that protect the hair from moisture, as well as a layer beneath the scales called the cell membrane complex (CMC). The CMC acts as cushion and as a cement the keep the cuticle scales firmly attached to the hair. A large portion of this CMC is made up of a lipid layer of mixed fatty acids, including 18-methyleicosanioc acid (18-MEA), stearic acid, and palmitic acid.
At normal formulation levels (15-20%), harsh surfactants in shampoos, such as SLS, SLES, ALS, and ALES, are capable of dissolving the lipid layer in the CMC and removing the 18-MEA from the surface of the cuticle. This creates irreparable gaps in the cuticle layer, increasing porosity of the hair. Also, by dissolving the protective fatty acid layer from the surface of the cuticle, the hair is rendered more hydrophilic (water-loving), which is a very dangerous state for hair as it becomes more susceptible to frizz, tangling, and damage to the cuticle scales. This information merely confirms what we have been told about the hazards of using these types of surfactants on our hair.
Another very important ingredient to avoid for long, curly hair especially is soaps. In the past, I have written an article cautioning users of soap to be careful, but basically concluding that it was probably okay to use soaps with an acidic rinse and lots of moisturizing agents. Based on the following information obtained from the research of Dr. Ali Syed (a hair care researcher who specializes in African and curly hair), I cannot in good conscience advocate use of any soap products on curly hair.
Soap molecules are salts of fatty acids found in plants and animal fats. They are somewhat alkaline and cause the hair to swell and the cuticle to raise up away from the surface of the hair shaft. These molecules are then able to penetrate through the cuticle and into the CMC where they neutralize the fatty acids in the lipid layer, rendering them water soluble. The fatty acids are then rinsed away in the shower and are gone forever. Use of soap to cleanse one's hair, especially long curly hair, seems to be a really effective way of permanently destroying the cuticle layer and making the hair very highly porous. This is an example of why natural may not always be superior. It is no surprise that researchers have invested years and many millions (billions) of dollars to develop more gentle cleansers for our hair.
Porosity and Tensile Strength
Increasing porosity of hair has been found to correlate with decreasing tensile strength of the hair. What this means is that as the porosity goes up, it becomes much easier to break the hair. Gaps and flaws in the surface, which allow the hair to absorb much higher quantities of moisture, create stress concentration sites and weakness throughout the strand that cause the hairs to break easily.
What to do? Prevention is the best medicine when it comes to porosity problems.
Use the right products for your hair.

Avoid harsh surfactants and soaps.

Only comb tangles with a wide-toothed comb when hair is wet and saturated with conditioner.

Avoid chemical processes as much as possible.

Avoid thermal styling tools.

Protect your hair from the sun and the elements.

Get regular trims.

Treat your hair as gently as you would an expensive cashmere sweater!
If you already have a problem with high porosity, please make sure you have an excellent deep conditioning treatment available, preferably one that contains proteins. Use lots of conditioning and moisturizing products, especially those containing natural, plant-based oils. Avoid all of the sulfate-based surfactants and soap bars. Use a mildly acidic rinse regularly and avoid humectants. If possible, avoid the processes that created the high porosity, and get your hair trimmed regularly. These things should help restore your hair to a more manageable porosity level, but it will take time.