2013 is coming to an end, yayyy and the global authority PANTONE announced today the color of the year 2014 "Radiant Orchid": a captivating, magical, enigmatic purple.
"While the 2013 color of the year, PANTONE 17-5641 Emerald, served as a symbol of growth, renewal and prosperity, Radiant Orchid reaches across the color wheel to intrigue the eye and spark the imagination," said Leatrice Eiseman, executive director of the Pantone Color Institute®. "An invitation to innovation, Radiant Orchid encourages expanded creativity and originality, which is increasingly valued in today's society."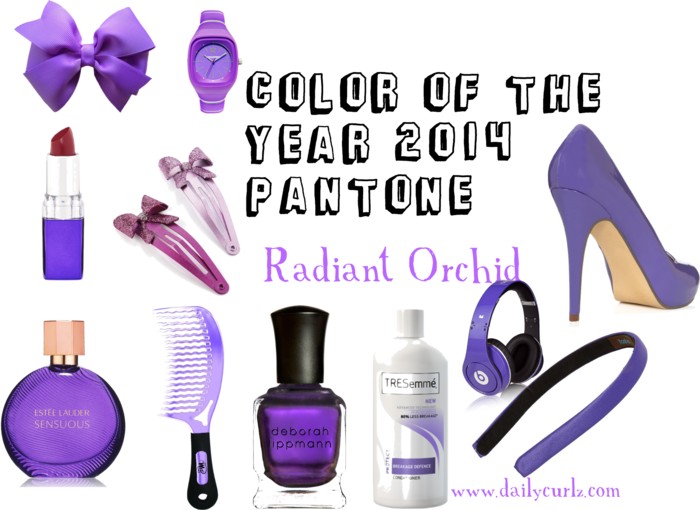 "An enchanting harmony of fuchsia, purple and pink undertones, Radiant Orchid inspires confidence and emanates great joy, love and health. It is a captivating purple, one that draws you in with its beguiling charm."
What do you think about the color of year 2014? Like? Dislike? Let's chat 
El 2013 está llegando a su fin, yayyy y la autoridad mundial PANTONE ha anunciado hoy que el color del año 2014 es el "Radiant Orchid" (Orquidea Radiante): cautivadora, mágica, púrpura y enigmática.
"Mientras que el color del año 2013, PANTONE fue el color Esmeralda, que sirvió como símbolo del crecimiento,  renovación y la prosperidad, Orquídea Radiante es un color para intrigar a los ojos y despertar la imaginación", dijo Leatrice Eiseman, directora ejecutiva de el ® Pantone Color Institute. "Una invitación a la innovación, Orquídea Radiante fomenta la creatividad y la originalidad expandida, que es cada vez más valorado en la sociedad actual."
"Una encantadora armonía de fucsia, tonos púrpura y rosa, Orquídea Radiante inspira confianza y emana una gran alegría, amor y salud. Es un cautivador color púrpura, que atrae con su encanto seductor ".
¿Qué piensas  el color del año 2014? Te gusta? No te gusta? Hablemos….