Happy winter hermosas!! I love the fall-winter season, but my skin doesn't seem to like it as much as I do.. As the winter approaches and the humidity in the air gets low, low, low lol I started to notice those ugly dry spots on my face.. I moisturize my face every day, but the cream I was using wasn't working.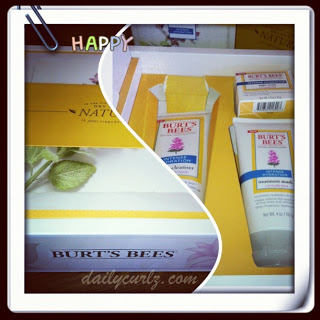 Thanks to
klout
and the amazing tool that manage your influence  on the social media, sent me Burt's Bees new face products to try, as part of their
perk
program. I wasn't planing on doing a review about these products, but the results I got are so amazing it felt selfish to keep it to my self…
These products scream Happiness, the dry spots disappear the very first time I used the Intense Hydration Treatment Mask with Clary Sage.
Intensely hydrates dry skin
Helps reduce the appearance of fine line and wrinkles
with probiotic technology.
My absolute Love of the set I got is the Intensive Hydration Night cream with Clary Sage, because my face wakes up in the morning felling soft and extra moisturized. Its absorbs quickly and is non greasy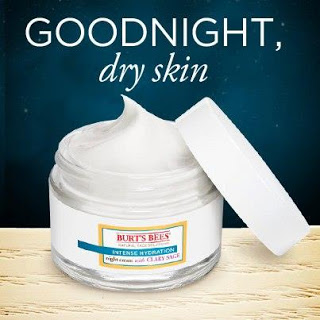 I also received the Intense Hydration Cream Cleanser Intensely hydrates dry skin*
• Removes dirt, oil and make-up
• Enhanced with probiotic technology
• Dermatologist Tested and Noncomedogenic
You can find Burt's Bees Intensive Hydration New products ( the line has 5 products) on their website here  online store, Walgreens and Target..
 Feliz invierno! Me encanta la temporada de otoño-invierno, pero mi piel no parece gustarle tanto como a mi.. A medida que se acerca el invierno y la humedad en el aire se baja, hasta abajo, hasta abajo, lol comienzo a notar esos feos círculos de resecad en la cara .. Me hidrato mi cara todos los días, pero la crema que estaba usando no funcionaba.
Gracias a klout  una herramienta increíble que gestiona tu influencia en los medios de comunicación social, me envió los nuevos productos de Burt's bees para la  cara , como parte de su programa de perk . Yo no tenia planeando el hacer una reseña  sobre estos productos, pero los resultados que obtuve son tan sorprendentes que se sentía egoísta sino los compartía con ustedes.
Estos productos gritan satisfacción, los círculos de resequedad desaparecieron con la primera aplicación de Hydration Treatment Mask with Clary Sage.
Hidrata intensamente la piel seca
Ayuda a reducir la apariencia de líneas de expresión y arrugas
Tecnología de probiótico.
Mi amor absoluto de los productos es para ntensive Hydration Night cream with Clary Sage (crema de noche), porque mi cara se despierta en la mañana totalmente suave y extra hidratada. Se absorbe rápidamente y no es grasosa
También recibí el Limpiador Intense Hydration Cream Cleanser Intensely hydrates dry skin*
• Elimina la suciedad, el aceite y el maquillaje
• Mejorado con tecnología probiótica
• dermatológicamente probado y no comedogénicos
Puedes encontrar estos productos NUEVOS de Burt bees Hidratación Intensiva (la línea tiene 5 productos) en su página web tienda online here  , Walgreens and Target..