You can look taller and leaner by choosing the right outfit and color combination, a simple way to do that is by using a monochromatic outfit or a head-to-toe same color outfit. My blogger friend Jessica from jessicafashionnotes.com tagged me in her Monochromatic challenge ,and I was scared to death, because I didn't wanna end up looking like a banana all in yellow, but finally wised up and pulled it off with an all black outfit, that is an easy monochromatic color scheme. It's usually really flattering since it makes us look thin, taller, lean (I know I can use some of that) and versatile because it can be worn for so many different occasions.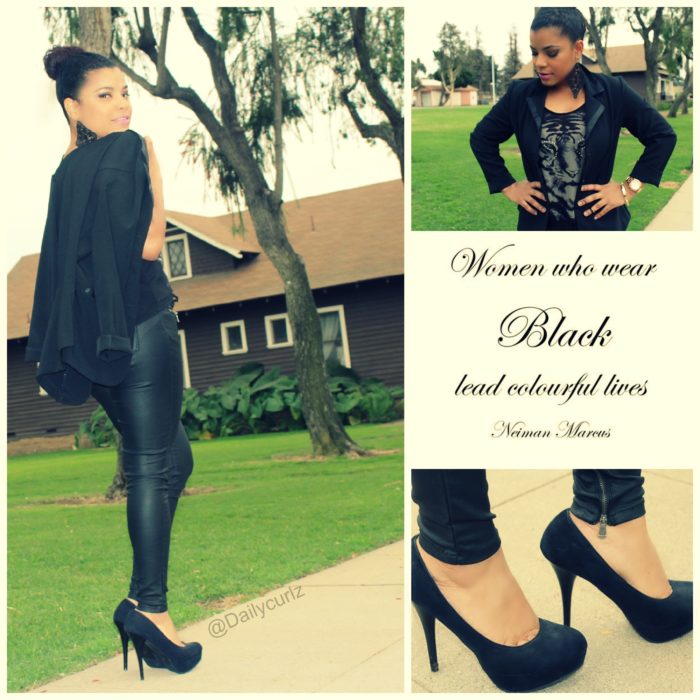 Wearing an outfit in any one color scheme can be really flattering as well, so follow these easy tips to wear this trend as a pro :
*Do two-three pieces in exactly the same hue.
*You can also wear different shades within the same family, but you need to make sure they are on opposite ends of the spectrum
*Repeat Two Shades
*If you want to do one color group head-to-toe, keep your clothes one shade and accessories another.
* Choose pieces with contrast within the same color scheme *Create contrast with various textures *Stay away from shades that are too similar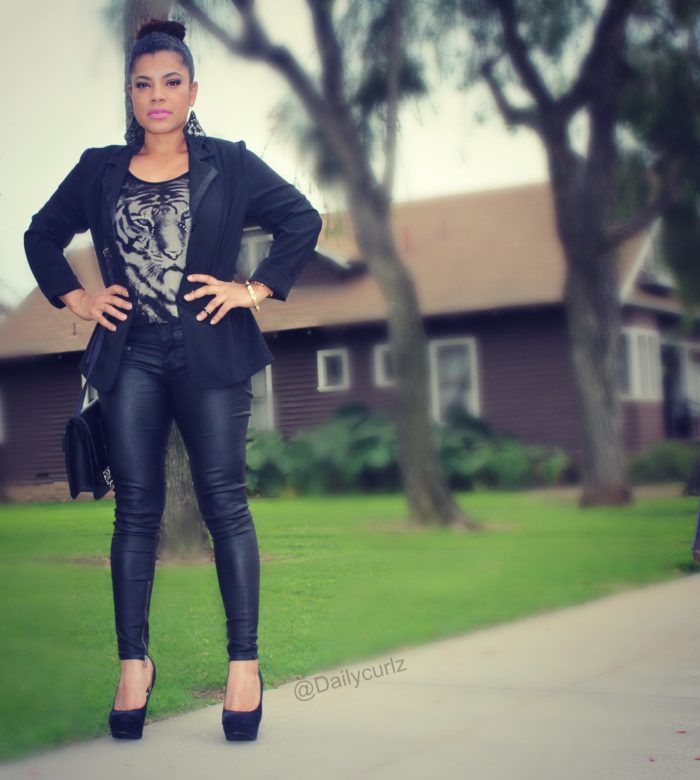 Jacket: Thrift Store. –Blouse: Marshall's. –Pants: Cottonon.com  –Shoes: Mossimo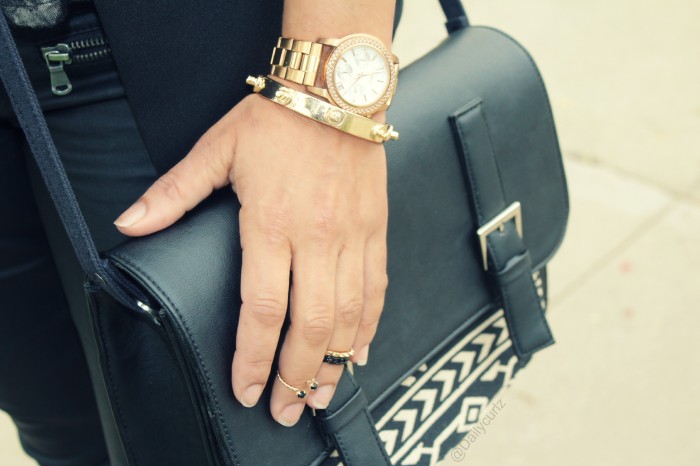 Handbag: Hearts.com , Bracelet: Lulus.com, Watch: DKNY, Rings: Burlington
Let me know how you like my outfit of choice and feel free to enter the challenge with a blog post or just a picture, make sure to tag me to see your wonderful ideas
Espanol
Sabias que con la correcta elección o combinación de ropa y color te puedes ver mas estilizada y alta? Asi mismo es, esto es fácilmente lograble con un look monocromático o vestirte de pies-a-cabeza con un mismo color. Mi amiga Jessica de jessicafashionnotes.com me etiqueto en su desafío monocromático, y esto me dio un miedo que casi me da un infarto, primero porque ella es una fashionista de primera y segundo por que no quería parecer un plátano maduro toda vestida de amarillo o terminar luciendo como barnie de morado. Pero finalmente me arme de valor y pude lograr un look monocromático con piezas que tenia en mi closet. El crear un look monocromático en negro es muy fácil y suele ser realmente halagador, ya que nos hace parecer mas delgadas, más altas, esbeltas (justo lo que necesito) y es muy versátil, ya que puede ser usado para diferentes occasions.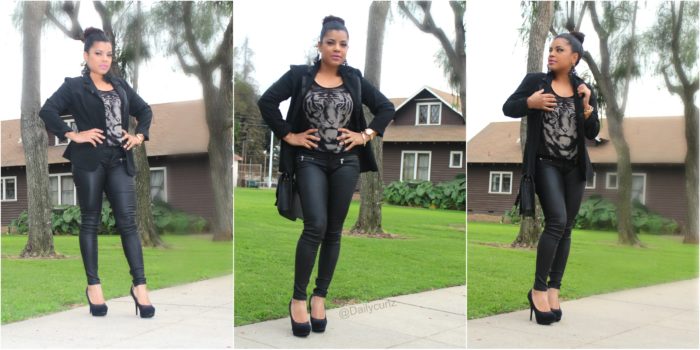 Chaqueta : Thrift Store . – Blusa : Marshall's . – Pantalones: Cottonon.com – Zapatos: Mossimo
Bolso : Hearts.com , Pulsera : Lulu.com , reloj: DKNY , Anillos : Burlington
El vestirse de un solo color puede favorecernos en sentido general, así que sigue estos consejos fáciles para que puedas llevar esta tendencia tan favorable:
* Utiliza dos o mas piezas con la misma tonalidad .
* También puedes usar diferentes tonos dentro de la misma familia, pero hay que asegurarse de que sean en los extremos opuestos del espectro
* Repite dos tonos.
* Si quieres hacer un grupo de colores de la cabeza a los pies, mantén la ropa de un tono y los accesorios de otros .
* elige piezas con un contraste dentro de la misma combinación de colores
* Crea contraste con diferentes texturas
* Manténte alejada de los tonos que son demasiado similares
Déjame saber si te gusta mi elección y no dudes en entrar en el reto con un blog o simplemente una foto, asegúrate de etiquetarme para ver tus maravillosas ideas..