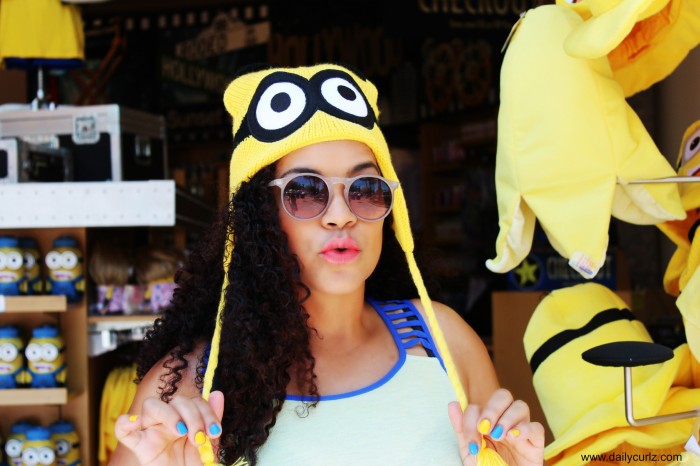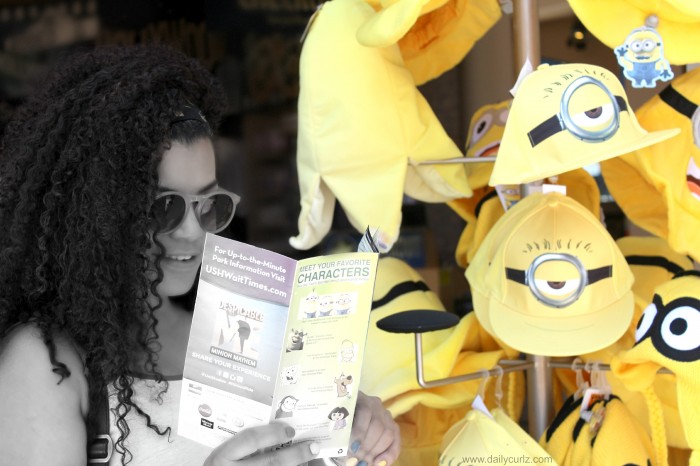 I am totally in love with the Minion characters, they are crazy, cute and yellow, a color that as growing up, I never used because it was not for my " skin color" , but one of the things that having my natural hair taught me, is not being afraid of colors, women of colors look amazinling (maybe not a word) in bold colors. So I went to try the New ride Minion mayhem at Universal Studios and got inspired to wear the Minion colors Blue and yellow. It was a very hot day, and I had a lot of walking and waiting in line ahead of me, so I chose a very comfortable outfit, very casual, fresh and cute, one thing I always love about Universal Studios Hollywood is the big fat cool zone, my kids love it and my curls appreciate it (you curly girls know what I am talking about)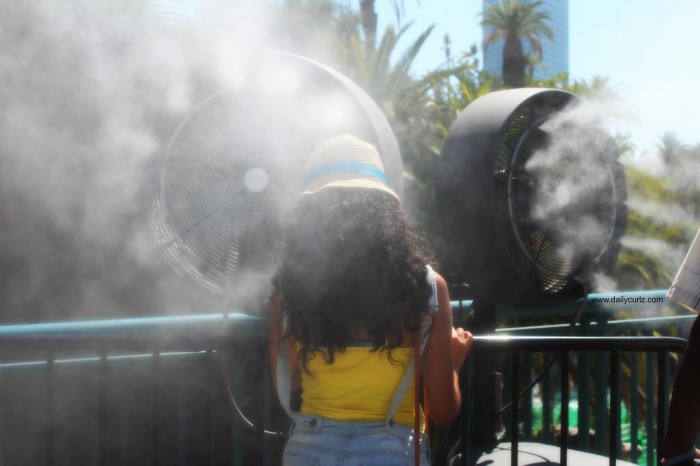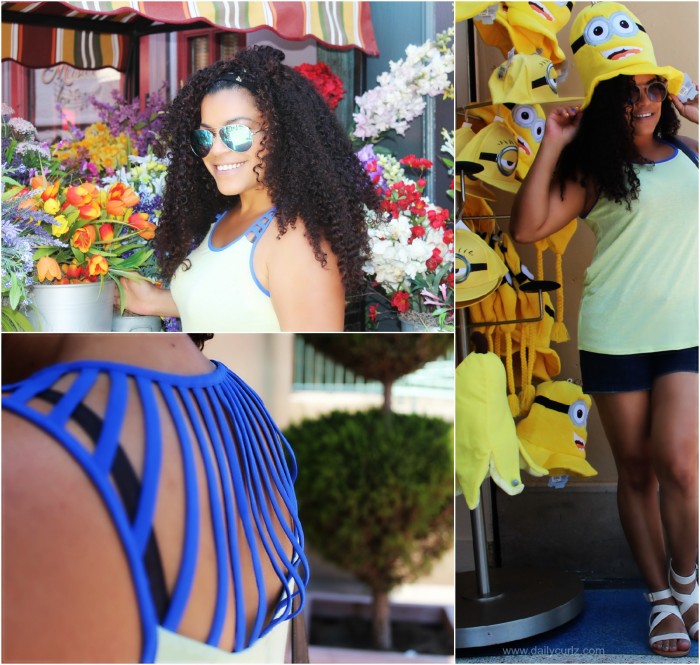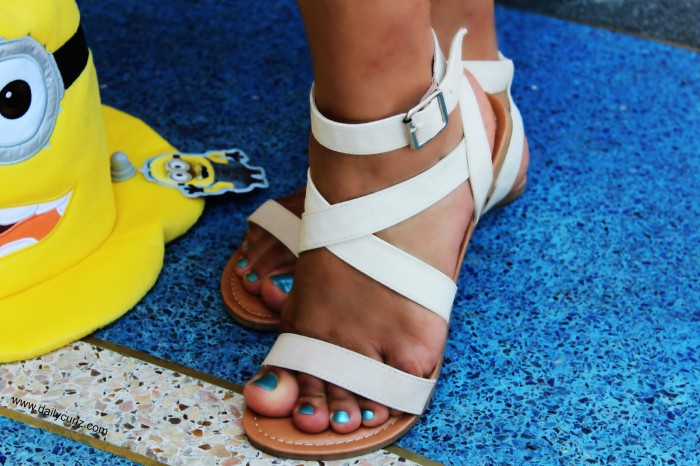 Blouse PinkBlush.com –Short Jessica Simpson –Shoes (similar) Nordstrom rack –sunglasses xox Betsy
About the Minion Mayhem: it's a super cute 3D ride with movie-based motion stimulator the way only Universal Studios can do it. I really love how only after a few months of my last visit to the park, everything was so different and made me and my family have a totally new experience, after you come out of the ride, your kids can enjoy a multi-level water play area with a spinning Dumbo-style Silly Swirly Fun Ride. The mini-land next to the Despicable Me building adds a scream-filled soundscape and dynamic energy throughout the ride-in-a-box park. With its stylized mountain peaks and colorful backdrop beyond an inviting entry arch, Super Silly Fun Land offers a rare location in the park where visitors step into a themed outdoor space rather than simply walking past it. You can find more pictures about Universal Studio Hollywood HERE  from my last visit.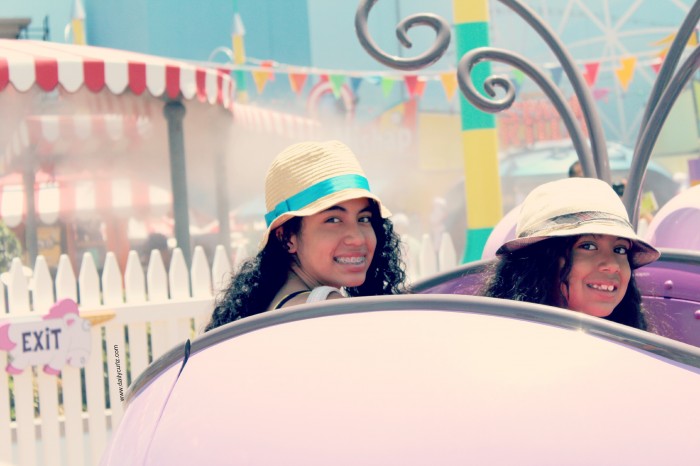 Let's Chat!!!... Have you being to Universal Studios Lately, and did you like the Minion ride? Or maybe you want to talk about my outfit or hair…I love to read your comments. 
Español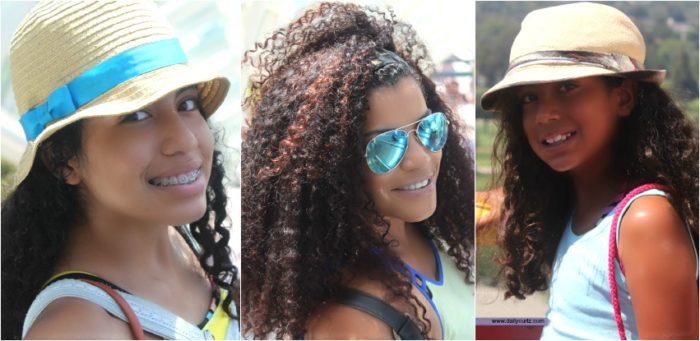 Estoy totalmente enamorada de los personajes Minion, son medio locos, lindos y amarillos, un color que cuando era niña nunca utilize por que no era para "mi color de piel",  pero si algo me ha enseñado el llevar mi cabello al natural, es no tenerle miedo a los colores, las mujeres de color, nos vemos espectacularmente fabulosas con colores vivos. Aprovechando que quería ir a conocer la nueva tracción de Universal Studios Hollywood Minion Mayhem, me inspire a llevar los colores amarillos y azul. Era un día muy caluroso, y tenia que estar preparada para caminar y hacer fila, así que elegí un atuendo cómodo, lindo, casual y fresco, por suerte una de las partes favoritas de Universal Studios Hollywood son los grandes abanicos atomizadores o como en gringolandia "Cool zone" que a mi y a mis hijas nos encanta y mis rizos lo aprecian mucho.
Blusa PinkBlush.com – Short Jessica Simpson – Zapatos (similar) Nordstrom Rack – gafas de sol xox Betsy
Sobre la nueva atracción Minion Mayhem: es una atracción en 3D super lindo con simulador de movimiento basado en películas como sólo Universal Studios puede hacerlo. Me encanta que a solo unos meses de mi ultima visita, el parque estaba totalmente diferente lo que hace que mi familia y yo tengamos una experiencia totalmente nueva en cada visita, después de salir de la atracción los niños pueden disfrutar de una zona de juegos de agua de varios niveles con un giro al estilo Dumbo, muy bien integrada a la atracción de Minion como un conjunto, creando un area de pura diversion para los pequeñines. Puedes encontrar más fotos sobre los Estudios Universales AQUÍ de mi pasada visita.
Vamos a conversar!!!... Has ido a los estudios Universales ultimamente, te gusto la atraccion de Minion? o que opinas del Outifit que elejí, o mi cabello? Me encanta el leer sus opiniones