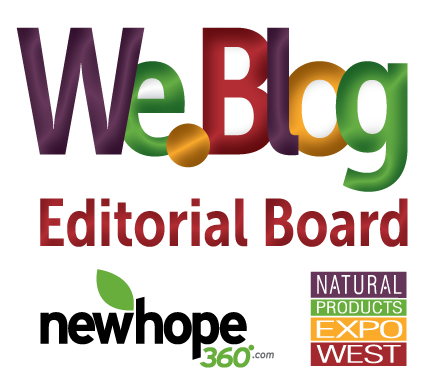 Blogging gives me the greatest pleasure and accomplishments like being part of the Weblog 2014 Editorial board for the natural products expo west, the leading trade show in the natural, organic and healthy products industry, attracting over 60,000 industry professionals and 3,000 exhibits to the Anaheim Convention Center. This is a retailer oriented expo, but I am super excited to learn and tell you all about new trends, new beauty products, and beauty from the inside out that will allow me to write a lot of blog posts and bring you the best of the natural products industry and maybe get inspired and expand my entrepreneur side. I am very excited to learn about new products and ingredients, but I can't wait to see what Nubian Heritage (booth3516) has for us, they are part of the SheaMoisture family, -I wonder if they will bring the new makeup line- and their products are amazing, specially the bath gels, soaps and creams.
I will be covering the beauty part of the expo, but I will make sure to sneak around the healthy eating booths "because curly girls eat" lol. You all know I am all about powerful beauty and healthy hair foods, so I will be looking for that at the expo; food that nourishes our hair from the inside out. I am also excited to learn more about teen vitamins, I know my girl has special needs now that she is getting into those teen years, but I don't know what is safe for her.
there is so much to learn and meet that I may even go with comfy shoes, yeah I know I should, but I look so cute in heels, ehhehhe
The retailers or professionals in the natural products area, benefits tremendously from this expo:
Meet in-person with buyers of natural, organic, and healthy lifestyle products
Highlight new products and/or build brand awareness
Network with the natural products community
Keep up-to-date on new trends and innovative ideas
Interact with trade and consumer press
Boost your presence in the industry
Strengthen relationships with existing buyers, brokers, and distributors
Build new business connections
Here is all the information you need to know about the expo
Location
Anaheim Convention Center
800 West Katella Avenue
Anaheim, CA 92802 USA
Dates
Events and Education: March 6 – 9, 2014
Tradeshow Floor: March 7 – 9 , 2014
Tradeshow Floor Hours
Friday/Saturday 10:00 a.m. – 6:00 p.m Open to all Attendees
Sunday 10:00 a.m. – 4:00 p.m. Open to all Attendees
(Hall E and NEXT Pavilion (Level 3) opens at 9:30am all three days)
wed site: Natural Products Expo West
Mobile App: Download Today!  http://m.expowest.com
Español
El ser bloguera me da muchas satisfacciones como ser parte de la junta editorial Weblog 2014 para la exposición de productos naturales "Natural Products Expo west", esta expo es líder en la industria de los productos naturales, orgánicos y saludables, que atrae a más de 60,000 profesionales de la industria y 3,000 exhibiciones al centro de convenciones de Anaheim. Esta es una conferencia orientada a minoristas, pero estoy súper emocionada de aprender y de compartir con ustedes esos conocimientos sobre las nuevas tendencias, nuevos productos de belleza, y las nuevas tendencias de salud y bienestar que me permitirán escribir un montón de artículos  y traerles lo mejor de los productos naturales de la industria y tal vez conseguir inspirarme y ampliar mi lado empresario. Estoy particularmente interesada en ver lo nuevo que nos trae Nubian Heritage (booth3516) de la misma familia de SheaMoisture- Me pregunto si llevaran su nueva linea de maquillaje?- me encantan sus productos para la piel y su filosofía.
Yo me tengo que enfocar en la belleza, pero de seguro que me encontrare en uno que otro booth de comida natural "Porque hay que comer" jejje. Estaré buscando alimentos que nutren nuestros cabello desde el interior para estar mas bellas. También quiero aprender que vitaminas elegir para mi bebe que ya esta en la etapa adolescente, cuales vitaminas son mas saludables para ella y que le permita desarrollarse bella y saludable.
Mi reto ahora es saber que me pongo en lo pies para caminar el dia entero, ya saben que me encantan los tacones, pero no creo que sea buena idea, verdad?
En esta Expo los minorista o profesionales en el área de productos naturales se llevan el plato fuerte:
Conocer en persona a los compradores de productos de estilo de vida natural, orgánicos y saludables
Conocer nuevos productos y / o crear conciencia de marca
Conectar con la comunidad de productos naturales
Mantenerte al día sobre las nuevas tendencias e ideas innovadoras
Interactuar con comerciantes y  consumidores
Aumentar tu presencia en la industria
Fortalecer las relaciones con los compradores existentes, intermediarios y distribuidores
Construir nuevas conexiones de negocios
Aquí está toda la información que necesitas saber acerca de la expo
Ubicación
Anaheim Convention Center
800 West Katella Avenue
Anaheim , CA 92802 EE.UU.
Fechas
Eventos y Educación: 6 a 9 marzo 2014
Tradeshow Piso: 7-9 marzo 2014
Horas Tradeshow
Viernes / Sábado 10:00 am – 6:00 pm Abierto a todos los asistentes
Domingo 10:00 am – 4:00 pm Abierto a todos los asistentes
( Sala E y NEXT Pavilion ( nivel 3 ) se abre a las 9:30 am los tres días
wed site: Natural Products Expo West
Mobile App: Download Today!  http://m.expowest.com