For thanksgiving as part of a sponsored post for Collective Bias® I want to show my not so wise curly girl mom side, this was a one time event that will never ever happen again, maybe it was all that relaxer on my hair that didn't let me think straight.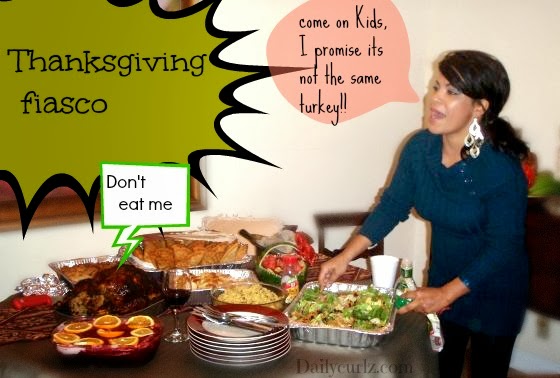 I didn't grow up celebrating thanksgiving, but if you know me, you know I always have an excuse to get together and have fun, why not? So I got married and had my kids, yayyyy now I have quorum to do a thanksgiving dinner, beat that Nick!! I always go over the top, blame my Caribbean mix of race-not-I just like to be a little extreme and out of filter like a "friend" once said; anyways, so in April I decided it would be a great idea to buy a live turkey and raise it till thanksgiving, clever natural mom, ah? . My kids thought that the turkey was a pet, they named it "Beto"; they fed and played with him, so cute…. When thanksgiving came.. oh boy…. why can't I be a normal mom? why did I not just buy a frozen turkey? It was a total fiasco, no one at home would eat the turkey, or any food what so ever.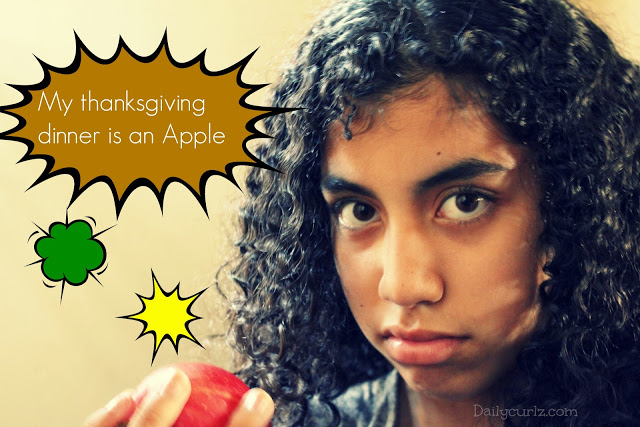 It was a total thanksgiving fiasco that made me a not so traditional mom, but we are who are, I love to the non-traditional and big haired mom at school, I think it is really important to teach your kids that being different is good, that's what makes me a
NickMom's
 ; Nick is just so my family.  If you want to laugh and find a place for your not so traditional parenting story visit 
 "Thanksgiving Hub" 
.
Do you have a Thanksgiving dinner fiasco? ohh come on I know you do, I can't be the only crazy mom around here, I would love to read them, share it on the comment box below.. And check the image, I just love it, don't you?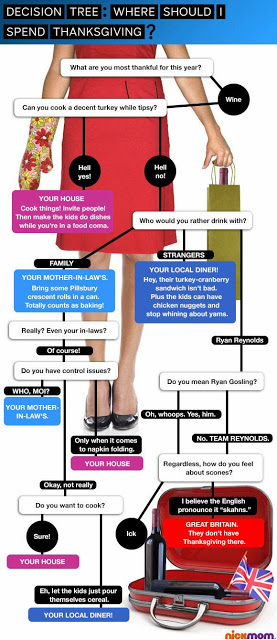 Para acción de gracias, y como parte de un articulo patrocinado por 
Collective Bias®
 quiero mostrar mi no tan sabia decisión como mamá, se trata de un evento de una sola vez que nunca jamás volverá a suceder. Tal vez fue todo ese alisado químico que ponía en mi cabello, que no me dejaba pensar con claridad.
No crecí celebrando el día de acción de gracias, pero si me conoces, sabes que siempre tengo una excusa para hacer una fiesta o celebrar ¿por qué no ? Así que me casé y tuve a mis hijas, esoooo  ahora ya tenia quórum para hacer una cena de acción de gracias, supera eso Nick!! Pero yo siempre me tengo que ir por la tangente y mas alla, la culpa es de mi mezcla Caribeña – jejje – en realidad me  gusta ser un poco exagerada y fuera de filtro como una " amiga " dijo una vez , anyways,  volvamos al relato/fiasco,  en abril decidí que sería una gran idea comprar un pavo vivo y criarlo hasta el día de  acción de gracias, mamá inteligente, ah? . Mis hijas pensaron que el pavo era una mascota, lo nombraron " Beto", lo alimentaban y jugaban con él, tan lindo …. Cuando llegó el gran día de darle chicharrón al pavo.. oh boy …. ¿Por qué no puedo ser una mamá normal? ¿por qué no compre un pavo congelado como todo el mundo? Fue un fiasco total, nadie en la casa quiso comer el pavo, ni nada de lo que cociné. 
Fue un fracaso total y clásico del día de acción de gracias que me convierte en una mamá no tan tradicional, pero somos lo que somos , me encanta ser la madre diferente y del cabello mas grande en la escuela, creo que es muy importante enseñar a nuestros hijos que ser diferente es bueno, eso es lo que me  hace toda una 
NickMom
  Nick es muy mi familia. Si quieres reír y encontrar un lugar para tu familia  única y tus historias no tradicional visita  a 
Thanksgiving Hub
. 
¿Tienes una historia de Acción de Gracias digno de compartir? ohh no me mientas, no puedo ser la única madre loca por aquí, me encantaría leerlas, compártela en el cuadro de los comentarios a continuación ..