As part of Domestic Violence Awareness Month in October, Purple Purse, The Allstate Foundation's symbol for domestic violence proudly represents a woman's way to escape the cycle of abuse by gaining financial independence.  
Domestic violence is an issue that impacts millions, but few talk about it. Purple Purse helps people carry on conversations and pass information about domestic violence and financial abuse by placing the power directly into people's hands with a purple purse.
A majority of Americans agree that domestic violence is tough to talk about. More than one-third of Americans have never discussed the issue with family or friends and Purple Purse provides a conversation starter.
Lacking financial knowledge and resources is the number one indicator of whether a domestic violence victim will stay, leave or return to an abusive relationship.
For every purple purse passed through the end of October, The Allstate Foundation will donate $5 to YWCA. The'll give up to $350,000 for programs aimed to help domestic violence survivors and stop the cycle of abuse.
I already passed my purse and you can too, Visit
Facebook
or
PurplePurse.com
for more information.
You can also join the movement and share your voice at a   Tweet party on October 9, Just be sure to follow the hashtag #PurplePurse.
Español
Este articulo es patrocinado por Latina Bloggers Connect y The AllState Foundation.
Como parte del Mes de la Concientización de la Violencia Doméstica en octubre, Bolso Morado, símbolo de la Fundación Allstate para la violencia doméstica representa con orgullo la manera de una mujer para escapar del ciclo de abuso por lograr la independencia financiera.
La violencia doméstica es un problema que afecta a millones de personas, pero pocos hablan de ella. Bolso Morado, ayuda a las personas a mantener una conversación y transmitir información sobre la violencia doméstica y el abuso financiero colocando el poder directamente en tus manos con el bolso  Morado.
La mayoría de los estadounidenses están de acuerdo que la violencia doméstica es difícil de hablar. Más de un tercio de los estadounidenses nunca han discutido el tema con la familia o amigos y el Bolso Morado proporciona un arrancador de la conversación.
La falta de conocimientos y de recursos financieros es el indicador número uno de que una víctima de violencia doméstica se mantenga en una relación abusiva.
Por cada Bolso Morado que se pase hasta finales de octubre, la Fundación Allstate donará $5 a YWCA. Ellos donaran hasta $350,000 para los programas destinados a ayudar a los sobrevivientes de violencia doméstica y detener el ciclo de abuso.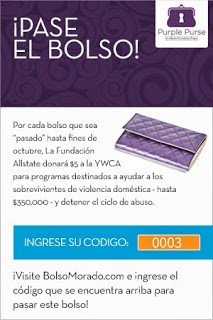 Yo ya pasé mi bolso y tú también puedes, Visita su pagina de Facebook o bolsomorado.com para más información.
También puedes unirte al movimiento y compartir tu voz en una fiesta de Twitter el 9 de octubre, sólo asegúrate de seguir el hashtag #PurplePurse.