There are a lot of discussions, opinions, and even scientific research between the difference of running outside and on the treadmill. Scientifically speaking they are roughly the same if you make a few adjustments. In my personal opinion running a mile on the treadmill feels like 4 miles outdoors. Mainly because there is no wind resistance on the treadmill and that makes the running easier, but if you set your machine to at least 1% grade it simulates the outdoor running and offsets the lack of wind resistance.
It doesn't matter if you set your treadmill with some kind of resistance, running inside is not affected by the weather condition that sometimes may be a downer for some. Personally I am quite alright with hot and humid weather conditions, and coming from an island, that is an everyday thing, so I don't mind it, but when it comes to cold weather hitting the road it's not ideal.
Luckily I live in California, so the cold weather is not what you call extreme, but it's pretty cold in the mornings and sometimes very windy. I could opt to run on the treadmill for the winter months, but I like to run outside, I love it. I love the scenery passing by and it motivates myself with a destination "finish line". I feel that running outside develops different skills than on the treadmill.
If you are like me and love to run in the outside, these two products are definitely must haves.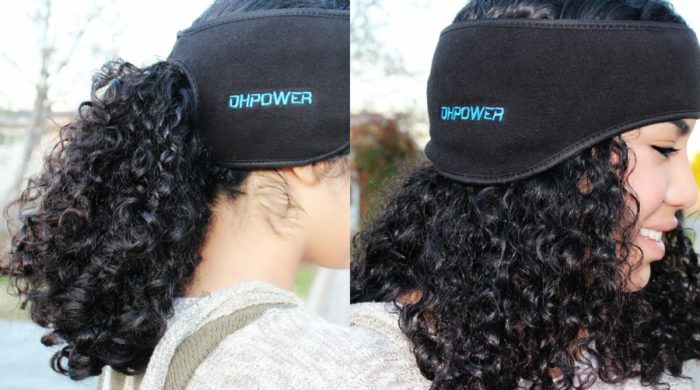 Ponytail Headband Double Fleece – Full Ear Warmer Coverage – Perfect Head Band for Running, Sport and Exercise By HDPower- shop Here
I am in love with this stylish and warm headband, it maintains a desirable, warm temperature for your head covering the most vulnerable parts (forehead and ears) while holding tight your puff or ponytail. If you have short hair its works for you too. Big enough to fit my big curly hair and my style.
If you are looking for a 2 in 1 product that will make the cold days of winter warmer and suitable to run, hike, cycling, ski, or skating in the outside, this product is perfect for you.
iSport Freedom Wireless Bluetooth On-Ear Sport Headphone. This headphone is just amazing for any workout activity you are into. I've had these headphones for quite a while and it just surprises me every time. The sound is just amazing with an excellent bass. The thing that I like the most about it is that it is much lighter that other headphones I own. The battery life is super.
Tough, durable, waterproof, is easily cleaned. Sweatproof, Freedom stands up to your most rigorous workouts.
Easy on-ear controls
Voice-activated calls
Optimized for long-wearing comfort
Reflective safety trim. More info HERE. 

Español
Hay muchas opiniones encontradas con respecto a que es mejor, si correr en la caminadora eléctrica o en la intemperie. Pero según investigaciones científicas la diferencia es casi minima o ninguna si se hace algunos ajustes en la caminadora. En mi opinión personal correr una milla en la maquina se siente como 4 millas al aire libre. Esto es posible porque no hay resistencia al viento en la maquina lo que hace el rendimiento más fácil, pero si se configura el equipo por lo menos 1% de pendiente inclinada se compensa la falta de resistencia al viento.
No importa si configuras la caminadora para darle resistencia y que sea parecido al correr al aire libre, correr en el exterior trae consigo las condiciones climáticas. Personalmente me sale muy bien correr cuando el clima esta caluroso y hasta húmedo, como buena caribeña, pero cuando se trata de un clima frío la historia es otra.
Por suerte yo vivo en California, por lo que el clima frío no es extremo, pero es bastante frío por las mañanas y a veces con mucho viento. Podría optar por quedarme en las cuatros paredes segura de un gimnasio, pero la verdad es me encanta el correr al aire libre. Me encanta ver el paisaje que pasa, y me motiva saber que hay un destino donde llegar "una meta". Siento que corriendo en el exterior se desarrollan otras habilidades.
Si eres como yo y te encanta el correr en el exterior, estos dos productos sin dudad te encantaran: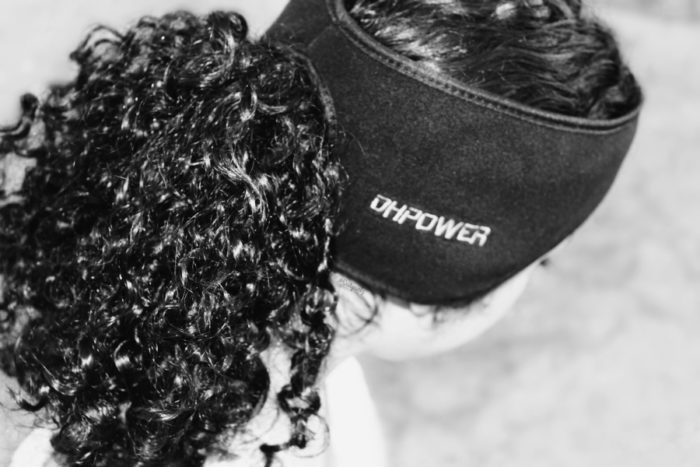 Ponytail Headband Double Fleece by HDPower– Estoy amando esta banda para la cabeza que mantiene una temperatura conveniente, y cubre las partes más vulnerables (frente y las orejas), mientras te ayuda a mantener en lugar tu cola de caballo, pero si tienes el cabello corto también lo puedes usar, porque es funcional. Lo suficientemente grande para que quepa mi gran cabello rizado y con diferentes colores para elegir para los diferentes gustos.
Si estás buscando un producto 2 en 1 que hará los días fríos de invierno más cálidos y adecuados para correr, caminar, ciclismo, patinaje o cualquier actividad en el exterior este producto es perfecto para ti.
iSport Freedom Wireless Bluetooth On-Ear Sport Headphone. Este auricular es simplemente increíble para cualquier actividad de entrenamiento que realices. Lo tengo desde hace un tiempo y cada día me gusta mas, el tiempo de duración de la batería es increíble, al igual que es mucho mas liviano que otros audífonos inalámbrico que he usado. Y que decir del sonido? el sonido es nítido, potente, limpio y aísla muy bien el sonido exterior.
Durable, resistente al agua, se limpia fácilmente.
A prueba de sudor
Libertad para tus entrenamientos más rigurosos.
Fáciles controles en el propio audífono.
Activación de llamada de voz.
Banda de reflexion y  mas. Más información AQUÍ.