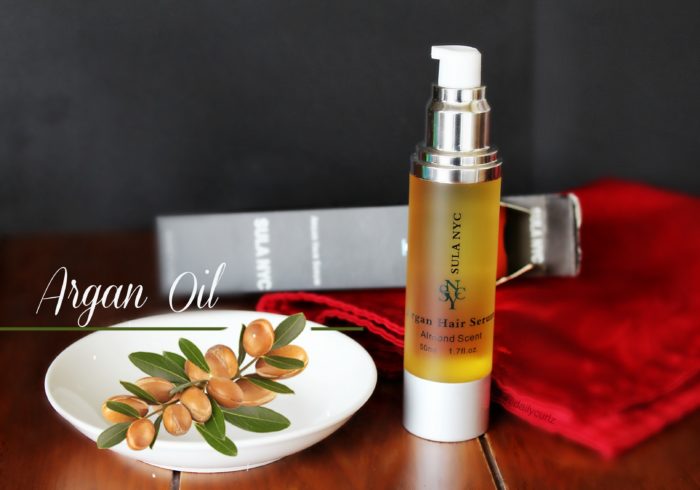 SULA NYC is a company that carries high quality organic and natural products containing pure 100% organic Argan Oil. Certified, cold pressed and premier cosmetic grade. Never tested on animals. SULA NYC has various products for the skin and hair, but I will be talking specifically about the argan hair serum, if you want to learn more about SULA NYC products click here.
This Argan hair serum hydrates and conditions damaged and dry hair, leaving it healthier and shinier. This serum also protects against UV damage and other enviomental elements. SULA argan hair serum is particularly good for split ends and frizzy hair. Silicone and Paraben free. Read the list of other ingredients and price here .
This oil is intended to use as a pre-poo -how cool is that- apply it from roots to ends and put a plastic cap, hot wrap or even a hot towel for about 15 minutes, wash and style as usual. If you have oily hair but your ends are damaged, I recommend only applying it to your ends without touching your roots.
SULA NYC argan oil serum has a very sweet pleasant scent and a little bit goes a long away. I also applied this serum on my skin and it felt really good and soft
This post is in collaboration with SULA NYC and I received a sample to facilitate this post
Español
SULA NYC es una empresa que distribuye productos naturales y ecológicos de alta calidad que contienen 100% aceite puro de argan orgánico . Certificado, grado cosmético prensado en frío. Nunca probado en animales. SULA NYC tiene varios productos para la piel y el cabello, pero hoy les hablare específicamente sobre el suero para el cabello de aceite argan, si quieres aprender más acerca de los productos SULA NYC has clic aquí .
Este suero de aceite de Argan hidrata y acondiciona el cabello seco y dañado, dejándolo sano y brillante . Este suero también protege contra los rayos UV y otros elementos del ambiente,  es particularmente bueno para las puntas abiertas y el cabello con frizz. Sin siliconas pesadas ni paraben. Lee la lista de ingredientes y precios aquí .
Este aceite esta creado para usar como pre -poo – lo cual es increíble – lo aplicas desde las puntas hacia las raíces y luego te pones un gorro de plástico, un gorro de acondicionador o un toalla caliente durante unos 15 minutos, lavar y peinar como de costumbre . Si tienes el cabello graso pero tus puntas están dañadas te recomiendo sólo aplicarlo en las puntas sin tocar tus raíces.
El suero de argón SULA NYC tiene un agradable aroma y con un poco se hace el trabajo, lo cual lo hace un producto duradero. Lo unte en mi piel y me encanto como la hidrata y lo rápido que penetra en la piel dejándola muy suave, aunque ellos tienen otro producto especialmente para la piel el Amazon Dew ™ Massage and Bath Oil del cual me enviaron una muestra y me encanto también.
Este articulo es en colaboración con SULA NYC y he revivido muestras para facilitar este articulo.