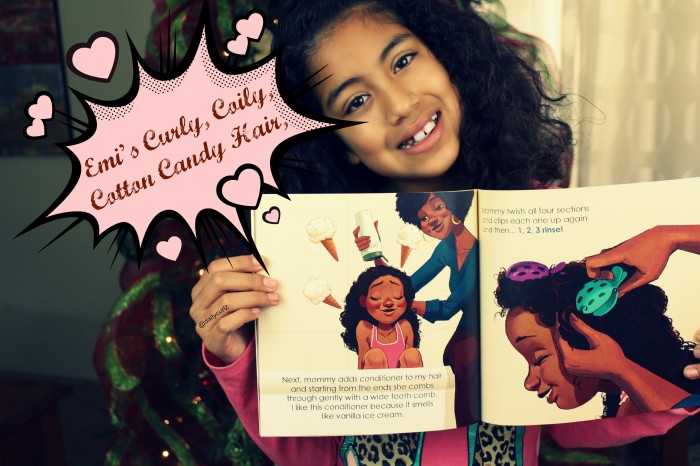 Building your daughter's self esteem is something that all mothers want, specially when you and your daughter are in a "minority group" because they feel different. When we moved to the US is when we actually felt different, where me and my daughters felt like we weren't black enough and definitely not the normal Latino in California. So I have to re-adapt the way I used to think, the way I used to talk (I'm  still working on that lol), the way I style my hair, and even the way I say hi (you know, no touching and kissing ).
The biggest change I did was my hair so that my daughters felt like they belonged and that they were just like their mom; that was the best decision of my life because my daughters embraced being different and unique and beautiful in their own way..I think it is very important to be a role model for our daughters and also show them that there are other people just like them, and a very good way do to that is throughout books like Emi's Curly, Coily, Cotton Candy Hair. Emi is a creative seven-year-old girl with a BIG imagination and in this book, she describes all the cool and quirky things she likes most about her hair. From the shape and movement of her hair, to detangling single strand knots, Emi's unique point of view will put a smile on your face.

ABOUT THE AUTHOR..Tina Olajide is a London-based writer who was inspired to create a character little brown girls everywhere could relate to. "Emi reminds me of the fearless, curious and self-confident girl I was and I want to nurture that spark in other girls and boys" she says. This is Tina's first book, so she wanted it to focus on a topic that encouraged self-love, high self-esteem and imagination. Emi's Curly, Coily, Cotton Candy Hair combines Tina's love of natural hair, animation/illustration and storytelling. It is part healthy hair care guide and part positive affirmations as told by a 7-year-old girl. Tina hasn't forgotten about the boys, you will be introduced to some of Emi's closest friends in future stories.  The book is available on Amazon.com and Amazon Europe which is a perfect holiday gift.
Español
El construir la autoestima de las niñas es algo que toda madre quiere, especialmente cuando estamos dentro de un "grupo minoritario", porque se sienten diferentes. Cuando yo me mude para los Estado Unidos, fue cuando de verdad yo y mis nenas notamos y nos sentimos diferentes; en donde no somos ni suficientemente de color, ni suficientemente latinas dentro de lo mayormente conocido en California. Asi que tube que tomar varias medidas para levantarme el autoestima a mi y a mis niñas, cambie un poco la forma de pensar, de hablar (en eso estamos trabajando), la forma de saludar (no tanto amor, ni besos y abrazos) y cambie la forma en que llevaba mi cabello.
El cambio más grande que hice fue mi cabello, para que mis hijas se sintieran que pertenecían, que no eran raras y que eran igual a su madre, y fue la mejor decisión de mi vida, porque mis hijas están creciendo con la mentalidad de que esta bien ser diferente, seguras de si mismas y espontáneas. Es muy importante ser un modelo a seguir para nuestras hijas, así también como mostrarles otras personas que son como ellas. Una forma muy educativa es mediante la lectura, cosa que no es muy sencillo porque no hay muchos libros de niñas con el cabello rizad. Por eso les comparto este maravilloso libro llamado Emi's Curly, Coily, Cotton Candy Hair. Emi es una niña de siete años de edad, con una imaginación creativa en grande y en este libro describe todas las cosas interesantes y peculiares que ella más ama de su cabello rizado, de la forma y el movimiento de su cabello y la forma de desenredarlo. El libro esta en Ingles, pero es muy sencillo de leer y una buena forma de practicar ingles y levantar el autoestima de las niñas.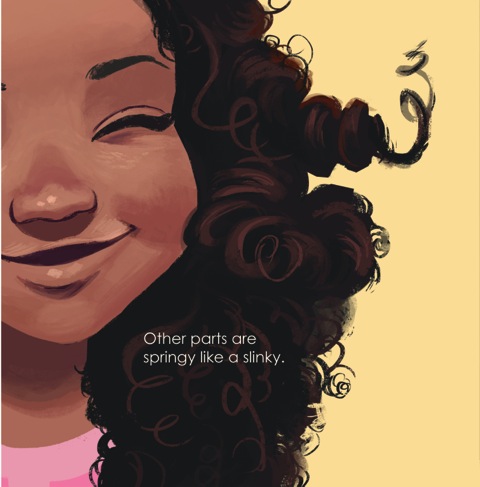 ACERCA DEL AUTOR..Tina Olajide es una escritora con sede en Londres que se inspiró para crear un personaje con las cual las niñas de color de todas partes podrían relacionarse. Emi me recuerda a la chica valiente, curiosa y segura de sí misma que era yo, y quiero alimentar esa chispa en otros niños y niñas -Ella dice-. Este es el primer libro de Tina, por lo que ella quería que se centrara en un tema que anima el amor propio, la autoestima  y la imaginación. Emi's Curly, Coily, Cotton Candy Hair combina el amor por el cabello natural, la animación / ilustración y narración de cuentos. Es parte una guía del cuidado del cabello sano y parte afirmaciones positivas contada por una niña de 7 años de edad. Tina no se ha olvidado de los niños, y nos presentara algunos de los amigos más cercanos de Emi en futuras historias. El libro está disponible en Amazon.com y Amazon Europa y es un bello regalo para la Navidad o el día de reyes.