If you want to know more about this New sensation read here
I get to used this new gel and many of you know by know that I love sheamoisture products not only they are good for my hair, but they are very affordable; but am not a Gel fan, I used gel only for my edges because I don't like the crunchy feeling and some times the white flakes the next day and sometimes even after a few hour, but as I love Sheamoisture product so I wanted to try the Gel…
The first impression is this wonderful coconut smell the moment you open  the jar ahhhhh. The consisteny remind of the homemade flax seed gel I made witch I particularly like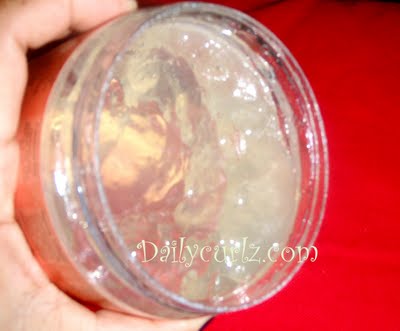 What I love about it?
The smell
The ingredients
No crunchy feeling
no white flakes
Hold, but not hard
The shine, OMG the shine
I can put my hair in a pony tale and take it down and my hair still bouncy(this u can see in a video)
I didn't need any extra products.
After 2 days with workout/ despues de dos días con ejercicios incluidos
What I didn't like ?
Well I have to say something bad, right? Ok. Maybe because of  the consistency of the gel I had to be carefully not to drop it every where, a different jar maybe, Ok you got me I don't have nothing bad to say, lol..
I had to wash my hair because after two intense day routine at the gym, including  spinning I had to wash that sweat out, but my hair was shinny and well define curls, If you a looking for a long lasting products to do twist and braid out this may be your products(I will try this style with the gel myself)
Si quieres saber mas del gel lee aqui
Ustedes saben que yo adoro los productos de sheamoisture, no solo que son bueno para mi pelo, sino que no son tan costosos como otros productos, aun así yo no soy muy fan de las gelatinas o gel para el pelo, pues me lo dejan muy duro y aveces hasta una cáspita blanca al otro día e inclusive a las pocas horas, pero como adoro estos productos quise ver que tal.
La primera impresión cuando lo abres es un olor delicioso a coco ahhhhhh, la consistencia de parece al gel linaza que he preparado que me encanta..
Que me gusto?
El olor
Los ingredientes
No dejo mi cabello duro ni crunchy 
No cáspita blanca
Fijación ligera 
El brillo, Oh el brillo impresionante
Pude hacerme una cola, quitármela y aun así mi pelo se movía con naturalidad "no rígido"(como pueden ver en el  video)
No tuve que mezclar con otros productos
Que no me Gusto? 
Tengo que decir que no me gusto, verdad? ok. tal vez por la consistencia del producto hay que tener un extra cuidado en no derramar el gel, otro tipo de envase, tal vez.. Ok. esta bien no tengo nada malo que decir, jajajjajajja.
Yo me lave la cabeza porque habia tenido dos días intesos de ejercicios incluyendo spinning y tenia que sacar el sudor de mi pelo, pero mi pelo estaba brilloso y con rizos super definidos. Si esta buscando un productos para un estilo que te dure mucho como twist y trenzas este producto es para ti.( yo lo probare en estos estilos también).