I was invited to celebrate mother's day at Universal Studios Hollywood to an exclusive VIP experience, well not really that exclusive because anyone can do it, lol. And even though this was not my first time at Universal Studios, this was my first VIP experience, which is totally different, since VIP at Universal Studios really Means VIP:
Never do Lines with your Front of Line pass
Exclusive Seats in all the shows and presentations
Tour Guide
Behind the scenes Movie tour
Lunch Buffet with a  large selection of meat, seafood, vegetables, soft drinks and dessert (did I mention a great service?) all made from scratch 
Discount on souvenirs and drinks.
And the VIP treatment of a star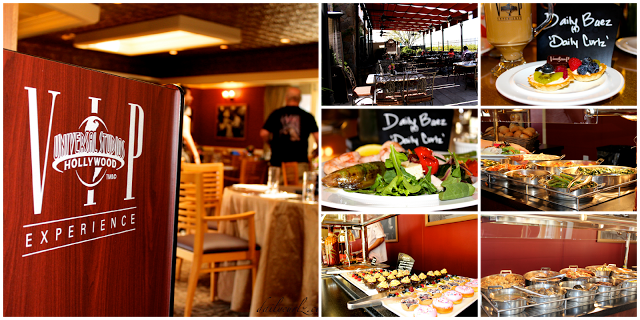 VIP lunch buffet at Universal Studios
Any experience at Universal Studios Hollywood is different from another, they make sure to always have different characters, shows, and scenarios for the whole family.
Universal Studio Fun for the whole family 
Wao factor any time at Universal Studios.
The New attraction Transformer the Ride is a real 3D experience based on the popular movie franchise, this mind-blowing Transformers adventure puts you in the middle of the ultimate war zone.
Fight alongside Optimus prime and try to survive as you protect the AllSpark from Decepticons. You can read more about this attraction and many others
here.
Get your camera ready because the park is beautiful and characters from movies pop out everywhere.
Universal Studios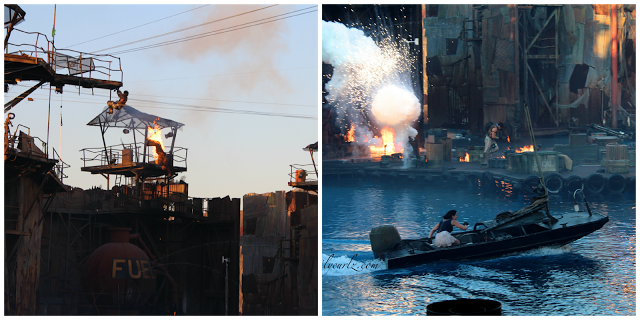 water world at Universal Studios 
Have you ever been at Universal Studios Hollywood? Which is your favorite attraction?
This is not a sponsor post, but I did receive complementary tickets to visit the park and celebrate mother's day, all pictures and opinions are my own 
Español
Me invitaron a celebrar el día de la madres en los Estudios Universal de Hollywood para una experiencia VIP exclusiva, bueno ni  tan exclusiva, ya que cualquiera puede hacerlo jejeje. Aunque esta no fue mi primera vez en los estudios Universal, si fue mi primera experiencia VIP, lo cual la hizo totalmente diferente a las demás visitas, porque en los Estudios Universal VIP realmente significa VIP:
Nunca haces filas/lineas con tu pase de Front of the Line 
Asientos exclusivos en todos los shows y presentaciones
Guía 
Experiencia  detrás de escena. 
Almuerzo buffet con una gran selección de carnes, mariscos, verduras, refrescos y postres (¿mencione un gran servicio?) todo hecho desde cero y super natural.
Descuento en las tiendas de regalos y bebidas.
Y  tratamiento VIP digno de una estrella
Regalos de los Estudios Unversal
Cada experiencia en los Estudios Universal Hollywood es diferente a la otra, ellos se aseguran de tener siempre diferentes personajes y escenarios  para toda la familia.
La nueva atracción de los transformers es una verdadera experiencia 3D basado en la película, esta aventura es alucinante y te pone en el centro de la zona de guerra como si tuvieras en la película.
Puedes leer más sobre esta atracción y muchas otras aquí.
¡Prepara tu cámara, porque el parque es precioso y personajes de las películas aparecen por todas partes…
Vaporizadores por todo el parque para mantenerte fresca como una lechuga.
¿Alguna vez has estado en Universal Studios Hollywood? ¿Cuál es tu atracción favorita?
Este post no esta patrocinado por los Estudios Universal, pero si recibí tickets para celebrar el día de las madres con mi familia en el parque, todas las fotos y opiniones son mías.