I participated in a campaign on behalf of Mom Central Consulting (#MC) for Sprint. I received a product sample to facilitate my review and to thank me for participating.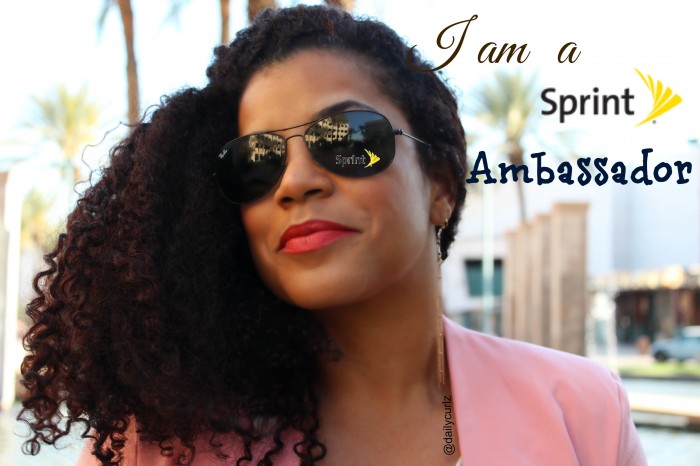 Hola chicas, today's post is to share good news for me and you; I am a Sprint Ambassador and that means that I will be sharing my experiences testing various Sprint devices and service options over the course of the next year, and how is this a good idea for you? well, You will have the chance to test some products and services as well.
I have been a sprint user for the past two and half years and I am particularly very excited to learn more about the Sprint Framily plan, where you and up to 10 friends, family members, and even coworkers and parents from the soccer team can be a part of a Framily group with unlimited talk, text and 1GB of data each, while on the Sprint network. Each of the members on the Framily plan receives a separate bill with no annual service contracts or early termination fees, all for as little as $25 a month per line when you have 7 – 10 members in the Framily group. Learn more here sprint.com/framily
Too good not to share!!! For a limited time, new customers who bring their number to Sprint and sign up for a Sprint Framily Plan can receive up to $300 in credit for their current phone and a Visa® Prepaid Card worth up to $350 to cover switching fees. This offer will be available exclusively at Sprint stores and online at Sprint.com from April 4 through May 8.
I told you that this ambassadorship is good for me and for you right? so, here you go, enter for a chance to win a HTC max one smartphone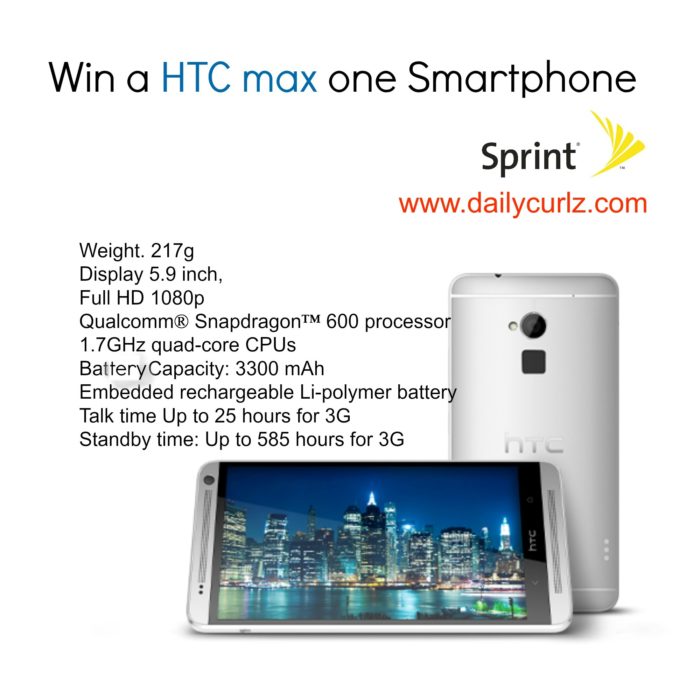 The HTC max one smartphone offers users a massive screen with a 5.9-inch display and amped speakers for watching videos or viewing pictures on the go. The feature-rich camera offers users the ability to take photos with a fun, artistic flair, and gives users news recommendations based on likes on social media, for breaking news that matters most to them.
Good Luck!!
Español
Yo participo en una campaña para  mom central Consulting (#MC) para Sprint . Recibí muestra de producto para facilitar mi articulo. 
Hola chicas, el post de hoy es para compartir una buena noticia para mí y para ustedes; Yo soy embajadora de Sprint y eso significa que voy a compartir mis experiencias probando varios equipos Sprint y opciones de servicios a lo largo del próximo año, y ustedes pensaran: como es esto una buena noticia para mi? bueno, lo que pasa es que ustedes también tendrán la oportunidad de ganar varios productos, comenzando desde hoy (sigue leyendo).
Yo soy usuaria de sprint desde hace varios años, pero estoy particularmente con deseos de aprender mas sobre el plan Framily de sprint, donde tú y hasta 10 amigos, familiares e incluso compañeros de trabajo y padres de familia del equipo de fútbol, pueden ser parte de un grupo Framily con llamadas ilimitadas , texto y 1 GB de datos cada una, bajo la red de Sprint. Cada uno de los miembros en el plan Framily recibe una factura por separado sin contratos anuales de servicio o cargos por cancelación anticipada, todo por tan solo $25 al mes por línea cuando incluyes de 7 – 10 miembros en el grupo Framily . Obten más información aquí sprint.com/framily
Muy bueno para no compartir! Por tiempo limitado, los nuevos clientes que traigan su número (se cambien) a Sprint y se  inscriban en un Plan Framily Sprint pueden recibir hasta $300 en crédito para su teléfono actual y una Tarjeta Prepagada Visa ® por valor de hasta $350 para cubrir los gastos por cambios de red. Esta oferta estará disponible exclusivamente en las tiendas Sprint y en línea en Sprint.com a partir del 4 de abril al 8 de mayo.
Ok. aquí les va la primera sorpresa de sprint para ustedes mis lectoras hermosas: entra por la oportunidad de ganar un teléfono inteligente HTC max one smartphone, en el widget de arriba.
El teléfono inteligente HTC max one smartphone, ofrece a los usuarios una pantalla gigante de 5.9 pulgadas y altavoces amped para ver vídeos o ver fotografías en movimiento. La cámara ofrece a los usuarios la capacidad de tomar fotos con un toque artístico y divertido, a demás de recomendaciones de noticias basado en tus gustos en medios de comunicación social

.
Buena suerte a todas!