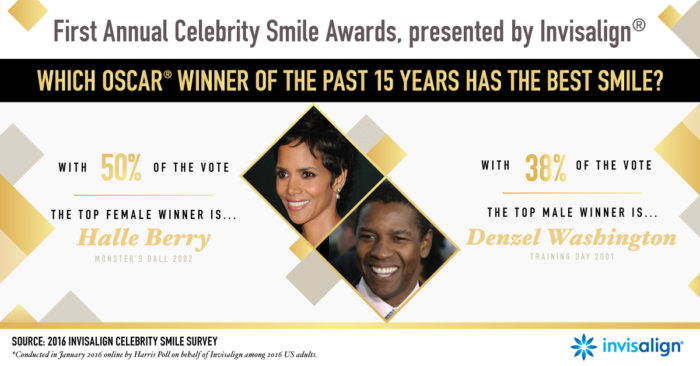 New Survey Reveals America's favorite celebrity nominee smile in advance of Hollywood biggest night. Invisalign Brand Sponsored Celebrity Smile Survey Names Leonardo DiCaprio and Jennifer Lawrence Best Red Carpet Smiles for 2016; Halle Berry and Denzel Washington Win Best Award-Winning Smiles From The Past 15 Years
WHAT:
With Hollywood's biggest night around the corner, gorgeous smiles will take over the red carpet. While the nominees may or may not go home with a statue, a few have already been bestowed an honor, being named as having the "Best Smile" according to a new online survey conducted in January by Harris Poll on behalf of the makers of the Invisalign clear aligner system.
WHO:
Leonardo DiCaprio won "Best Actor Smile" with 56% of the vote.
Runners Up: Matt Damon (31%), Michael Fassbender (14%), Eddie Redmayne (13%) and Bryan Cranston (12%)
A "Joy"-ful Jennifer Lawrence won "Best Leading Lady Smile" with 44%.
 Runners Up: Brie Larson (38%), Cate Blanchett (32%), Saoirse Ronana (19%) and Charlotte Rampling (10%)
Halle Berry and Denzel Washington took top spots in Hollywood's Best Award-Winning Actress and Actor Smile from the Past 15 Years with Halle receiving 50% of the vote and Denzel 38% respectively
Runners up: Reese Witherspoon (42%), Gwyneth Paltrow (37%), Julia Roberts (35%), Matthew McConaughey (33%), Jamie Foxx (28%), Sandra Bullock (26%), Kevin Spacey (21%) and Eddie Redmayne (16%)
 Best Supporting Actress Smile goes to Rachel McAdams with 48%.
Runners Up: Alicia Vikander (32%), Rooney Mara (19%), Kate Winslet (15%) and Jennifer Leigh (9%)
 2016 Best Supporting Actor Smile is Sylvester Stallone with 22%
 Runners Up: Christian Bale (21%), Mark Ruffalo (18%), Tom Hardy (14%) and Mark Rylance (11%)
The most iconic award-winning movies that showcased the most beautiful smiles are The Sound of Music and Titanic (tied at 17%)
 Runners Up: Chicago (11%); West Side Story and American Beauty (tied at 10%); Shakespeare in Love (7%); and Slumdog Millionaire and Annie Hall (tied at 6%)
 Nearly half of Americans would rather have their own smile than that of any Actor or Actress nominated in 2016 (47% of men and 52% of women)!
WHEN/WHERE:
Consumers can join @Invisalign for a #RedCarpetSmile conversation live on Twitter Sunday, Feb. 28 from 4-9 PM PST to see if Hollywood's best smiles are winners on awards night. Plus enter for a chance to win an Invisalign treatment in the Raflecopter widget bellow
a Rafflecopter giveaway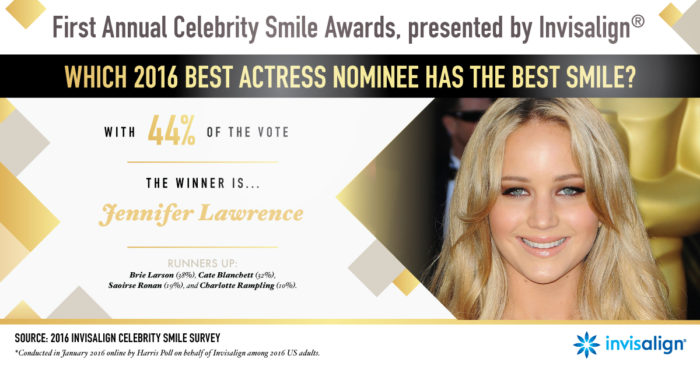 This survey was conducted online within the United States by Harris Poll on behalf of the makers of Invisalign from January 25-27, 2016 among 2,016 adults ages 18 and older. This online survey is not based on a probability sample and therefore no estimate of theoretical sampling error can be calculated.
Español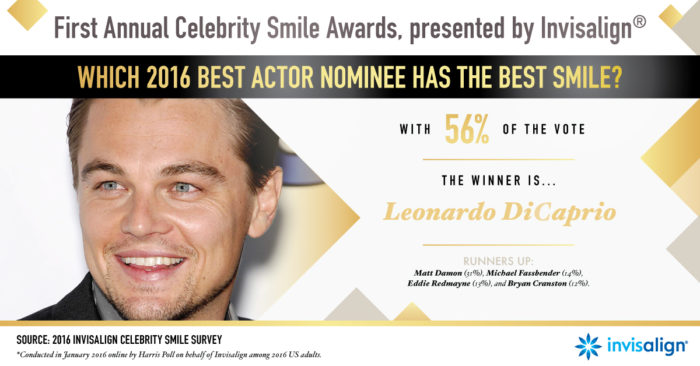 Nueva encuesta revela los nominados a la mejor sonrisa de los artista de Hollywood. La marca Invisalign patrocinó esta encuesta en donde Leonardo DiCaprio y Jennifer Lawrence fueron los ganadores para el 2016; Halle Berry y Denzel Washington ganaron la mejor sonrisa de los últimos 15 años.
QUÉ:
Con la noche más importante de Hollywood a la vuelta de la esquina, las hermosas sonrisas llenaran la alfombra roja de la premiacion y aunque no todos se irán a casa con la estatuilla, ya algunos se llevaron el galardón a la mejor sonrisa, según una nueva encuesta realizada en linea por Harris Poll, para los creadores de la ortodoncia invisible Invisilagn.
QUIEN:
Leonardo DiCaprio ganó "Mejor sonrisa en un actor " con el 56% de los votos.
Finalistas: Matt Damon (31%), Michael Fassbender (14%), Eddie Redmayne (13%) y Bryan Cranston (12%)
La actriz de "JOY" Jennifer Lawrence ganó "Mejor sonrisa en una actriz principal" con un 44%
Finalistas: Brie Larson (38%), Cate Blanchett (32%), Saoirse Ronana (19%) y Charlotte Rampling (10%)
Halle Berry y Denzel Washington tomaron los primeros puestos de mejor sonrisa en una Actriz y Actor  premiados por la academia en los últimos 15 años- Halle recibio el 50% de los votos y Denzel el 38
Finalistas: Reese Witherspoon (42%), Gwyneth Paltrow (37%), Julia Roberts (35%), Matthew McConaughey (33%), Jamie Foxx (28%), Sandra Bullock (26%), Kevin Spacey (21 %) y Eddie Redmayne (16%
Mejor sonrisa en una actriz de reparto va a Rachel McAdams con un 48%.
Finalistas: Alicia Vikander (32%), Rooney Mara (19%), Kate Winslet (15%) y Jennifer Leigh (9%
Mejor sonrisa en un actor de reparto es Sylvester Stallone con un 22%
Finalistas: Christian Bale (21%), Mark Ruffalo (18%), Tom Hardy (14%) y Mark Rylance (11%)
    CUANDO DÓNDE:
Te invito a que veamos la premiación juntas y claro la alfombra roja y las sonrisas de los galardonados, mientas hablamos sobre una bella sonrisa en Twitter el Domingo 28 de Febrero de 4-9 pm hora del pacifico usando el hashtag #RedCarpetSmile. También te invito a que participes por la oportunidad de ganar un tratamiento Invisalign en el widget de Raflecopter que te dejo a continuación: a Rafflecopter giveaway