Steaming  natural hair ? steaming is a great deep conditioning treatment for hair and especially natural hair since natural hair is prone to dryness.
Steaming improves scalp blood flow circulation and opens the hair follicles and shaft encouraging moisture penetration. When your hair shaft is open, it is able to absorb more water and any other moisturizing treatments that can make your hair healthy and supple; 
once your folicules (the little holes your hair grows out of) are open, dirt, oil, and product buildup from styling can exit easily. yes, this process does happen when you wash your hair or even at times when you massage your scalp, but steam can help you get an even cleaner scalp and speed up the process.
In addition to cleaning your hair and scalp, steam also acts as a moisturizer for your hair. water alone cannot moisturize your hair without proper sealing, but steam can open the follicles and hair shaft to penetrate deep inside planting moisture where you need it the most. After steaming your hair will be super soft, and healthier,
  and if you are dealing with dry hair, adding a weekly steam treatment to your hair routine will speed up your moisture balance process. Once you get your hair where it needs to be, twice a month steaming should be enough to keep your hair supple and soft.
Here are the steps to  follow to steam your natural hair. 
wash with a moisturizing shampoo

follow up with a moisturizing conditioner – but don't rinse out – be sure not to add too much. you don't want your hair so coated that the steaming is pointless because the steam can't penetrate your hair shaft. 

Sit under the steamer. 

Steam for 30 mins or so (read your steamer manual for instructions)  and rinse out the conditioner and proceed to seal in your moisture and style as usual. 
The effects of steaming lasts for a while and it improves the condition of your hair. This is a most do for curly girls! The steam room at spa and gym works the 
same
 way to your hair, just sit inside with your hair conditioned and rinse out in the shower.
huetiful hair steamer is good  and affordable  steamer to have at home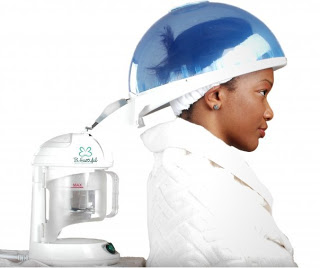 Vaporizador para le cabello
? si  no lo sabías , al vapor es un gran tratamiento de acondicionamiento profundo para el cabello y el pelo natural, especialmente ya que el cabello natural es propensa a la sequedad.
El vaporizador para el cabello mejora la circulación del cuero cabelludo, flujo sanguíneo y abre los folículos pilosos. cuando el eje del pelo está abierto , es capaz de absorber más agua y cualesquiera otros tratamientos hidratantes .
Un beneficio adicional de vapor tu pelo natural es que una vez que sus folicules están abiertas , la suciedad , el aceite y la acumulación de productos  pueden salir fácilmente. sí, este proceso sucede cuando te lavas el pelo o incluso te das unos masaje en el cuero cabelludo , pero el vapor puede ayudar a conseguir un cuero cabelludo aún más limpio y acelerar el proceso .
Además de limpiar el cabello y el cuero cabelludo , el vapor también actúa como un humectante para el cabello. El agua por sí sola no puede hidratar el cabello ni sellado adecuado, pero el vapor puede abrir los folículos y el eje del pelo para penetrar profundamente en el interior. Después de usar el vaporizador tu pelo será muy suave y flexible -Aseguran los creadores-. y si tienes el cabello seco, la adición de un tratamiento con vapor una vez a la semana  acelerará el  proceso de equilibrio de la humedad. Una vez que el cabello este en optimas condiciones, dos veces al mes debería ser suficiente para mantener el cabello suave e hidratado
Estos son los pasos a seguir:
lavar con un champú hidratante

Seguir con un acondicionador hidratante – pero no enjuagues – . No apliques demasiado

Siéntate

 debajo del steamer por 30 min. o por el tiempo especificado en el 

vaporizador

 

Enjuagar el acondicionador y proceder a sellar en la humedad y el estilo como de costumbre.
Los efectos de vapor duran bastante y mejoran la 
condición
 del cabello, el vaporizador es algo que no debe faltar en la casa de una 
pajonua. El steamer room o cuarto de vapor de los gimnasios y spa
  funcionan de la misma manera para el beneficio de tu cabello, así que simplemente 
siéntate
 en el interior con el cabello saturado en tu acondicionador favorito y 
enjuagalo
 en la ducha, eso es lo que llamo un dos por uno.