When I first met Jeshua in Miami, I was captivated by his unique personality and long curly hair, well of course, you know I am crazy about curly hair, but most of all it is not common to see a guy wearing long hair these days, specially not curly. We automatically connected, maybe because of our big curly hair.
Jeshua Viveiros is his name, he is a 23 year old  singer, dancer, and a part time blogger. Jeshua always went against all odds, coming  from a traditional Latino upbringing where the mindset is that only girls danced or that it just wasn't for boys. Being a dancer was out of the question, the reason why he formally started his training at the age of 18.
It took a while for my parents to get used to the idea but they finally came around! I still think they are hoping for me to settle down and do something more traditional lol, but they are very very supportive and I couldn't be more grateful.
Jeshua spent most of his middle-school/ High School career with either a huge puffball or a greasy crunchy jerry-curl, because he went to a very strict conservative school where his hair had to be really short: I fought my texture for a long time but when I graduated, I decided to grow my hair out. I was amazed that my hair was actually…nice… hahah. Who knew?- he says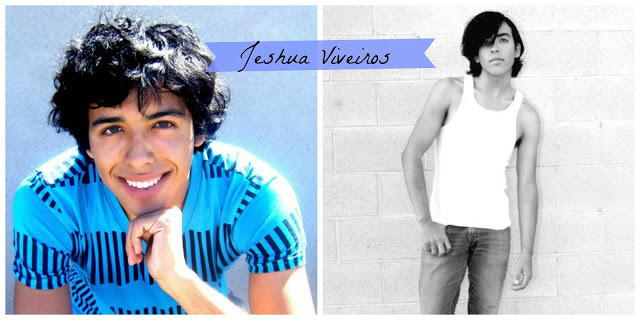 I really like Jeshua's hair, don't you? so let's ask him some curly hair questions, let's talk curly hair:
Some people think curly hair is difficult to manage, is it for you?:  I think curly hair just needs a little more love, but once you know how to do it, it's pretty easy to manage.
What are your favorite products, your regimen, etc? My best friend's mom is a hairstylist so she always hooks me up with bomb products! I use Moroccan Oil brand Shampoo and conditioner every other day and I deep condition with this L'oreal total repair balm once a week. After shower, I use a little Moroccan Oil Argan oil then Mixed Chicks leave-in conditioner, then I just let my hair dry naturally. I try not to use heat because my hair gets really dry and breaks if I do.
Do you get stereotyped because of your long curly hair?: Yeah, all the time. It's kind of unfortunate but as soon as people talk to me, I think their perceptions change.
Is cutting your hair on the horizon?  uhhhh….nooooo. hahah Not in the near future at least.  I love my hair and I think it represents a lot to me.  It represents so many things that I once hated about myself that I have grown to love and embrace.  People are always asking me to cut it, especially for industry jobs. The agents say I would be so much more marketable with average length hair, but ew who wants to be average? not me hahahah plus I like to throw it around when I'm singing and dancing on stage so I think I'm going to keep it around for a while.
Follow Jeshua on
www.boifromipanema.com
Twitter, Instagram, Vine, Tumblr and YouTube channels are all @boifromipanema
Cuando conocí a Jeshua en Miami, me cautivó por su personalidad única y su cabello largo y rizado, y claro, es que tengo una fascinación especial por el cabello rizo, pero también porque es poco  común ver un  tío (como dirían mis bellas españolas) con el pelo largo, y mucho menos  rizado. Conectamos de inmediato y es que hay una sociedad, una conexión especial entre pajones.
Jeshua Viveiros es su nombre, es cantante de 23 años de edad, bailarin, y blogero de medio tiempo. Jeshua siempre ha ido contra la corriente y contra todo pronóstico, proveniente de una familia tradicionalista Latina, en donde la mentalidad es que sólo las niñas bailaban o que simplemente "eso no es para niños". Ser un bailarin estaba fuera de discusión, razón por la que comenzó formalmente sus estudios de baile a la edad de 18 años.
Tomó un tiempo para mis padres acostumbrarse a la idea, pero finalmente cedieron! Sigo pensando que están esperando a que algún día yo siente cabeza, tome el camino del bien, y ejerza una carrera mas tradicional, jejjejej pero al final me apoyan y la verdad, no les pido mas, son maravillosos.  
Jeshua pasó la mayor parte de sus años de escuela media y secundaria con un cabello que no era mucho de su agrado, lo que el llama un pajón reseco o ya sea lleno de gel, debido a lo estricto de su escuela y que le exigían el llevar el cabello corto: Luché contra la textura de mi cabello durante mucho tiempo, pero cuando me gradué, me deje crecer el cabello. Me sorprendió que mi pelo era en realidad … bello … Quién lo diría – nos dice
Me gusta mucho el pelo Jeshua, ¿a quien no?, así que vamos a hacerle algunas preguntas sobre el cabello rizado, hablemos rizos:
Algunas personas piensan que el pelo rizado es difícil de manejar, ¿lo es para ti?: Creo que el pelo rizado sólo necesita un poco más de amor, pero una vez que sabes cómo hacerlo, es muy fácil de manejar.
¿Cuáles son tus productos favoritos, tu régimen, etc? La mejor amiga de mi mamá es estilista y siempre me regala unos productos muy buenos! Yo uso Champú y acondicionador de la marca Moroccan Oil cada dos días y tratamiento profundo de L'oreal total repair balm una vez por semana. Después de la ducha, uso un poco de aceite de Argan de Marruecos, seguido por el leave-in (acondicionador sin enjuague) de  Mixed Chicks , luego me dejo que el pelo se seque naturalmente. Trato de no usar calor, porque el pelo se pone muy seco y se rompe si lo hago.
¿Se suele estereotipar a los chicos por su pelo largo y rizado, te pasa a ti?: Sí, todo el tiempo. Es un poco lamentable, pero tan pronto como la gente me conoce, creo que su percepción  cambia.
Está cortarte el pelo en un futuro cercano? uhhh …. nooooo. jajjajja  No en el futuro próximo. Me encanta mi pelo y creo que representa mucho quien soy y como me siento. Representa muchas cosas que alguna vez odié sobre mí, y que he aprendido a amar y a sacar el máximo de provecho. Las personas siempre están pidiendo que me lo corte, especialmente para los empleos de la industria artística. Los agentes dicen que sería mucho más comercial y normal con el pelo longitud media, pero ew quien quiere ser normal? No yo jajajjaj, y ademas me gusta jugar con el cuando canto y bailo en el escenario, así que creo que voy a mantenerlo así por un tiempo.
Sigue a Jeshua en
Twitter, Instagram, Parra, Tumblr y el canal de YouTube son todos @ boifromipanema