Este articulo esta disponible en: Español
I am that kind of curly girl that spends a quite amount of time searching for that perfect gift, I like to visualize the person I am buying for, to get him or her a present they really enjoy. Lately I am opting to craft my gifts, like a combo or compilations of small items like make up, hair accessories, chocolate, hair products and coupons, finishing it with a personal touch that shows how much time and care I put into it.
This diy christmas gift in a mason jar, is a great way to show appreciation without braking the bank, specially if you  are a mom and have to make gifts for teachers, instructors and service people.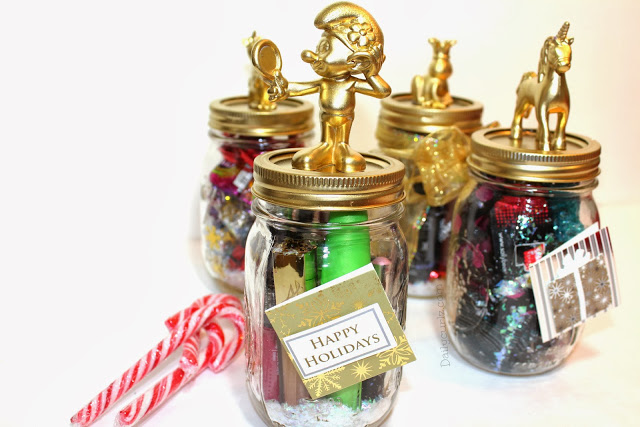 You will need:
Spray paint of your choice (I got Rust-Oleun bright metallic Gold)
Litte animals of your choice. (I used toys from kids meals and b-days favors I had at home)
Make up, chocolate, hair accessories or anything you want to put in the jars
A mason Jar ( I used 16oz)
dry snow, little cards
Hot glue
Instructions:
Paint the mason jar lids and the little animals/toys, let it dry.
Glue on the mason jar lids
Glue the toy on the mason jar lid
Fill the mason jar with your gift items and decorate with dry snow and a little card.
Tips:
Make the mason jar gift thoughtful by filling it in with the person's favorite items
For the makeup diva: lipstick, eyeshadows, mascara, lip balm, coupons etc.
Natural hair friend: curly hair sample products, bobby pins, hair accessories etc.
Sweet tooth: chocolate and candy goods
You can also add: gift cards, perfume samples, be creative….
Enjoy and let me know what you would add to your mason jar…
Espanol
Yo soy esa clase de chica rizada que pasa bastante tiempo buscando ese regalo perfecto, me gusta visualizar a la persona que estoy comprando, y hacerle a él o ella un regalo que realmente les guste. Últimamente estoy optando por armar mis propios regalos en combos o compilaciones de artículos pequeños como maquillaje, accesorios para el cabello, chocolates, productos para el cabello y cupones , terminándolo con un toque personal que muestre cuánto tiempo y amor puse en el.
Este regalo en un frasco de conservas es una gran manera de mostrar tu agradecimiento sin tener que gastar mucho dinero, especialmente si eres mamá y tienes que hacer un montón de regalos a los  profesores, instructores y personal de servicio .
Necesitarás:
Pintura de aerosol de tu elección (yo use Rust- Oleun oro metálico brillante)
Animalitos o juguetes pequeños (yo use juguetes que tenia en casa de las cajitas felices y comidas de niños)
Maquillaje, chocolate, accesorios para el cabello o cualquier cosa que quieras poner en los frascos
Un frasco de conservas (el mio es de 16oz)
Nieve seca, tarjetas
Pegamento caliente
Instrucciones:
Pinta las tapas de los frascos Mason (conserva) y los animales / juguetes, dejar secar.
Pega las tapas.
Pega el juguete en la tapa del tarro o frasco
Llena el frasco con los artículos que has elegido y decora con nieve seca y una tarjeta pequeña.
Consejos:
Llena el frasco con los artículos favoritos de esa persona.
Para la diva del maquillaje: lápiz de labios, sombras de ojos, rimel, bálsamo para los labios, cupones, etc.
Para la chica rizada: muestras de productos para el cabello rizado, pinchos, accesorios para el cabello, etc.
La amante de los dulces: chocolates y dulces.
También puedes añadir: tarjetas de regalo,  muestras de perfume, y demás; la idea es ser creativa.
Que te pareció esta idea? que le pondrías tu a tu frasco? 
SaveSave
SaveSave
Este articulo esta disponible en: Español