I first noticed Eczema on my little daughter a few years ago, specially when winter is approaching. I didn't know what dry, flaky, itchy circles were or what was its name.
What is it anyway?
Eczema is also known as atopic dermatitis, or atopic eczema (the most common form of eczema). Atopic eczema mainly affects children(80% of atopic eczema cases start before the age of 5, and a sizable number develops it during their first year of life) but it can continue into adulthood or start later in life. Eczema is a chronic skin condition in which the skin becomes itchy, reddened, cracked and dry. other symptoms are
sensitive skin
Intense itching
Red, inflamed skin
Recurring rash
Scaly areas
Rough, leathery patches
Oozing or crusting
Areas of swelling
Dark colored patches of skin
The exact cause of eczema is unknown, but it's thought to be linked to an overactive response by the body's immune system to an irritant. 
The condition is not contagious and can't be spread from person to person.
One of the most common places for the inflamed, itchy, dry skin of eczema to develop is on the scalp. The most common type of scalp eczema is known as seborrheic dermatitis, and its most unwelcome symptom is dandruff. 
Scalp eczema is characterized by skin patches that may be:
Red and scaly
Flaky
Greasy or waxy
Very itchy
Oozing or have "weeping" lesions
Producing blisters
Causing a discharge from the ear if eczema continues from the scalp into the ear canal
Responsible for causing changes in skin color after healing.
There are different types of eczema and doctors said there is no 100%cure for it, but you can control it and avoid it from going mild to severe.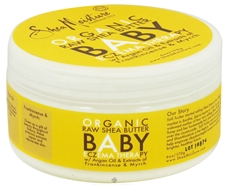 I have been using the SheaMoisture Organic Raw Shea Butter Eczema therapy on her skin since last year and it's amazing what it does for her skin.. Her condition is more notable during winter season.  Applied when the skin is damp, such as after bathing, to help the skin retain moisture
Moisturize frequently
Avoid sudden changes in temperature or humidity
Avoid sweating or overheating
Avoid scratchy materials, such as wool
Avoid harsh soaps, detergents, and solvents
Be aware of any foods that may cause an outbreak and avoid those foods
On her Scalp I have been experimenting a lot, because she didn't have it before, and reading on the web I discovered the wonder of tea tree, so I applied this miracle oil on her scalp almost every night. And I though that if tea tree was good for her maybe it was a good idea to use a whole products line of it.

I am using Eden Body works  Peppermint line and the first time I used it on her, I could see a wonderful respond to these products.
Avoid exposure to any suspected irritants and allergens
Clean your scalp thoroughly, but avoid drying it out, use a gentle shampoo and warm, never hot, water
Shampoo your hair after you've been sweating heavily, such as after a workout, because perspiration can be a trigger
Please share Any products that help you and your child with this itchy, flaky situation, Remember sharing is caring!!!
La primera vez que note Eczema en mi hija pequeña fue hace unos años, sobre todo cuando el invierno se acerca. Yo no sabía lo que esos círculos resecos y escamosa eran, ni mucho menos su nombre.
Picture thanks to NEA
¿Qué es la Eccema?
La eccema es también conocido como dermatitis atópica o eczema atópico (la forma más común de eczema). La eccema atópico afecta principalmente a los niños (80% de los casos de eczema atópico comienzan antes de los 5 años, y un número considerable se desarrolla durante el primer año de vida), pero puede continuar hasta la edad adulta o comenzar más tarde en la vida. El eccema es una enfermedad crónica de la piel en la que la piel le da comezón, enrojecimiento, agrietada y seca, otros síntomas son
la piel sensible
Intensa picazón
Piel enrojecida, inflamada
Erupción recurrente
Áreas escamosas
Supuración o costras
Areas de inflamación
Oscuras manchas de color en la piel
La causa exacta del eczema es desconocido, pero se cree que están relacionadas a una respuesta hiperactiva por el sistema inmune del cuerpo a un irritante.
La condición no es contagiosa y no se contagia de persona a persona.
Uno de los lugares más comunes para la inflamación, picazón en la piel, seca de eczema se desarrollar  en el cuero cabelludo. El tipo más común de eczema del cuero cabelludo se conoce como dermatitis seborreica, y su síntoma más desagradable es la caspa.
Eczema del cuero cabelludo se caracteriza por manchas de la piel que pueden ser:
Rojo y escamosa
Grasienta y Cebosa
Picazón
Exudación , lesiones
Producción de ampollas
Causar una secreción en el oído si el eczema continúa desde el cuero cabelludo en el canal auditivo
Causar cambios en el color de la piel después de la curación.
Hay diferentes tipos de eczema y los médicos dicen que no hay cura 100% para ella, pero se puede controlar y evitar que pase de leves a graves.
He estado utilizando SheaMoisture Organic Raw Shea Butter Eczema therapy en su piel desde el año pasado y es increíble lo buena y como le mojara la eczema .. Su condición es más notable durante la temporada de invierno. Aplicar cuando la piel está húmeda, como después del baño, para ayudar a la piel a retener la humedad
Hidratar con frecuencia
Evite los cambios bruscos de temperatura o humedad
Evitar la sudoración o el sobrecalentamiento
Evite materiales ásperos, como la lana
Evite jabones fuertes, detergentes y solventes
Sea consciente de los alimentos que pueden causar un brote y evita aquellos alimentos
En su cuero cabelludo  he estado experimentando mucho, porque ella no lo tenía antes, y leyendo en la red descubrí la maravilla de árbol de té, así que aplico este aceite milagroso en el cuero cabelludo casi todas las noches. Y pensé que si de árbol de té era bueno para ella tal vez si usaba una linea de productos completo, los resultados serian mejores.
Estoy usando  Eden Body works  Peppermint line  y desde la primera vez que los utilicé en ella, pude ver una maravillosa respuesta a estos productos.
Evite la exposición a las sustancias irritantes y alergenos sospechosos
Limpie su cuero cabelludo, pero evita secarlo, utiliza un champú suave y agua tibia, nunca caliente
Lávese el pelo después de haber  sudando mucho, como después de un entrenamiento, ya que el sudor puede ser un desencadenante
Por favor, comparte Los productos que te han ayudan a ti y a tu
[email protected]
en  esta situación.. Compartir es la mejor forma de ayudar.