I participated in the eSalon hair color campaign as a member of The bLink Marketing Network. I was provided a free hair color to review but all opinions are my own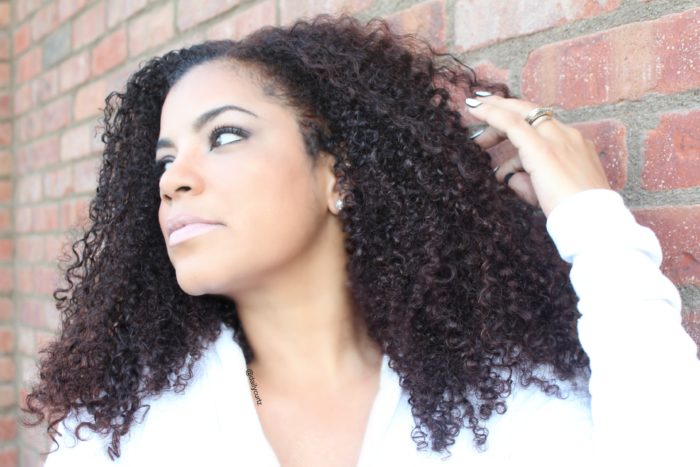 I have been doing all my natural hair things for three years from color, trim, treatment, styles and everything possible. Now, that doesn't mean I am a hairstylist, it means that there are a few people that understand natural curly hair around me and that I can't afford the ones I know. But I learned so much about my hair, that I wouldn't trade my journey for anything in the world.
When it comes to hair color, I started with henna, which I believe was a huge part of my healthy hair because chicas I have had grey hair forever, so I really, really need to color my hair regularly. Henna was great but not a great idea when you want some versatility (learn more here). I am trying everything (safe) possible to get a hair color that I like and hopefully soon I will be able to have lighter hair, but without compromising my hair's health. Some hair color has left my curls a little dry and didn't achieve my desired color, and that is because of all the henna treatments I've done in the past.
When I was invited to try eSalon and I read everything about it, I thought that it was just genius. eSalon is an individualized hair color crafted just for you with personalized instructions for an easy at-home application. eSalon is developed by renowned master colorists, built on their expertise and years of experience in top salons with advanced formula with high-quality ingredients for rich, long-lasting color and superior grey coverage.
When I say custom made, I mean custom made just for you, and when you receive your hair color, it even has your name on it and instructions according to your needs, how do they do it?
Complete their survey and get matched with an eSalon colorist.
A colorist analyzes your answers and creates a formula to reach your desired color.
Your eSalon application arrives at your door.
So, yes I followed all those steps and also sent them a picture of my hair (how cool is that), but the coolest thing of all, is that you can actually call them and talk to a colorist about your own hair needs.
After I followed all the steps, I was going for a lighter color; but guess what, they didn't "allow" me to "waste" my money, a lighter color wasn't even available for me. I was a little disappointed but soon I  learned, that they just sell me what is good for the health of my hair. At eSalon, they don't pre-make anything. Their hair color is crafted, one-by-one, with the exact formula your eSalon colorist feels will best attain your goals. Two people with different hair profile characteristics might need entirely different formulas or application instructions to achieve the same desired look.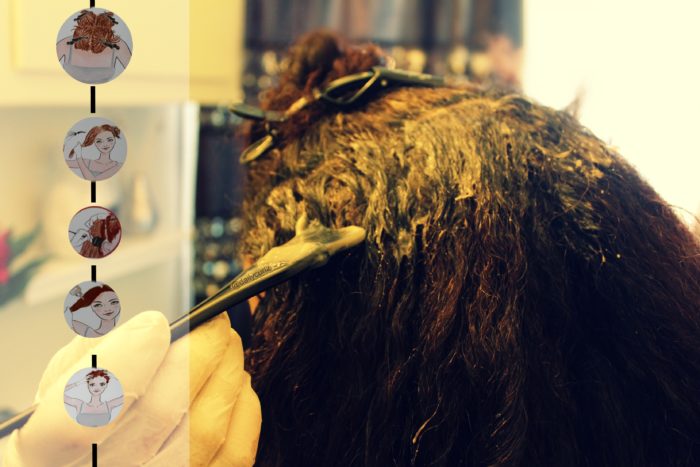 The instructions were custom made just for me with steps that I never did before (no wonder why my hair has like 10 different colors, lol), did I mention that I can call eSalon if I need help?
You may think that this service is expensive right? Well, you are wrong, check their prices here and surprise your self, and get your first order for $10 (a 50% savings). Another thing I absolutely love about eSalon is that for us big curly haired girls, one bottle is never enough. Worry not, because you will receive not one but two personalized bottles with gloves, shampoo, conditioner and a brush. – I bought a little extra because I need it and because I couldn't resist the good prices, you understand right?
I want to know what is the biggest challenge you have when dying your hair at home? or maybe your already tried eSalon yourself, what are your thoughts? 
Español
Yo soy de las que hace todo lo referente a su cabello ella misma -bueno, ya ustedes saben eso- y así lo he hecho por 3 años, desde un corte de cabello, tratamientos, color, tu mencionalo y yo lo he hecho. Eso no quiere decir que soy una estilista (nada mas lejos de eso) eso quiere decir que no hay nadie cerca de mi que entienda este pajón y me lo cuide como yo, y que las que están cerca, yo no las puedo pagar. Pero para ser honesta, he aprendido tanto haciendo esto y mi cabello esta tan sano y bello, que no cambio mi forma de hacer las cosas por nada.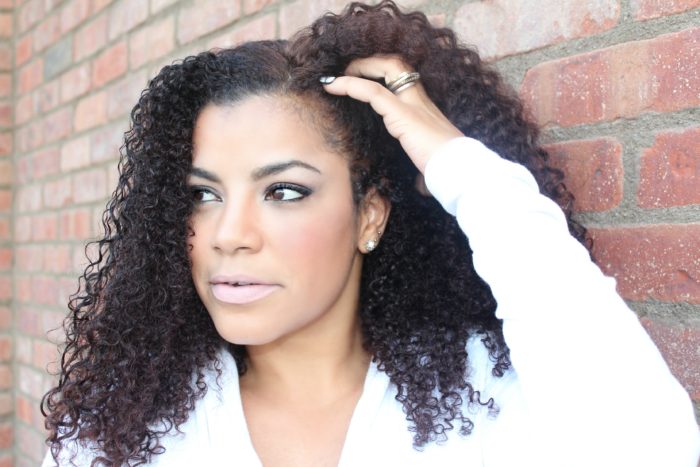 Cuando se trata de color, empecé con henna, que según yo, creo que fue una parte muy importante para que mi cabello este saludable, porque chicas, yo tengo canas desde siempre, así que realmente necesito usar tintes para el cabello regularmente. La henna era genial, pero no es una gran idea cuando quieres algo de versatilidad (más información aquí). Estoy tratando de todo (que no sea dañino) posible para llegar a un color de cabello que de verdad me guste  y con algo de suerte un color mas claro, pero sin sacrificar la salud de mi cabello. Algunas de la pruebas macabras que he hecho me han dejado el cabello con un tono amarillento y  claro,  un colorista profesional no me caería nada mal.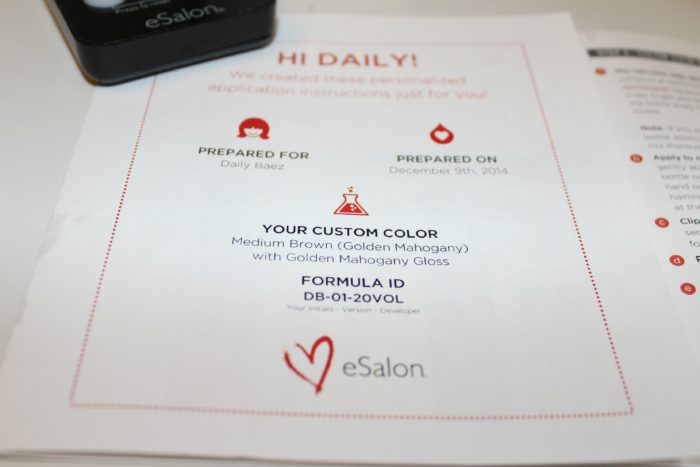 Cuando me invitaron a probar eSalon, me fui a leer a su website y cuando lei todo me dije a mi misma "son unos genios". eSalon prepara tintes para el cabello personalizado, hecho a las medidas de tus necesidades para una aplicación fácil en casa. eSalon es desarrollado por reconocidos maestros coloristas, formulado sobre sus años de experiencia en los mejores salones, con fórmula avanzada, ingredientes de alta calidad, para un color duradero que cubre las canas a un nivel superior.
Y cuando digo hecho a tu medida, me refiero ha hecho a tu medida, especialmente para ti. Cuando recibes tu paquete y lo abres, te encontraras con unos envases hasta con tu nombre, con instrucciones adaptadas a la necesidad de tu cabello en particular, como lo hacen?
Completas una encuesta y te asignan un colorista de eSalon
Un colorista analiza tus respuestas y crea una fórmula para alcanzar tu color deseado.
Tus tintes de eSalon llega a la puerta de tu casa.
Así que seguí todas las instrucciones y también envié una foto de mi cabello (¿No es genial), pero la cosa más sorprendente de todo, es que puedes llamar y comunicarte con un colorista acerca de tus necesidades particulares.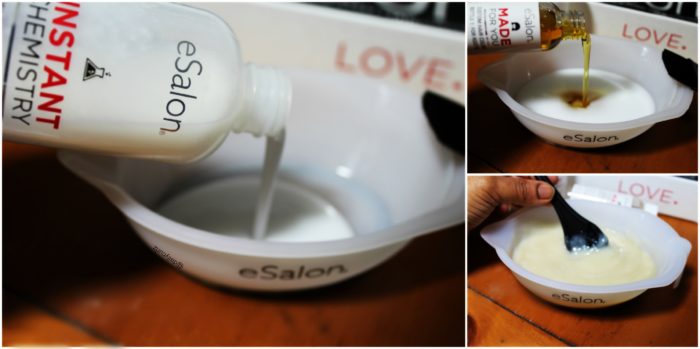 Luego que termine los pasos para mi orden, quería elegir un color mas claro, cosa que el sistema no me dejo, porque ellos no te dejan comprar lo que tu piensas que necesitas, sino lo que es mas saludable para tu cabello. En eSalon, no hay nada pre-hecho. Tu color de cabello se hace a la carta, con la fórmula exacta que tu colorista eSalon siente será mejor para alcanzar tus metas. Cada cabeza es un mundo y tal cual tienen diferentes necesidades y necesitan fórmulas e instrucciones diferentes para lograr el mismo color final..
La instrucciones que me enviaron eran para mi, con pasos que yo nunca había seguido antes (no es de extrañar por eso tengo como mil colores diferentes, jejjej ) ¿le he dicho que pueden llamar a eSalon si necesito ayuda?
Pensaran que es un servicio costoso, no? pues se equivocan, chequeen los precios aquí  y se sorprenderán, tu primera orden te sale a $10 (50% de descuento).Otra cosa que me encanta sobre eSalon es que para nosotras las de mucho cabello, que un pote no es suficiente, no nos tenemos que preocupar pues eSalon les envía no uno, sino dos envases que fueron suficiente para mi. Recives con tu orden: dos botellas personalizadas con guantes, champú, acondicionador y brocha de aplicación. –
Me gustaría saber cual es tu mayor desafío cuando te tiñes el cabello en la casa? O tal vez ya has usado eSalon, ¿cuál es es tu opinion?
I participated in the eSalon hair color campaign as a member of The bLink Marketing Network. I was provided a free hair color to review but all opinions are my own.