Summer calls for fun in the sun, but skin can be left feeling dull, dry and desperate for some TLC. Masque Bar by Look Beauty has you and your skin covered with a lineup of hydrating sheet masks that come in ingredients reminiscent to the season!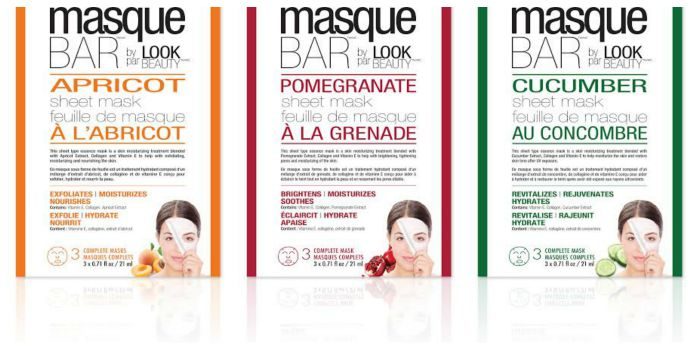 After lying out at the beach, keep your relaxation going with Masque Bar's Cucumber Sheet Mask! Perfect for use after UV exposure, this sheet mask helps to moisturize the skin as well as restore skin tone with key ingredients like Cucumber Extract, Collagen and Vitamin E
Do you roam the farmer's market for in-season fruits? Then you'll love the Apricot Sheet Mask! This mask is a skin moisturizing treatment blended with Apricot Extract, Collagen and Vitamin E. It helps exfoliate, moisturize and nourish the skin leaving you feeling beautiful and refreshed
Skip happy hour's tropical cocktail and go straight for a hydrating Pomegranate Sheet Mask. With a blend of Pomegranate Extract, Collagen and Vitamin E this mask is the perfect recipe that tightens pores, while brightening and moisturizing skin.
Español
El verano llama a la diversión en el sol, pero esta diversion puede tener sus estragos en nuestra piel, dejándola seca y rogando a gritos por atención.  La linea de mascarilla para la cara de Masque Bar by Look Beauty es excelente para ayudarnos a darle un poco de cariño a nuestra piel con mascarillas de papel o velos faciales hidratantes con ingredientes que ayudan a recuperar la piel
Después de permanecer en la playa, mantente relajada con esta mascarilla de papel de pepino! Perfecta para su uso después de la exposición a los rayos solares, ayuda a hidratar la piel, así como restaurar el tono de la piel con ingredientes clave como extracto de Pepino, Colágeno y Vitamina E
Si te gustan lo olores frutales esta de albaricoque te encantara! Esta mascarilla de papel es una mezcla hidratante de extracto de albaricoque, Colágeno y Vitamina E. Ayuda a exfoliar, hidratar y nutrir la piel haciendo que se sienta hermosa y fresca.
Si quieres algo mas tropical, trata esta de extracto de granada, Colágeno y Vitamina E, la receta perfecta para los poros abiertos, iluminar e hidratar la piel.