Fake or real? this is the question, yes we all want to use the real deal, but this is not always possible, most the time working classes want to have the best of both worlds and settle for some imitation, is this worth it?
When I first heard about the beautyblender, I was so amazed by it, but almost $30.00? seems like a lot of money for me, so I went on ebay and got a fake one, for less than $2.00, yes, I am cheap like that, was this worth it?
What is the beautyblender? Invented by top Hollywood make up artist Rea Ann Silva, Beautyblender has been created to leave you with a professional finish and a flawless complexion, elliptical shape makes application more easy by allowing you to access hard-to-reach areas.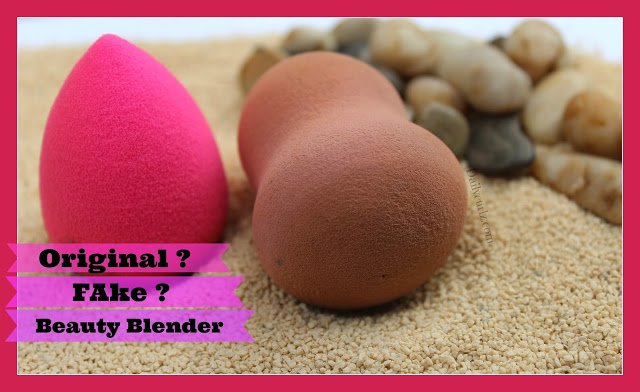 Is it worth it? Is it a good deal save $26 dollar?
Allow me to tell you my experience: I am all about saving and non-original items that do the job, but not this time bellas: the fake beautyblender was my first option, and oh, I was disappointed:

 The fake one is harsh to my face, so hard that it is really difficult to use.
The claim of flawless is not met by this fake beautyblender, it does not have edges but it is not as smooth and seamless as the original one.
The bouncing  against your face when applying make up, that is one of the most amazing claims of the beauty blender, it was never achieved by my fake one.
 Beautyblender's pointed side is great for hard-to-reach spots like around the nose and mouth, and under the eyes( This can only can be met with the original one). The round base for foundation and blush on the larger areas of your face such as your forehead, cheeks and chin.
The original Beautyblender has an online support, with videos, how to use and even a recycle address to send your blender when you are ready for a new one.
The original beautyblender is latex free, non-allergenic and odor free.
The moment I tried my original beauty blender, was the moment I knew I what I was missing: smooth and flawless finished makeup.
As always Amazon has it at a better price here →beauty blender PURE blender (single)
Espanol
Imitación o verdadero? esta es la pregunta, Todas queremos usar articulos originales, pero esto no siempre es posible, la mayor parte del tiempo la clase obrera quiere tener lo mejor de ambos mundo y nos conformamos con una imitación, pero, vale la pena?
La primera vez que escuche hablar de la esponja difuminadora quede súper sorprendida, y la quería de inmediato, pero casi $30.00 por una esponjita? como este precio me pareció mucho dinero, me fui a ebay y me compre una imitación por menos de $ 2.00, sí, tan barata la cuestión, pero valió la pena?
¿Que es la esponja difuminadora? Inventado por la maquillista de las estrellas  Rea Ann Silva, Beautyblender ha sido creado para dar un acabado profesional y un cutis perfecto, la forma elíptica permite una aplicación más fácil al permitir el acceso de las zonas mas difíciles de llegar.
¿Vale la pena el comprar una imitación? ¿Es un buen negocio ahorrarse $26 dólares?
Permítanme que les de mi experiencia: Yo soy pro-ahorros y en ocasiones una imitación hace el trabajo para nosotras las que queremos vernos bien, pero  no tenemos una buena cuenta bancaria que nos respalde,  pero no esta vez bellas: El beautyblender de imitación fue mi primera opción, y oh, que decepción.
La imitación es super dura y agresiva para la tez, lo que lo hace muy difícil de usar.
El atributo de una tez perfecta no se cumple por el beautyblender de imitación, no tiene bordes, pero no es tan suave y perfecta como la original.
El rebote contra tu cara cuando se aplica maquillaje, que es uno de los más sorprendentes atributos del beautyblender, nunca se logró con imitación.
La forma puntiaguda del beautyblender es ideal para alcanza lugares como alrededor de la nariz y la boca, y debajo de los ojos (esto sólo se puede cumplir con el original). La base redonda para el   rubor y base  en las áreas más grandes de la cara como la frente, las mejillas y la barbilla.
El beautyblender tiene soporte en línea, con vídeos, como usar, e incluso una dirección de reciclaje para enviar tu esponja cuando estés lista para una nueva.
El beautyblender original es libre de látex, Anti-alérgico y sin olor.
En el momento que use el beautyblender original, fue el momento en que supe, lo que había estado perdiendo: Maquillaje con acabado liso, sin defectos.
Mejore precio en Amazon beautyblender PURE blender (single)