This is part of a sponsored campaign with Latina Mom Bloggers  and  Nissan, However all opinions expressed are my own.  I am disclosing this in accordance with the Federal Trade Commission Guidelines, 16 C.F.R Part 255.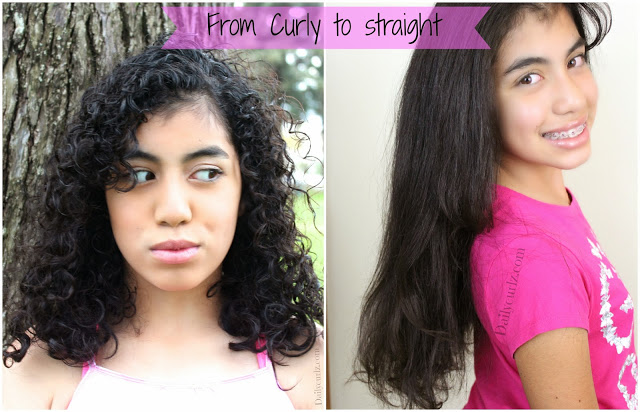 Ever since I went natural, my curly hair daughter automatically stopped asking to straighten her hair, I guess she wanted to look more like her mami now, lol. But I am a very creative parent and I want to show them that versatility and changes are fun. I am very fortunate to have two daughters where I can practice my passion for curly hair and hair in general. They let me do pretty much every thing on them from hair styles to makeup and all kinds of crazy ideas I come up with.
So last weekend, we played the straight look on Dafne, she was happy but a little bit uncomfortable due to the length of her hair. She also enjoyed all the attention she got that day at school and dance, since their classmates had never seen her with straight hair. 
I blow dried her hair and then straightened it with the flat iron.
Products used: Curls Unleashed shampoo, Suave conditioner Moroccan Infused, Arosci 7 days straightening lotion and Redken Smooth Down
I have many passions in my life and being able to share it with my daughters is the best feeling in the world. I really love the way that Nissan is promoting their new 2014 Versa Note and at the same time is pushing followers on the 
 Nissan Genome Facebook page 
 to pursuit their passion 
through early December with weekly prizes. 
Feel like you're part of something bigger? The Nissan Passion Genome proves your point #PassionGenome. Find out more about the #2014VersaNote, right
here
.
This Curly Hair passion is taking me to a lot of places like meet ups and conferences and a car with a lot of space comes in handy like the
#2014VersaNote
 w
ith space for 5, and maybe I can pick a friend to take that road trip to Vegas that I wanted to do for so long, whom would you take with you on a road trip in this? ‬#PassionGenome
Español
Esto es parte de una campaña patrocinada con Latina Mom Bloggers 

 y 

 Nissan

,

 sin embargo todas las opiniones expresadas son mías. Esta información la hago publica para seguir las Directrices de la Comisión Federal de Comercio, 16 CFR Parte 255.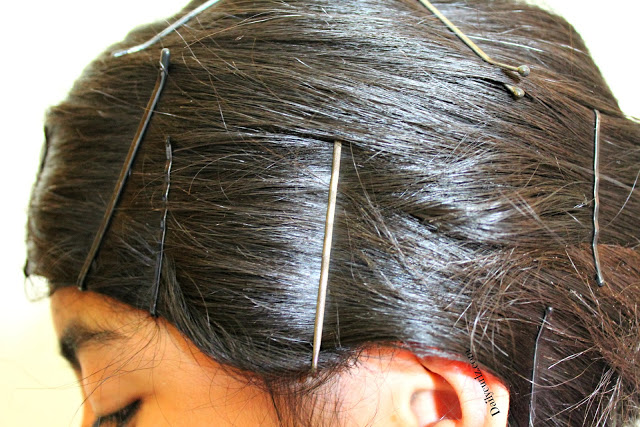 Desde que deje de alisar mi cabello, mi hija dejo automáticamente de pedirme que le alaciara el cabello, pienso que ella quiere parecerse más a su mamí ahora, lol . Pero yo soy una madre muy creativa y quiero mostrarles que la versatilidad y los cambios son divertidos. Soy muy afortunada de tener dos hijas donde puedo ejercer mi pasión por el cabello rizado y cabello en general. Ellas me dejan hacerle casi todo tipo de estilos, maquillaje y todo tipo de ideas locas que se me ocurren.
El fin de semana jugamos un poco a cambiar y le alacie el cabello Dafne, ella estaba feliz, pero un poco incómoda debido a que su cabello esta super largo. También disfruto de toda la atención que recibió ese día en la escuela y en la academia de baile, ya que sus compañera nunca la habían visto con el cabello lacio. 
Tengo muchas pasiones en mi vida y poder compartirlas con mis hijas es el mejor regalo del mundo. Me encanta la forma en que Nissan está promoviendo su nuevo 2014 Versa Note y al mismo tiempo está impulsando a sus seguidor en la página 
 Nissan Genome Facebook page 
 para que vallan detrás de su  pasión hasta principios de Diciembre con premios semanales. Sientes como si fueras parte de algo más grande ? El
Nissan Passion Genome d
emuestra tus puntos #PassionGenome . Obtenga más información sobre la posición # 2014VersaNote
aquí
.
Esta pasión por el cabello rizado me ha llevado a una gran cantidad de lugares como encuentros  y conferencias, y un coche con mucho espacio es lo mejor, como el #2014VersaNote con espacio para 5 y tal vez puede por fin hacer ese  viaje por carretera a Vegas que tanto quiero quiero, a quien llevarías tu en un viaje por carretera ? ‬ #PassionGenome