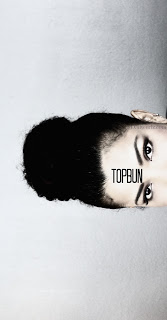 Can you believe summer is almost over? yes it is crazy how time flies by. As the weather changes, my whole beauty routine, hair styles, hair products and even the what I eat changes, and this is simple because our skin and hair reacts to the weather. So as the weather changes, so does our hair style, fashion and of course hair care (read this post for
transition your hair into fall
). During fall season, our hair is basically in a transition and adaptation stage because the moisture is lifting from the air and the hair has a hard time looking for that moisture that curly hair desperately needs. 
Moisturizing your hair and skin is really important during fall-season due to lack of moisture in the air. Also because of heavy rain and cold weather, many natural women choose protective styles to keep their hair protected from the weather changes..
Buns are not only easy, but a pretty, professional and elegant way to protect your hair. I use buns as a to go style and when everything else goes wrong, lol, I also use buns one or two days before washing my hair, saturated in oils or Deep conditioner.
So bun it up curly girl, need some inspiration? Here you have it.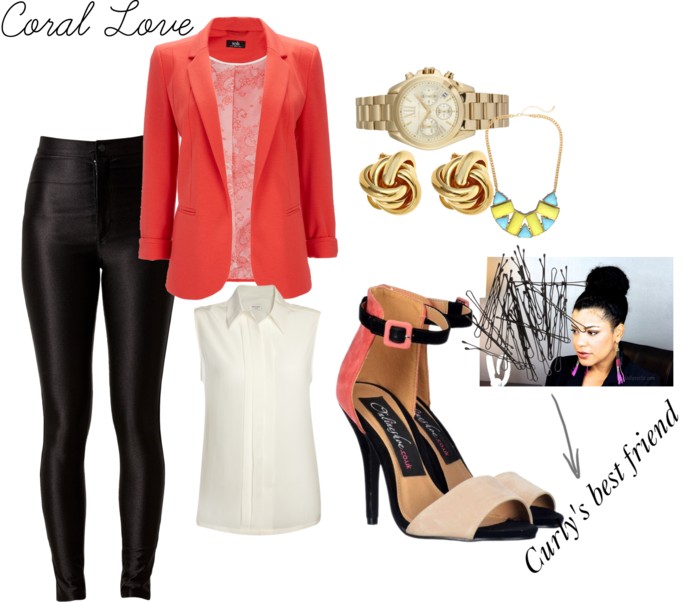 1.- Kineta Hudson a make up artist located in San Antonio, TX  shows us her gorgeous top bun.
KH. I blow dried my hair on low to stretch it out. I used Paul Mitchell "The Conditioner" and whipped Shea butter to moisturize. I then used Eco Styler with Olive Oil to slick it up and tie it down. The top knot was created with some kanakelon hair that I ratted up and wrapped it around my bun.
Steal her look.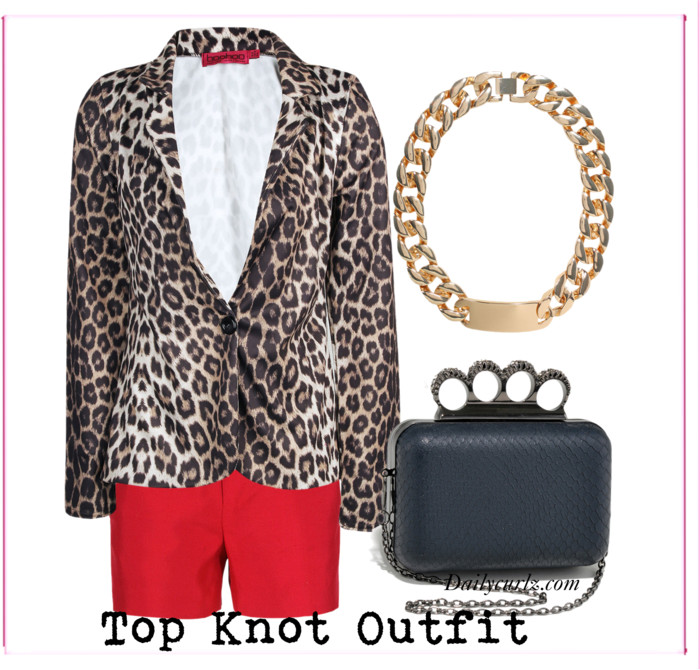 2.- Ada Rojas from
gypsyinthecity.com
 says, she usually wear her hair in a bun when it's her "masque day": I put a deep conditioner or mask in my damp hair and used a soft brush to brush it into a high ponytail. Then I twisted the ponytail into bun and secured it with a goody hair tie for thick hair. I sprayed a light hold hair spray on the front to keep my baby hairs down and the next day, I co washed my hair out and styled as usual. My favorite hair masque at the moment is Agadir argan oil moisture masque. Love this, it's amazing!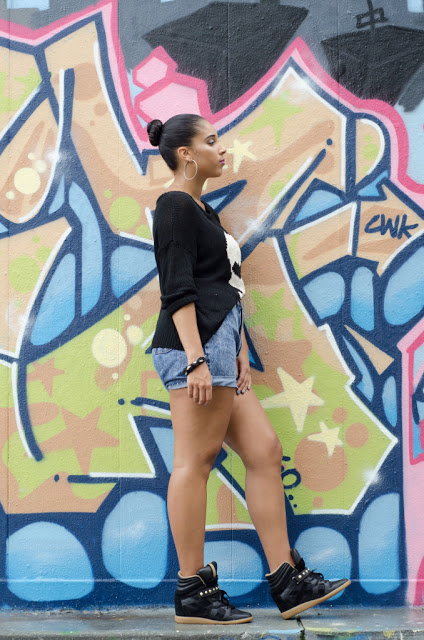 Her Look
: Light Knit Sweater: Bloomingdales | DIY Highwaisted Shorts from Thrift Store | Sneaker Wedges: Zara | Lipstick: Mac Up the Amp |
3.- Dariana Cruz from
Dari Design Studio
 wears her loose casual top bun usually the day she knows she will wash her hair (because she knows she's gonna loose curl definition after). All I do-she says- is throw my head down, hold all my hair with my hands right on the very top of my head, and then pull it right back up (without letting go of my hair). At that point I make sure the bun in going to sit well, if not, I move it until I find the perfect position. With one of my hands I start organizing any front strings of curls that I usually leave out of the bun. Then I start twisting the hair tail into a bun shape and I keep it in place with some hair clamps. To finalize, I use water with some oil moisturizer or live-in conditioner to shape the front curls and front area in general.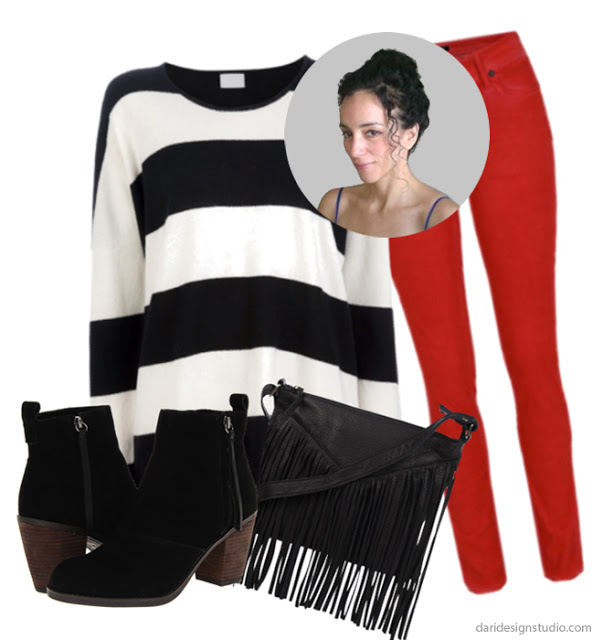 Please feel free to share your bun technique, we love to hear from you. 
¿Puedes creer que el verano casi termina? sí que es una locura cómo el tiempo pasa volando. A medida que el clima cambia, mi rutina de belleza, peinados, productos para el cabello e incluso los alimentos varían, y esto es simple porque nuestra piel y el cabello reacciona a la intemperie. Así como el tiempo cambia, también tiene que cambiar tus estilos de peinados, la moda y por supuesto, el cuidado del cabello (lee este post para la
transición de tu pelo en otoño
). Durante la temporada de otoño, el pelo esta básicamente en una etapa de transición y adaptación, ya que la humedad se está levantando del aire y el pelo tiene un arduo trabajo buscando la humedad que necesita desesperadamente el pelo rizado.
La hidratación de tu cabello y de la piel es muy importante durante el otoño, debido a la falta de humedad en el aire. También debido a las fuertes lluvias y el frío, muchas mujeres optan por estilos naturales de protección para mantener el cabello protegido de los cambios climáticos ..
Los moños no sólo son fáciles, sino una manera bastante, profesional y elegante para proteger tu cabello. Yo uso moños como estilo fácil cuando todo lo demás falla, jejje, también uno o dos días antes de lavarme el pelo, saturado de aceite o acondicionador profundo.
Tres chicas nos muestran sus técnicas y estilos de moños, así también como un poco de moda (las fotos están arriba.
1 -. Kineta Hudson maquillista profesional radicada en San Antonio, TX (
aquí
les dejo su website) nos muestra su hermoso moño alto y como lo logra.
KH. Primero me seco el pelo a una temperatura baja con el blower para estirar el rizo natural de mi cabello. Uso Paul Mitchell "El Acondicionador" y manteca de karité para hidratar. Luego utilizo Eco Styler con aceite de oliva para amararlo y que quede lo mas liso posible. El moño fue creado con cabellos kanakelon que envolví alrededor de mi cabello para crear mas volumen.
2 – Ada Rojas de
gypsyinthecity.com
dice que suele llevar el pelo recogido en un moño, cuando es su "día masque": Pongo un acondicionador profundo o mascarilla en el cabello húmedo y utilizo un cepillo suave para recogerlo en un cola alta. Entonces giro la cola de caballo en un moño y aseguró con  goody para el cabello grueso. Rocío spray (laca) para el cabello en la parte delantera para mantener mis orillas libre de fizz y el día siguiente, me hago un co-lavado.  Mi mascarilla/acondicionador de pelo favorito en este momento es Agadir argan oil moisture masque. Me encanta, es increíble!
3.- Dariana Cruz de
Dari Design Studio
lleva su moño flojo  el día en que sabe que se va a lavar el pelo (porque los moños hace que pierda la definición de sus rizos). Todo lo que hago- nos dice – es tirar la cabeza hacia abajo, mantengo todo el pelo con la mano derecha en la parte superior de mi cabeza , luego la pongo hacia atrás, eso si, sin soltar el pelo. En ese momento me aseguro el moño y lo voy acomodando con pinchos (pasadores) hasta que quede donde yo quiero. Luego solo saco unos ricitos por aquí y otros por allá que acomodo enrollándolo en mi dedo para darle definición. Para finalizar le pongo agua con un poco de crema hidratante y aceites o un acondicionador sin enjuague (leave-in) para darle forma a los rizos que deje fuera y para mantener mis orillas en su lugar. 
Y tu, tienes alguna técnica que quieras compartir con nosotras?