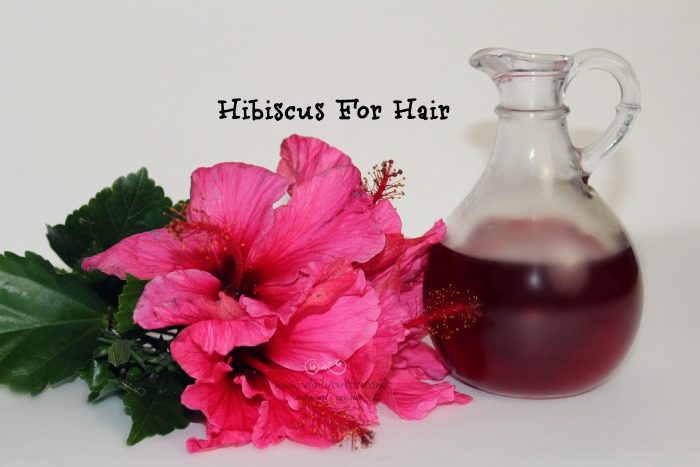 Spring and summer is in full effect and the flowers are blooming in our backyards and gardens, so how do you like the idea of taking advantage of the flowers to not only decorate our spaces but to condition our hair? Hibiscus was one of favorite flowers when I was a child, mainly because it was everywhere and I loved to see the butterflies sitting on them. I didn't know back then that I could use them for my hair and my skin; a fact that would've helped me a lot.
Hibiscus is called  "flower of hair care" mainly for all the hair properties in almost every part of the flower itself. Hibiscus is excellent to treat many hair problems like dandruff, dryness, split ends, and damaged hair. It is also good to add volume and prevent premature aging of the hair.
The easier way to use hibiscus is in the form of tea, which is loaded with natural hydroxy acids and mucilage polysaccharide that moisturizes the hair. Just make a strong tea and rinse your hair with it after washing and detangling your hair. You can leave it on, but keep in mind that this tea is known for   giving hair reddish highlights (this can vary according to your hair color and grey hair). If you are concerned about it just rinse it out after a few minutes. 
More way to use Hibiscus
Oil. In 1/2 cup of hot coconut oil, add 7 grinded hibiscus flowers; cover and let the oil cool off. Use it as a hot treatment (pre-poo) then wash and style your hair as usual.
Grind 7 hibiscus leaves into a paste and mix it with amla powder. Use it as a pre-poo from roots to ends for about 20 minutes, wash and style as usual.
Cleansing conditioner.You can also use Hibiscus to clean your scalp, just grind into a paste, add water and add a few drops of the oil of your choice, rinse well.
Español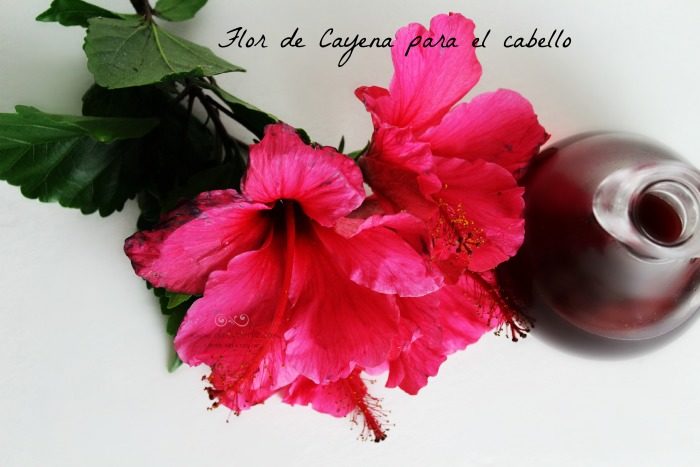 La primavera y el verano está en su pleno apogeo y las flores están floreciendo en nuestros patios traseros y jardines, así que cómo te gusta la idea de aprovechar las ventajas de las flores, no sólo para decorar nuestros espacios, pero para acondicionar el cabello? La flor de Cayena (sangre de Cristo, amapola) era una de mis flores favoritas de niña, y estaba en todas partes. Me encantaba ver las mariposas revoloteando en los pistilos de la flor de Cayena. Yo no sabía en aquel entonces que podia usar esta flor como tratamiento para mi cabello y para mi piel, información que me hubiese ayudado mucho par lidiar con ese pajón tan largo que tenia.
La flor de Cayena o sangre de Cristo también se llama "la flor para el cuidado del cabello", principalmente por todas las propiedades que proporciona al cabello. Esta flor es buena para tratar problemas de caspa, sequedad del cabello, puntas abiertas y cabello dañado. Es también bueno para ayudar con el envejecimiento del cabello prematuro y para añadir volumen.
La manera más fácil de usar la flor de Cayena es en té, ya que esta cargado con ácidos hidroxi naturales y polisacárido mucílago que hidrata el cabello. Sólo es preparar una o dos bolsitas de te en una taza de agua, deja enfriar y usar como enjuague luego de que el cabello esta lavado y desenredado. Este enjuague lo puedes dejar en el cabello si así lo deseas, pero toma en cuenta que el uso de este le puede dar a tu cabello unos reflejos rojizos. Para evitar esto, solo enjuaga después de 10 minutos y peina como de costumbre.
Más maneras de utilizar la flor de Cayena:
Aceite. En media taza de aceite de coco caliente, agrega 7 flores de Cayena. Deja reposar por unos 20 minutos para que la flor libere sus propiedades. Luego lo puedes usar como un tratamiento de aceites antes de lavar tu cabello.
Moler 7 hojas de flor de Cayena hasta formar una pasta, luego mezclar con polvo amla (agregar agua según lo necesites). Utilizarlo como un pre-poo de raíz a puntas durante unos 20 minutos, lavar y peinar como de costumbre.
Limpiado y acondicionador. Forma una pasta de las hojas de flor de Cayena con agua y unas gotas de tu aceite favorito, aplicar en el cuero cabelludo y en todo el cabello. Esta mezcla te dejara el cuero cabelludo super limpio y el cabello hidratado. Enjuagar, desenredar y peinar como de costumbre.