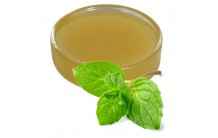 Lanolin
is a very greasy material produced by the sebaceous glands of sheep. It acts as an excellent moisturizer for skin and hair and also functions as an effective water barrier. A byproduct of wool-gathering and refining, it is easily obtained and is a renewable resource. For this reason, lanolin has been used as an emollient in hand and body creams and hair products for many centuries. Many consider animal oils to be more compatible with human skin and hair than vegetable or mineral oils.
Lanolin is a mixture of fatty acids, wax esters, and a complex mixture of other organic compounds. It is classified as a wax (as opposed to an oil or fat), and is a solid at room temperature (melting point: 100-107°F). In its natural state, lanolin contains about 25-30% water by weight. When applied to skin or hair, it is very effective at penetrating the surface and enhancing moisture retention. Lanolin is also beneficial because it continues to absorb moisture from the air, and can thus act as a humectant for the skin or hair.
Lanolin is sometimes considered to be too thick and greasy to be used liberally on curly hair, as it can really weigh down the curls and create frizz, but this is really dependent upon the degree of curl. A person with wavy hair or only slightly curly hair may find it to be too much for them, while a person with extremely curly hair would find it very beneficial to their hair. Its unique and complex chemical composition should make it very easily removed from the hair with a gentle shampoo or conditioner wash.
Lanolin oil is a derivative of lanolin and is a liquid at room and body temperature. In this liquid state, lanolin oil is mucheasier to use in the manufacturing processes because it does not require temperatures to be elevated above 100°F. This saves time and money for the manufacturer as well as (presumably) the consumer. Lanolin oil should also be a somewhat lighter moisturizer than regular lanolin wax, but with many of the same beneficial properties.
In summary, lanolin is an excellent conditioning agent for both skin and hair, but consideration of hair type should be used when selecting products for hair. As a deep conditioning agent, used infrequently, probably all curly-haired people would benefit from a product containing lanolin (in the wax form). People with extremely curly hair (such as those with 
3c
, and the 
4's
) can most likely use lanolin-containing products in their regular regime and enjoy soft, smooth hair without losing curl or gaining frizz. Those with wavy or slightly curly hair (such as 
2a, 2b
, 
3a, and 3b
 type) may find products containing lanolin oil to have excellent performance. But they may not be able to routinely use products containing significant amounts of lanolin wax because they may be too heavy
. 
La lanolina
es un material muy grasiento producido por las glándulas sebáceas de las ovejas. Actúa como una crema hidratante excelente para la piel y pelo y también las funciona como barrera de agua. Un subproducto del ensimismamiento y del refinamiento, se obtiene y es fácilmente un recurso reanudable. Por esta razón, se ha utilizado la lanolina mientras como un emoliente a lacdisposición de crema y los productos de pelo por muchos siglos. Muchos consideran los aceites animales ser más compatibles con la piel y el pelo de los  humanos que  los aceites minerales y vegetales. 
La lanolina es una mezcla de ácidos grasos, ésteres de la cera, y una mezcla compleja de otros compuestos orgánicos. Se clasifica como cera (en comparación con un aceite o una grasa), y es un sólido en la temperatura ambiente (punto de fusión: 100-107°F). En su estado natural, la lanolina contiene  cerca de 25-30% de agua por peso. 
Cuando está aplicado a la piel o al pelo, es muy eficaz en penetrar la superficie y el aumento de la retención de la humedad. La lanolina es también beneficiosa porque continúa absorbiendo la humedad del aire, y puede actuar así como humectante para la piel o el pelo. 
La lanolina se considera a veces ser demasiado gruesa y grasienta ser utilizado liberalmente en el pelo rizado, pues puede crear el efecto de achicar el pelo y crear frizz, pero esto depende realmente de que tan rizado sea el pelo. Una persona con el pelo ondulado o solamente el pelo levemente rizado puede encontrarlo ser demasiado para ellos, mientras que una persona con el pelo extremadamente rizado lo encontraría muy beneficioso.
 Por su composición química única y compleja puede sacarse del pelo facilmente con un champú o un acondicionador. El aceite de la lanolina es un derivado de la lanolina y es un líquido en la temperatura ambiente y del cuerpo. En este estado líquido, el aceite de la lanolina es más mucheasier utilizar en los procesos de fabricación porque no requiere temperaturas ser elevado sobre 100°F. Esto ahorra hora y dinero para el fabricante así como (probablemente) el consumidor. El aceite de la lanolina también se encuentra en  crema hidratante algo más ligera que la cera regular de la lanolina, pero con muchas de las mismas características beneficiosas. 
En resumen, la lanolina es un agente de condicionamiento excelente para la piel y el pelo, pero debe considerarse su tipo de pelo a la hora de ser utilizado. En perosonas de pelo riso se recomienda usar su forma en crema(cera). La gente con el pelo extremadamente rizado (tal como ésos con 3c, y el ™ s del € 4â) puede utilizar lanolina- productos en su régimen regular y gozar muy probablemente del pelo suave, liso sin el enrollamiento  o frizz. Ésos con el pelo ondulado o levemente rizado (tal como tipo 2a, 2b, 3a, y 3b) pueden encontrar productos el contener del aceite de la lanolina para tener funcionamiento excelente. Pero pueden no poder utilizar rutinario los productos que contienen cantidades significativas de cera de la lanolina porque pueden ser demasiado pesados.