Valentine day is just around the corner and either you celebrate or not, has a significant other or you are a single Diva this day is good excuse to look your best..
Thanks to chica fashion for this fashion recomendation, please visit her blog,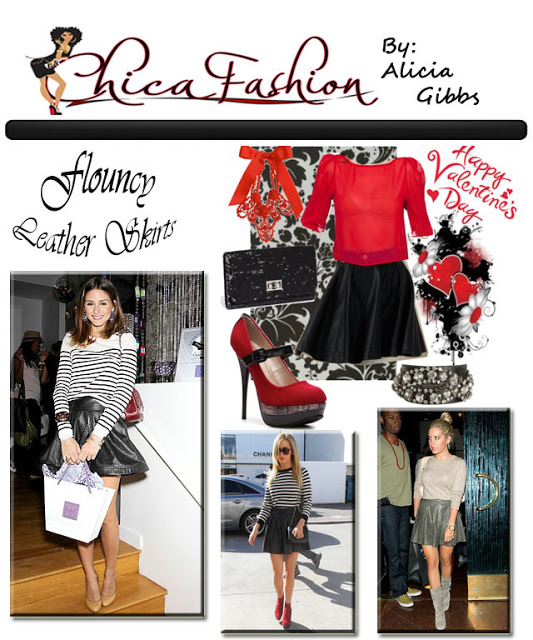 The flouncy leather skirt is both stylish and versatile, like with most pieces of clothing can be either dressed up or down to be worn in numerous ways. 
Your location and climate will be the key factors in determining whether or not you would like to wear the suggested outfit with a pair of tights or stockings. Whatever you decide this is one chic and sassy look that will leave you looking and feeling great without breaking the bank.
Items in this set:
• $46 – americanapparel.net
        Chiffon Puff Sleeve Blouse
• $35 – kohls.com
        Jennifer Lopez Pleated Fau
• $45 – dsw.com
        Qupid Neutral-126 Pump
• $20 – nordstrom.com
        Top Choice Sequin Clutch
• $44 – ardenb.com
        Ornate Beaded Statement Nec
• $24 – ardenb.com
        Stone and Chain Cuff – Wo
And the hair to go with this fabulous outfit……
Natasha, the owner of Na-Klectic LA a natural hair Salon that provide care services in a relaxing, holistic, and professional environment, that emphasizes the use of natural and/or organic products, opened in March of 2004 in Baltimore, Maryland. In 2007, they expanded the salon and relocated to offer spa and holistic services in Charles Village. and  recently opened in September of 2011, a second location in Los Angeles, CA. The second location known as Na-Klectic La is located in Hollywood on Larchmont Blvd. She is so awesome and give us some ideas on how get a holiday look  and how look our best this Holiday and every holiday♥♥
 Natasha said :-the best way to get the most out your natural hair is to Keep it simple! Less is best.
A simple natural updo is beautiful:
 Two strands (with or without rods), flat twists into a Mohawk, a rod set, or a twist out is perfect for any holiday. I recommend using natural products for all natural styles.
A twist out with a flower on the side or a two strand twist style with rods is inviting and sexy♥
. Use creativity and allow your natural hair to speak for itself. Do not use a lot of product in natural hair. We tend to become product junkies and use every new product on the market. Shea, aloe vera, nature's blessing, & Jane Carter's Curl defining cream are great products to create a fabulous twist out or two strand style. Vitamin e, almond oil, Castor oil, and other essential
oils create a natural shine.
Express your love and elegance through simplicity. Your true love will accept you for your natural beauty and hair if you accept yourself
♥
Locs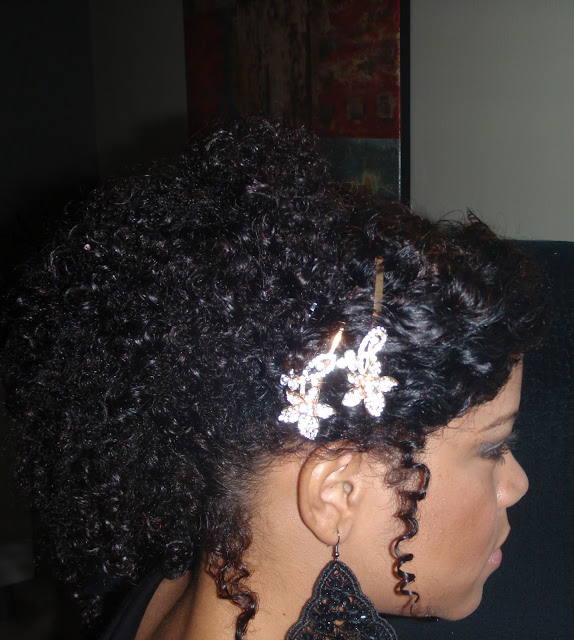 Español



El día  de San Valentín está a la vuelta de la esquina y ya sea que lo celebras o n, tiene una pareja o eres una diva soltera ese dia es una excusa para lucir espectacular.
Natasha, la propietaria de Na- Klectic LA un salón de belleza dedicado al pelo natural que ofrecen los servicios de atención en un enfoque holístico relajante, y entorno profesional, que hace hincapié en el uso de productos naturales y / u orgánicos Esta galería de arte del cabello se inauguró en marzo de 2004 en Baltimore , Maryland. En 2007, se amplió el salón y se trasladó a ofrecer servicios de spa y holístico en el pueblo de Carlos. y recientemente se inauguró en septiembre de 2011, un segundo lugar en Los Ángeles, CA. La segunda localidad conocida como Na- Klectic LA se encuentra en Hollywood, en Larchmont Blvd.. Natasha es tan super cool que nos dan algunas ideas sobre cómo conseguir vernos hermosas este y todos los días de fiesta ♥ ♥
Natasha nos dice que la mejor manera de sacar el máximo partido a nuestro pelo natural es mantenerlo simple! Menos es mejor. Un updo simple y natural es hermoso:  Two strands (con o sin rolos),  flat twists en un  Mohawk ,Rolos,  twist out  es perfecto para cualquier día de fiesta. Recomiendo el uso de productos naturales para todos los estilos naturales. Un twist out  con una flor al lado es atractivo y sexy 
♥
  Utiliza la creatividad y permite que tu cabello natural hable por sí mismo. No use una gran cantidad de producto en el cabello natural. Tenemos la tendencia a convertirse en adictos a los productos y utilizar cada nuevo producto en el mercado. Shea, el aloe vera,  nature's blessing , y Curl Jane Carter crema de definición  son muy buenos para crear un fabuloso toque. La vitamina E, aceite de almendras, aceite de recino, y otros
aceites esenciales
crean un brillo natural. Expresa tu amor y la elegancia por medio de la sencillez. Tu verdadero amor va a aceptar tu belleza natural y tu cabello si comienzas por aceptarlo tu misma
♥
Las fotos de arriba so ideas de estilos creado por el increíble equipo de
Na-Klectic LA
: Mira, Renee, Robin, Ayana, Pedro, Stacey, Sonia y la misma dueña Natasha