I celebrate almost every holiday including Dominicans, Mexicans and even friends B-days over seas, yeap thats me.. I don't focus on the bad commercial part of it, but instead in a good excuse to be pretty, have fun and wine, lol…
I've partnered with some curly friends to bring you some ideas for this romantic day from different curly girls perspective.
Moi, Me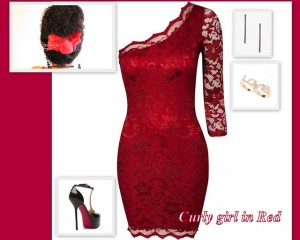 curly in red, that's right. If you got invited to a fancy date, this is the outfit for you; chick, sophisticated and red 🙂 Let's break it down.
As an Executive Director of a non-profit organization in New Jersey I have to maintain a professional presence during the day.  However as a native New Yorker, my style is professional but edgy.  For Valentine's Day I chose to go a little further to the edgy side by pairing my favorite style peplum dress with a crisp black leather blazer and knee high matching leather boots, a look that will easily go from day to night.  Not one to wear red on love day I chose my signature purple to wear instead because I feel very sexy in purple!  Wash and gos are my go to hairstyle and I never have an issue wearing my natural hair in my profession.  It's always been embraced and celebrated.
Natural Soon To Be
Alicia Gibbs,