Hello gorgeous, September is a tough month in my home: back to school expenses and two birthday celebrations, my little curly girl Liah's birthday is on the 12th and Dafne's the 23d. Last Saturday we went to celebrate Liah's at Disneyland, as she wanted, she is at that stage where princesses and fairy tale are all she likes, ahhh and Pink, of course.
I will share some of my pictures with you and some tips to take the most of your next visit to the park.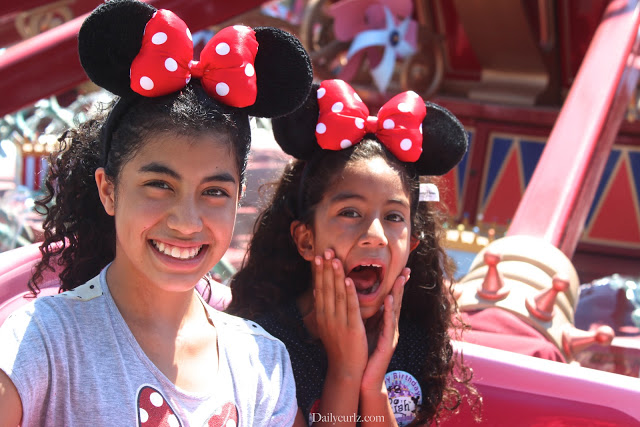 I had been to Disneyland park before, but I must say this is one of the best time of the year to go, because most kids are back to school, which means less time waiting in line to get on rides.
If you are going during summer months, make sure to protect your skin and your kids with sun block, you may want to bring a light sweater as well, California weather is kind of bipolar.
They let you bring into the park light food and water.
Get ready to pay parking and walk A LOT, so use comfortable shoes.
If you have the budget for it get a fast pass, it will save you time and make your visit more enjoyable.
Everything in the park is more expensive, for this reason I went to a Disney store a got the minnie ears at a half price.
The kids love autographs from their favorite characters, so I stopped at a $99 cent store and buy them a notebook and a pen.
Don't you dare to leave the park before the fireworks, I did on my last visit and this time I stayed till the end and the firework show is just amazing!!!
This is not a sponsor post, but I did received complementary tickets to visit the park, all opinions and photos are my own.
Hola preciosas, septiembre es un mes súper ajetreado en mi casa: por un lado, estan los gastos de regreso a clases y por otro, el cumpleaños de mis dos princesas, el de Liah el 12 y el de Dafne el 23. El sábado pasado fuimos a celebrar el cumpleaños de Liah en el parque Disneyland, como ella quería, ella esta en la etapa en la que las princesas y cuentos de hadas son toda su vida.
Voy a compartir un poco de nuestra visita con algunas fotos y consejos para que aproveches al máximo  de tu próxima visita al parque.
Ya había estado en los parques Disneyland antes, pero esta es la mejor época del año para ir, ya que la mayoría de los niños están de regreso a clases, lo que significa menos tiempo de espera en las filas para entrar a los juegos y las atracciones.
Si vas en los meses de verano, asegúrate de proteger tu piel y la de tus peques con protector solar, también lleva un suéter ligero ya que el clima de California es medio loco y cambia bastante en las noches.
Te permiten el entrar comidas ligeras y agua al parque.
Prepárate para pagar estacionamiento y caminar mucho, así que usa zapatos cómodos.
Si el dinero no es objeción para ti, compra los fast pass, te ahorrará tiempo y hará tu visita más agradable.
Todo en el parque es más caro, por eso fui a una tienda de Disney y compre las orejas de minnie y ropa a mitad del precio que dentro del parque.
A los niños les encanta que sus personajes favoritos le autógrafien sus libros, hice una parada rapida en el 99 cent store y les compre preciosos cuadernitos; claro que en el parque también los venden.
No salgas antes de los fuegos artificiales, aunque habia visitado el parque antes, esta es la primera vez que nos quedamos hasta el final y la experiencia fue única y mágica.
Este no es un articulo pagado, pero si recibí entradas gratis al parque, todas las imágenes y opiniones son mías