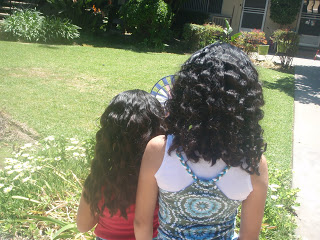 my daughters Dafne(9) and Liah (5)
Mami, why I don't have straight hair like the others girls in my school? uffffff….Because you are unique and god has something very important for you to do, and to recognize you in a bunch he made you with beautiful cascade of Curlz. I said!!.My daughter now 9 used to complain a lot about her curly hair…., Mami can you straighten my hair, was an every week desire…but since I become natural my daughter has become as well a natural girls in her mind, so in love with her hair, and of course there is reason for that: now she has someone to related to" her mom".
Been Natural is the best thing that ever happen to me and my daughter as I grow into a inch of  a curly hair our confidence grow with it..