Este articulo esta disponible en: Español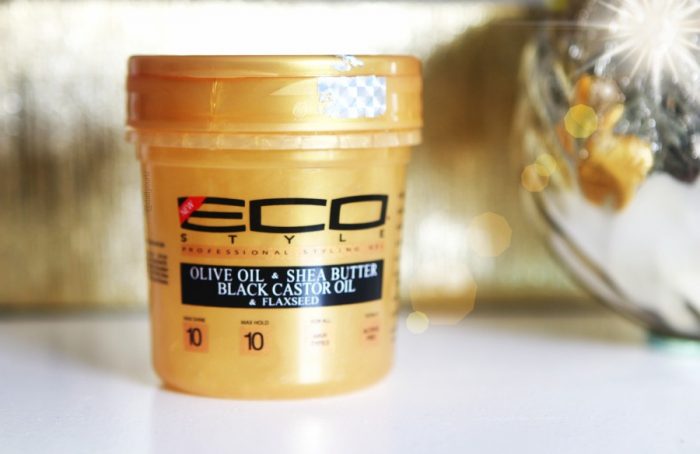 The new Eco styler gel gold is becoming very popular in the natural hair community for different reasons: 1, because of the amazing ingredients and 2, because it is also the most expensive Eco gel yet.
So, I began hunt to find this natural hair treasure. I went to 4 different places with no luck, so I decided to order it on Amazon. Another reason why people are so intrigued is because the gel costs $18 which is unusual for this gel that usually has a very affortable price.
My Experience With The New Eco Styler Gold.
Eco Style Gold – Olive Oil, Shea Butter and Black Castor & Flaxseed Oil Gel
Their claim: everything your hair needs, in one styling gel! ecostyle® gold styling gel brings together the greatest elements of our top products. 100% pure olive oil helps moisturize your scalp, while shea butter protects every strand of hair and black castor and flaxseed oil repair and promote hair growth. Like all of our gels, it will leave your hair weightless yet with superior hold and healthy shine.
Where do I start ? the product claim that it is everything my hair needs, so I used only the gel to style my hair. If this was true, I would be a happy woman, because I currently use 3 products to style my hair.
The application was amazing, my hair was soft, really soft. I had good definition after using the Denman brush, the scent was good, like clean good, not the overpowering scent that other products have.
Everything was great so far. I diffused my hair and it was there that I noticed that my hair was lacking shine and definition. I felt like the gel was sucking out all of the moisture in my curls.
My hair was soft like if I didn't use any gel at all. I don't really care for a lot of super-defined curls, but I do care for shine. It was as if I didn't use any product at all.
I wasn't that mad because my hair had a lot of volume which never happens on the first day, but as hours passed, it was a dry hot mess..
I usually go for up to 10 days without washing my hair and it still looks good. However after the second day, I had to do a puff, and on the third day, I had to do a co-wash because my hair was dry and dull looking.
I think that my hair will look better if I use the gel with my regular routine: oil + leave-in + styling cream or gel, but to be honest with you I didn't use it again because I was afraid that my hair would look that bad again and ain't nobody got time to wash their hair more than 2 times a week.
I will use it again later on when I forget the bad experience of using the product, but in the mean, please let me know if you used the Eco gel and how you used it.
Remember that this is my opinion only and results may vary from curls to curls.
SaveSave
SaveSave
SaveSave
SaveSave
Este articulo esta disponible en: Español