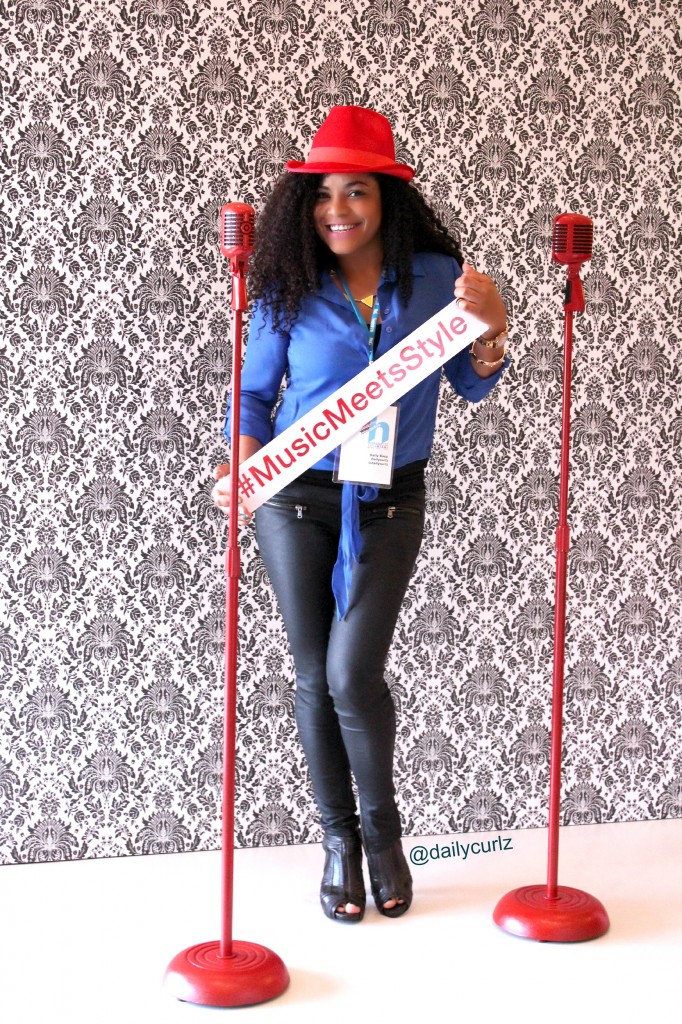 Hola chicas, I just got back from Miami, well not really, but I had so much fun there and so much work here that I still can't get back on track. You all may know that this trip was possible thanks to Zotos professional and in case you don't know, they carry several product lines available at Sally's like: Age beautiful and Biotera among others. I wanted to keep my routine simple so I just took Biotera 5-in-1 with me, you can click here to learn more about it, Biotera curl creme and my oil mix.
Day zero: Monday March 31st, I co-washed my hair with Biotera 5-in-1, I sealed with oil and applied Biotera curl creme (photo 1 below). My plan was to use the curl creme and oil on my water mist to refresh my hair during the day in case the humid weather started to play hard on me. I took the red-eyed flight and fell asleep the minute I put my feet on the plane, lol but before, I pulled my hair into a high pony tale (a.k.a. Pineapple).
Day one : Tuesday April 1st i did nothing to my hair, it was perfect (picture up there)
Day Two: Wednesday, April 2d I spritz my hair with my magical water mist (curl creme, water and oil) It was a little bit big, but you know what they say" Big hair don't care"-

photo 3

. At night it was out of proportion so I just twisted it in the front so people could se my face 🙂 –photo 4-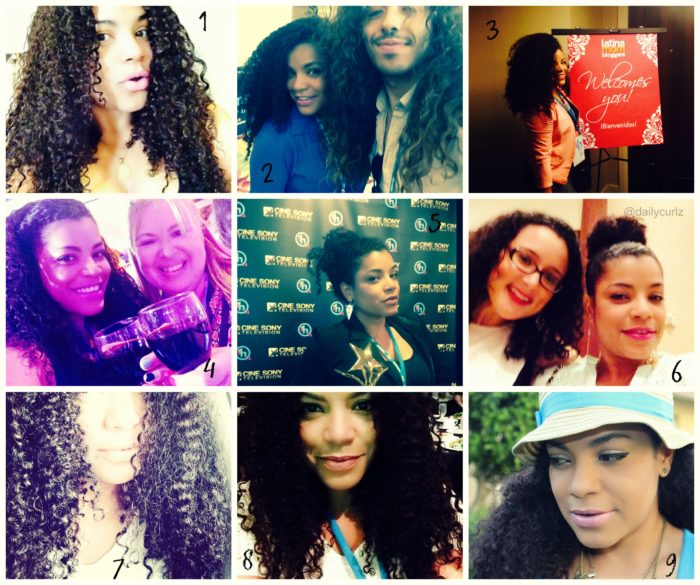 Day three -Thursday  April 3- photos 5 & 6 –  I was too tired to do anything to my hair after an amazing night aboard a yacht thanks to McDonald's , so what do you do? bun it up chicas. Forget my face, my crazy bun was cute.
Day Four: Friday April 4 – photo 7 & 8-  It was time to rock my curls on my last day in Miami, so I did another co-wash with biotera 5-in 1 followed by the same products I used day zero. It only took me like 25 minutes to do my hair, because as I told you before, the Biotera 5-in-1 does an amazing job cleansing, detangling and hydrating my hair. I dried my hair about 80 % with the hair dryer, because never ever go to to meetings or reunion with your hair dripping wet.
Picture 9 is me today April 10th, I haven't washed my hair yet, but my hair still looks shiny and beautiful (with a hat on, lol)
And that is all for my hair diary at Hispz14 Miami, the weather change was almost unnoticed by my hair this time, different from last year, or maybe I had better or more appropriate products this time.. Please let me know if the weather change affects your hair in any way and if you tried any of these products; how are they working for you? Remember you can find them at sally's 
Español
Hola chicas , acabo de regresar de Miami, bueno ya varios días atrás, pero me divertí tanto y tengo tanto trabajo acumulado que aun me siento como si llegue ayer. Todas ustedes saben que mi viaje fue posible gracias a Zotos professional y en caso de que no sepan quienes son, aparte de ser espectaculares conmigo, tienen productos espectaculares y económicos disponibles en Sally's como:  Age beautiful y Biotera entre otros. Quería mantener mi rutina simple así que llevé conmigo solo Biotera 5-en-1 puede hacer clic aquí  para aprender más sobre él, Biotera curl creme y mi mezcla de aceites.
Día cero: Lunes 31 de marzo, me hice un co-wash con Biotera 5 -en-1, aplique unas gotas de aceite para sellar la humedad y luego el Biotera curl creme ( foto 1). Mi plan era utilizar la crema para definir los rizo (curl creme) y la mezcla de aceite en mi botella atomizador con agua para refrescar mis rizos  durante el día en caso de que el clima húmedo me jugara una mala partida. Volé toda la noche y dormí desde que puse un pie en el avion, lol , pero antes me puse el cabello en una cola alta, a.k.a Piña.
Primer día: martes 1 de abril, no le hice nada a mi cabello, estaba perfecto (foto arriba )
Segundo día : miércoles 2 de abril,  me rocíe el pelo con mi poción mágica, ósea el atomizador con la crema de los rizos y aceites, estaba un poco grande, pero ya sabes lo que dicen "al que no le guste, que se mude " (no se como encaja esta frase, pero la idea es esa)- foto- 3 . Por la noche, el cabello estaba un poco fuera de control, por eso, me hice un twist en la parte de adelante y así las demás personas pudieran ver mi cara.  – foto 4 –
Día tres: Jueves 03 de abril – fotos 5 y 6 – No fui capaz de hacer nada con mi cabello después de una noche increíble abordo de un yate gracias a McDonald's ¿qué es lo que haces ? moño Perez chicas . Olviden mi cara , mi moño desgreñado estaba lindo .
Cuarto Día : Viernes 04 de abril – foto 7 y 8 – Era el momento de lucir mis rizos en el ultimo día en Miami , así que me hice otro co-wash con Biotera 5 en 1 seguido de los mismos productos que usé el día cero. Sólo me tomó como 25 minutos para hacerme el pelo, porque como les dije antes, Biotera 5 -en-1 me funciona super bien, desenreda e hidrata el cabello. Me seque el cabello alrededor del 80% con el secador de pelo, porque nunca de los jamás debes ir a reuniones o galas con el cabello mojado .
Imagen 9 es hoy 10 de abril , todavía no he lavado mi cabello, pero todavía tiene un aspecto brillante y lindo  (con un sombrero, lol )
Y eso es todo sobre la travesía de mi pajón en Miami Hispz14, el cambio de clima paso casi desapercibido por mi cabello esta vez,  a diferencia del año pasado, o tal vez sería que use productos mas adecuados en esta ocasión .. Por favor, comenten si el cambio de clima afecta tu cabello de alguna manera y si has tratado los productos Biotera y si te funcionan como a mi? Recuerda que lo puedes encontrar a sally's