Hola chicas, How was your 4th of July? Mine was super exciting, since I got to enjoy two California theme parks, don't panic, not the same day, one the 4th, and the other one on the 5th (details and pictures soon). My daughters had a blast. One thing that always worried me, is the sun and how damaging it is for my-not so young- skin and my daughters skin, so I always make sure to have the best Sun protection squad with me, not only during brutal California Summer months but all year around.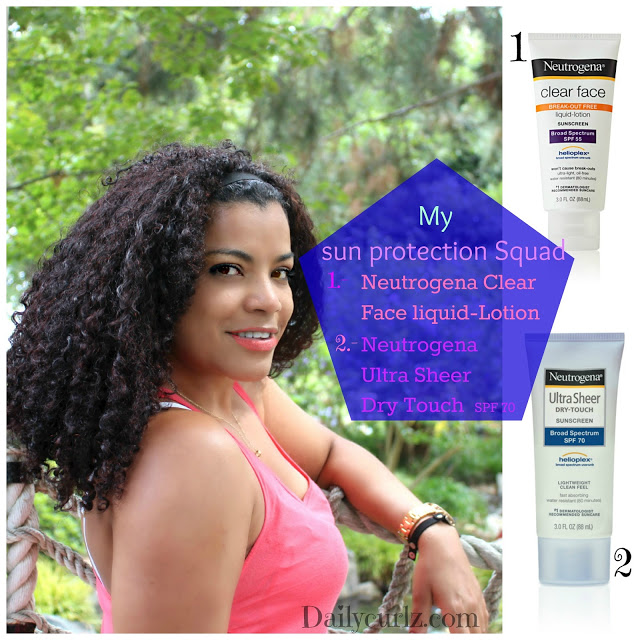 Neutrogena
is one my favorite sun protection brands for my whole family, I particularly love the clear face liquid-lotion because it is ultra light and oil free; who want a sticky face? The
Neutrogena
clear face liquid-lotion is super good to add to your water bottle mix and spray into your hair: Yes, your hair needs sun protection too. 
Curly girls have more fun, but we are also wise and smart to know that it is really important to protect our skin from the sun, to show off those gorgeous curls flowing on our healthy skin.  
Hola chicas, ¿Cómo les fue su 4 de julio? Pues a mi me fue súper ya que pudimos disfrutar de dos parques temáticos  de California, no se me asusten, que soy super woman, visitamos los parques uno cada día  (detalles y fotos en breve). Mis hijas se divirtieron muchísimo. Una cosa que siempre me ha preocupado a la hora de salir es el sol y lo perjudicial que es para mi – no tan joven- piel y la piel de mis hija, así que siempre me aseguro de tener el mejor equipo de protección solar conmigo, no sólo durante el verano brutal de California, pero todo el año.
Neutrogena
es una de mis marcas favorita de protección solar para toda mi familia, me encanta The
Neutrogena
clear face liquid-lotion, ya que es ultra ligera, libre de  aceites, ¿quieren una cara pegajosa? El The Neutrogena clear face liquid-lotion es súper bueno para añadir a tu atomizador de agua y rociarlo en el cabello: Sí, tu cabello necesita protección solar también.
Las chicas del cabello rizado no solo tenemos un cabello espectacular, pero también somos  sabias e inteligentes para saber que es realmente importante  proteger nuestra piel del sol; el pelo es el marco de nuestro rostro, así que tenemos que proteger esa piel para lucir nuestros hermosos rizos en ella.