Pantone, the global color authority reveals Color of the Year for 2015 is "Marsala". Pantone has described the color as, "a naturally robust and earthy wine red." Rich and charismatic, Marsala tastefully fulfills with complex sophistication.
Marsala enriches our mind, body and soul, exuding confidence and stability," said Leatrice Eiseman, executive director of the Pantone Color Institute®.
"Much like the fortified wine that gives Marsala its name, this tasteful hue embodies the satisfying richness of a fulfilling meal, while its grounding red-brown roots emanate a sophisticated, natural earthiness. This hearty, yet stylish tone is universally appealing and translates easily to fashion, beauty, industrial design, home furnishings and interiors."
Marsala for Fashion
Marsala was a hit on the Spring 2015 runways with fashion designers featured in the PANTONE Fashion Color Report Spring 2015; Daniel Silverstain, Hervé Léger by Max Azria and Dennis Basso incorporated the hue into their collections. The impactful, full-bodied qualities of Marsala make for an elegant statement color when the color is used on its own or as a compelling accent when paired with many other colors.
With the ever-growing popularity of floral prints and striping, variations of this hue will undoubtedly carry into men's and women's clothing throughout next year. Marsala is also a popular choice for jewelry and fashion accessories including handbags, hats, footwear and the burgeoning market of wearable technology.
This highly varietal shade combines dramatically with neutrals, including warmer taupes and grays. Because of its burnished undertones, sultry Marsala is highly compatible with amber, golden yellows, greens in both turquoise and teal, and blues in the more vibrant range.
Marsala for Beauty
An incredibly versatile color for beauty, Marsala is an appealing and sophisticated shade that's flattering against many skin tones. Marsala pairs exquisitely with monochromatic mixes of peachy pinks, and sparkles against antiqued gold metallics, offering an assortment of lipstick and blush options. Marsala illuminates a range of smoky-neutral color combinations, making it a captivating eye shadow color that can be worn from morning until night. Add an overlay of bronze for a dramatic look that suits any eye color, or use Marsala as a go-to finishing touch on nails.
Marsala inspiration to try...
Español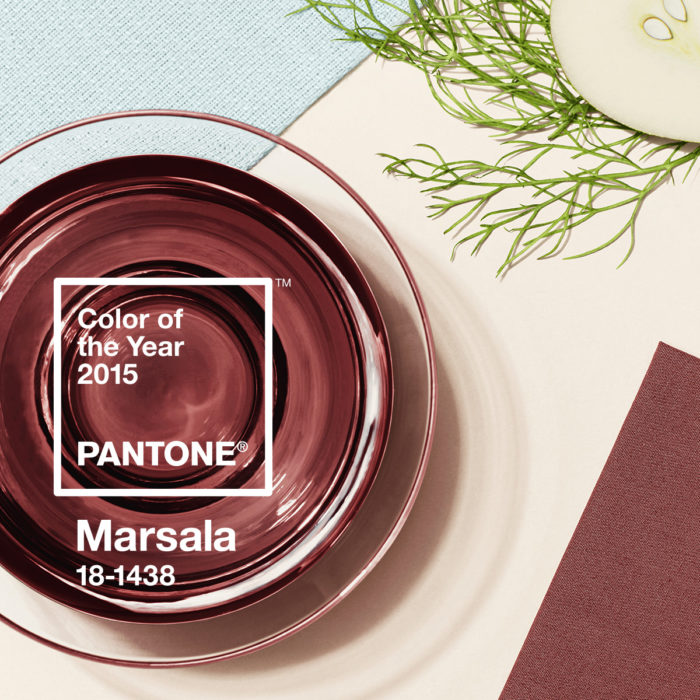 Pantone la autoridad global del color revela el color del Año para 2015 es "Marsala". Pantone ha descrito el color como "una forma natural robusta y terrosa del rojo vino." Tonos ricos y carismático, Marsala cumple con buen gusto y sofisticación. Marsala enriquece nuestra mente, cuerpo y alma, irradia confianza y la estabilidad ", dijo Leatrice Eiseman, directora ejecutiva de Pantone Color de Institute®.
Al igual que el vino que da a Marsala su nombre, este tono es de buen gusto y da bienestar al alma y a la vista con raices de tonos marrones, rojizo y tierra que emanan sofisticación. Este color es cordial y elegante, universalmente atractivo y encaja fácilmente en la moda, la belleza, el diseño industrial, muebles para el hogar e interiores.
Marsala en la Moda
Marsala fue un éxito en la primavera del 2015 en las pasarelas; Daniel Silverstain, Hervé Léger by Max Azria y Dennis Basso incorporaron el matiz en sus colecciones. Las cualidades impactantes del color Marsala hace una declaración de elegancia cuando se utiliza el color por sí solo o como un acento convincente cuando se combina con muchos otros colores.
Con la creciente popularidad de los estampados florales y las rayas, las variaciones de este matiz sin duda que lo veremos en los atuendos de hombres y mujeres a lo largo del próximo año. Marsala es también una opción popular para la joyería y accesorios,  incluyendo bolsos, sombreros, calzados y el floreciente mercado de la tecnología portátil.
Estos tonos y variantes combina de manera espectacular con los neutrales, incluyendo  los grises cálidos. Debido a sus matices, Marsala es altamente compatible con ámbar, ocre, amarillos dorados, verdes, tanto en turquesa y verde azulado, y los azules en el rango más vibrante.
Marsala para la belleza
Este es un color increíblemente versátil para la belleza, Marsala es atractivo y sofisticado que cae muy bien en casi todos los tonos de piel. Marsala combina exquisitamente con mezclas monocromáticas de colores de rosa amelocotonado, y brilla cuando se combina con tonos metálicos, ideal para rubor y los labios. Marsala ilumina una gama de combinaciones de colores ahumados-neutrales, por lo que en sombra de ojos es  cautivante que se puede usar desde la mañana hasta la noche. Añadir una capa de bronce para una mirada dramática que se adapta a cualquier color de ojos, o utilizar Marsala como un go-to toque final en las uñas.
Inspiración Marsala..