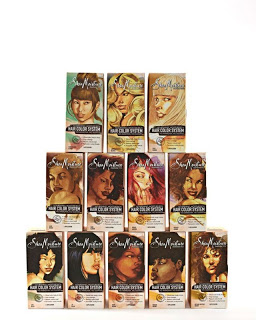 new sheamoisture hair color
If you are  searching for a hair color that captures your individuality and reflects your unique beauty, SheaMoisture claims to have just that with The Art of Color, first-ever hair color system. 
 SheaMoisture's permanent Hair Color System creatively connects personal style with contemporary art. It boasts 12 moisture-rich hues, and offers ammonia- and sulfate-free hair color infused with natural ingredients including Soy Protein (helps strengthen hair by replenishing lost protein); Certified Organic Glycerin (aids in moisture retention); Flax Seed Oil (enhances shine and dimension) and Certified Organic Shea Butter (provides moisture to damaged hair from roots to tip, and promotes healthy, shiny hair). These healthy nutrients minimize damage, while promoting vibrant color, superior hydration, exceptional manageability and brilliant sheen. 100 percent gray coverage, and lifts color two shades. 
SheaMoisture Hair Color System is available in the following shades: Light Blonde, Medium Golden Blonde, Dark Golden Blonde, Light Brown, Medium Brown, Dark Brown, Medium Chestnut Brown, Reddish Blonde, Bright Auburn, Dark Auburn, Jet Black and Soft Black. 
Each hair color shade box features an original watercolor painting by artist Michael Jamal, commissioned by SheaMoisture. Barron adds, "I want women to see themselves in the hair color box art, not heavily Photoshopped and made-up models, who don't speak to their uniqueness and personalities."
Each SheaMoisture Hair Color System kit includes Radiant Color Crème, Radiant Color Developer, Professional Latex Gloves, Salon Application Brush, Raw Shea Moisture Retention Shampoo, Raw Shea Restorative Conditioner and Raw Shea Reconstructive Finishing Elixir. 
The Hair Color System will be available at 400 select Target locations nationwide in early 2013 with a suggested retail price of $14.99. 
Si estás buscando un color de pelo que capture tu individualidad y refleje tu belleza única, SheaMoisture dice tener eso  con The Art of Color, su primer sistema de color de pelo.
SheaMoisture Sistema de Color de cabello Permanente conecta estilos personales con el arte contemporáneo. Cuenta con 12 colores ricos en matices, y sin amoníaco, libre de sulfato con infusiones de  ingredientes naturales como la proteína de soja (ayuda a fortalecer el cabello por la reposición de la pérdida de proteínas); Glicerina Certified Organic (ayuda en la retención de la humedad), el aceite de linaza (mejora brillo y dimensión) y Certified Organic Shea Butter (proporciona humedad al cabello dañado desde la raíz hasta la punta, y promueve el pelo sano, brillante). Estos nutrientes saludables minimizan los daños, mientras que da colores vivos y una hidratación superior, manejabilidad excepcional y un super brillo. Cubre 100 por ciento las canas y puede subir hasta dos tonos de color.
Este sistema de color está disponible en los siguientes colores: rubio claro, Rubio Dorado Medio, Golden Blonde oscuro, marrón claro, marrón medio, marrón oscuro, Medio Castaño, Rubio Rojizo, Bright Auburn, Dark Auburn, Negro Jet y Negro suave.
Cada color de pelo trae pintado en la caja una acuarela original del artista Michael Jamal, encargado por SheaMoisture. Barron añade: "Quiero que las mujeres se vean en cada caja, no mucho Photoshop e integrada por los modelos, que no hablan a su singularidad y personalidad."
Cada kit de color de SheaMoisture incluye Crème color radiante, revelador de color radiante, guantes Profesionales de látex, cepillo de aplicación, Raw Shea Moisture Retention Shampoo, Raw Shea Restorative Conditioner y Raw Shea Reconstructive Finishing Elixir.
El Sistema de Color de cabello estará disponible en 400 ubicaciones selectas en las tiendas Target en todo el país a principios de 2013 con un precio de venta sugerido de $ 14.99.