I am not a fast food type of girl, I do cook at home most of the time, but when I am out on a trip or on weekends and my budget is tight, fast food restaurants come in handy. One thing that is very important to me, despite of where I eat: Home, fancy restaurants (not so often) or fast food is to look for healthy options; this is the reason I joined this campaign.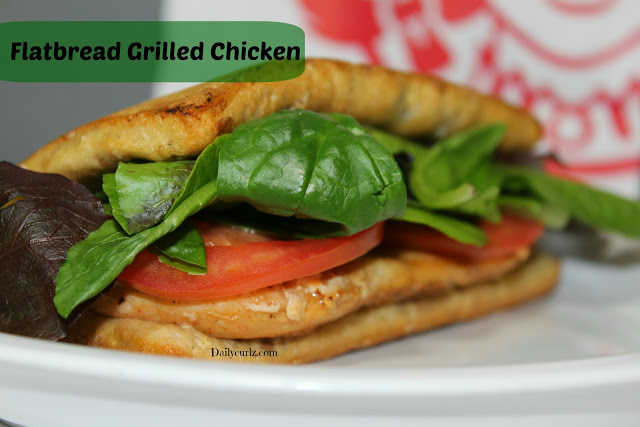 Wendy's Chicken Flatbread Sandwiches are back for limited time only, I tried the Smoky Honey Mustard Flatbread Grilled Chicken Sandwich, a toasted multi-grain flatbread with grilled 100% premium chicken, spring mix, fresh-sliced tomato and topped with smoky honey mustard sauce, Yummy and only 370 calories….
Wendy's #6SecondsFlat sweepstakes
Tell Wendy's what you think about their flatbreads in a Vine or Instagram video, then send it @Wendys (through twitter, Instagram or Vine) with the hashtags #6SecondsFlat and my custom hashtag #dailycurlz6. Each week of September, one lucky winner will be randomly selected to receive a $6000 prize. You can also be instafamous, since they will be posting on their webside the best #6SecondsFlat videos; here is mine (follow me on vine)
Visit the sweepstakes landing page for more information and view the "official rules" here 
And if you already tried it, let me know which one is your favorite.
This article is sponsored by Wendy's. All opinions, photos and videos are my own. 


Español
Yo no soy muy fan de las comidas rápidas, ya que me gusta cocinar en casa  la mayor parte del tiempo, pero cuando estoy en un viaje o los fines de semana y mi presupuesto no es muy grande, los restaurantes de comida rápida son útiles. Una cosa que es muy importante para mí, sin importar si como en casa, un restaurante caro (no muy a menudo) o en un restaurante de comida rápida es el buscar opciones que sean mas saludables dentro del menu, y esta es la razón por la que me uno a esta campaña.
Los Wendy's Chicken Flatbread Sandwiches están de vuelta por tiempo limitado, yo probé el Honey Mustard Flatbread Sandwich con carne de pollo ahumado a la parilla, un pan plano de multi-grano tostado, mezcla de lechugas frescas, tomate en rodajas y cubierto con salsa ahumada de miel y mostaza, delicioso y solo 370 calorias…
Sorteo #6SecondsFlat de Wendy
Dile a Wendy que es lo que piensas acerca de sus sandwiches en un video en vine o Instagram, usando el tag @Wendys y con los hashtags #6SecondsFlat y mi hashtag personalizado #dailycurlz6. Cada semana de septiembre, un afortunado(a) ganador(a) será seleccionado al azar para recibir un premio de $6000. También puede ser instafamosa, ya que se publican en su pagina web los mejores videos #6SecondsFlat, aquí está el mío  (sigueme en vine)
Visita la página del sorteo para obtener más información y ver las "reglas oficiales" aquí
Y si ya lo probaste, házmelo saber,cuál es su favorito.
Este articulo es patrocinado por wendy's todas las fotos, video y opiniones son mías.