This shop has been compensated by Collective Bias, Inc. and its advertisers. All opinions are mine alone. #HoneyForHolidays #CollectiveBias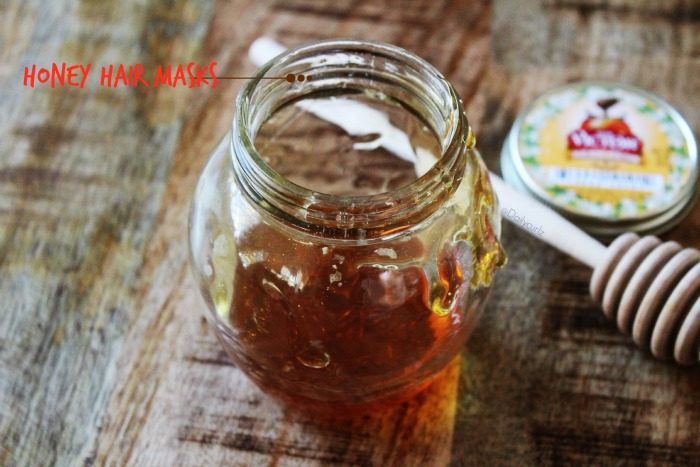 The holiday season is here and even though this is my favorite time of the year, the winter dryness affects my whole body including my hair. Dry winter hair is a problem that affects almost every single one of my natural hair friends, so I went ahead to Walmart and grabbed a few essentials to make my friends -and myself – my 3 favorite honey based hair treatments for dry and damaged hair.
Why honey? Honey is a natural humectant that attracts the moisture that our thirsty curls desperately need. Honey is loaded with antioxidants and nutrients that nourish the hair follicles which can help with hair growth as well. To get the best out of these DIY honey treatments, buy a raw, filtered honey like Don Victor Honey, not a heated or processed one. You may have to warm it up a little and that is fine, because you have to keep in mind that ultra processed honey doesn't have many benefits.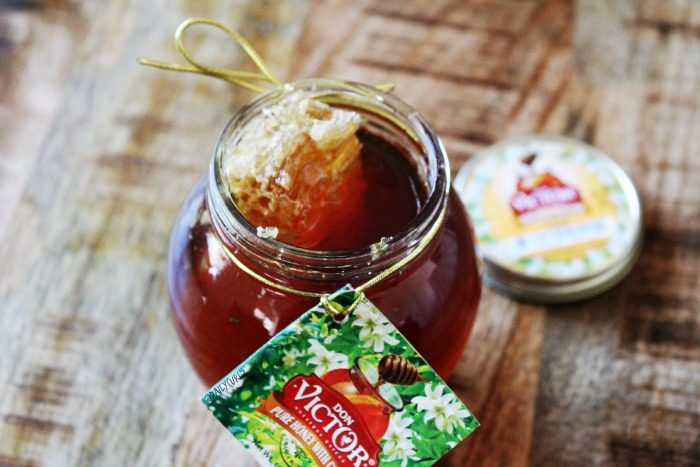 I particularly love Don Victor honey (found at Walmart in the Hispanic Aisle near the baking items) because I feel confident that I am getting real honey + it come with a honeycomb inside, how cool is that? It reminds me so much of my abuelita's house in DR, I used to eat honeycombs every day, because she swore it would keep me away from the doctors office and it must be true, because up until now, I almost ever get sick. Honeycomb can be eaten! Yes chicas, I love it over toast and salads to give it a crunchy feeling or this amazing spicy honeycomb chicken chili (recipe HERE).
Honey Evoo Coconut treatment. Because you can't have dry hair for the holidays, right? This treatment also promotes healthy hair and will restore dry hair in no time.
Mix 1/4 cup of Don Victor honey (longer hair may need more)
2 tablespoons extra virgen olive oil
2 tablespoons coconut oil
Mix well and apply to dry hair for about 20 minutes, rinse, wash, and style as usual. 
Honey, honey. To be honest, honey alone is very beneficial to your hair, but as it is very sticky, it may be very difficult to apply into your hair, so just add enough water to make honey a little bit loose and voila. Apply to dry hair for 20 minutes, rinse, wash and style as usual. 
Honey + Apple Cider Vinegar. Nothing screams shiny and healthy like my favorite natural ingredients: honey + apple cider vinegar = smooth, shiny hair.
1/4 cup of Don Victor honey
4 tablespoons apple cider vinegar
Mix well and apply to dry hair for 30 minutes . Rinse, wash, and style as usual. 
Español
Las fiestas navideñas están a la vuelta de la esquina y aunque esta época me encanta, hay algo que no me gusta mucho, y es la resequedad que afecta casi a todo mi cuerpo, incluyendo my cabello. El invierno afecta a casi todas mis amigas en la misma manera, así que me fui a Walmart a comprar unos ingredientes super poderosos para hacer tratamientos caseros para mis amigas ya que se quejan que nunca les comparto mis pócimas mágicas, asi que aquí les comparto 3 mascarillas super poderosas para combatir el cabello reseco a base de miel.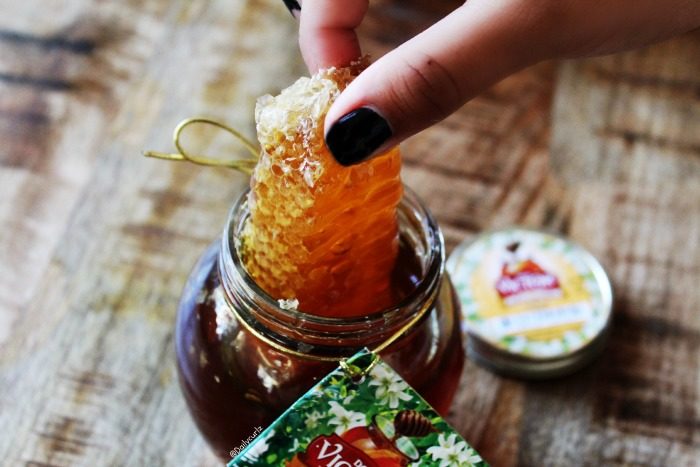 ¿Por qué miel? La miel es un humectante natural y atrae la humedad a nuestro cabello sediento. La miel  está cargada de antioxidantes y nutrientes que alimentan los folículos pilosos y nos puedes ayudar tremendamente al crecimiento del cabello. Para obtener lo mejor de los beneficios de la miel y de estos tratamientos, es muy importante el comprar pura miel como, no procesada como la miel Don Víctor. Es posible que la tengas que calentar un poco para poder usarla y eso esta bien, porque la miel que esta super procesada no tiene muchos beneficios.
A mi me encanta la miel Don Victor (que la encuentras en Walmart en el pasillo de comida hispanas, cerca de los productos para hornear) porque me siento con la confianza de que es miel pura y ademas viene con el panal que tanto me gustaba comer cuando era una niña en casa de mi abuela. Si, el panal de abeja se come y es riquísimo, a mi me encanta sobre tostadas calientes y ensaladas para dar una textura crujiente y dulce o esta receta exquisita de chili de pollo picante y dulce  (receta aquí)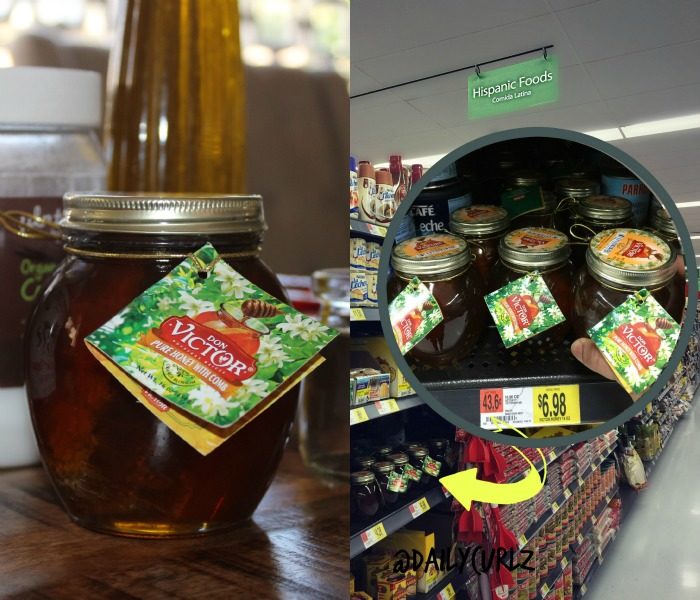 Tratamiento miel + aceite de coco + aceite de oliva. Como nadie quiere tener cabello seco en las fiestas de navidad, les traigo este tratamiento que restaura el cabello reseco en solo varias aplicaciones.
Mezclar 1/4 taza de miel Don Victor.
2 cucharadas de aceite de oliva extra virgen.
2 cucharadas de aceite de coco.
Mezclar bien y aplicar sobre el cabello seco durante unos 20 minutos, enjuagar, lavar y peinar como de costumbre.
Dulce miel. Para ser honestas, la miel sola es muy beneficioso para el cabello, el único problema es que es un poco difícil de aplicar por su textura, pero si le añades un poco de agua para aflojarla un poco, es todo una maravilla. Agregar agua a 1/4 taza de miel hasta la contextura deseada, aplicar sobre el cabello seco durante 20 minutos, enjuagar, lavar y peinar como de costumbre.
Tratamiento de miel y vinagre de cidra de manzana. Nada dejara tu cabello mas brillante que esta maravillosa mezcla, dos de mis ingredientes favoritos para los tratamientos caseros: miel + vinagre de cidra de manzana = cabello suave y brillante.
1/4 taza de miel Don Víctor.
4 cucharadas de vinagre de cidra de manzana.
Mezclar bien y aplicar sobre el cabello seco durante 30 minutos. Enjuagar, lavar y peinar como de costumbre.