I have to admit that toners are a product that confuses me, I didn't quite understand the purpose of it. Even thought toners are not necessary, they are great to use with your other skin products. Toners are a secondary step of a cleaning process and can help remove excess oil and dead skin cells. Toners can also help your other products penetrate better and faster because moist skin absorbs products better that dry skin.
The best and most affordable ingredients for our skin is in our kitchen, and if you want to start incorporating toner into your skin regimen, making it your self can be a nice start.
Herbal skin toners: Nothing more fresh and easy 

than

 tea bags, I 

particularly

 love 

everything

 green tea, so there is no surprise that I use it on my hair and on my skin. Green tea is one of the best antioxidants you can find, so drink it and 

of course

 apply on your skin for a soft and glowing skin.  Just make the tea as 

you

 normally would, let it cool down, apply it all over 

your

 face in the morning and drink 

the rest, win win situation.
Another excellent tea to clean and smooth your skin is chamomile tea.
Mint Skin Toner. If you want super duper clean skin, try putting a handful of mint in cup of hot water, cover it and let it rest for about 10 minutes. Strain and apply it all over your face with a cotton ball.
Apple cider vinegar + Rose Water Skin Toner. You already know how good apple cider is as an anti-bacterial agent, so it is especially good for skin with acne problems. When you add equal parts of rose water, you will get a very clean and soft skin.
Honey + Apple Skin Toner, this toner has a lot of anti-bacterial properties and will leave your skin radiant and smooth. In a blender, add one ripe red apple and 1 tbs of 100% pure honey to make a smooth consistency. Apply the mixture to your face for a few minutes and wash your face with clean water.
Español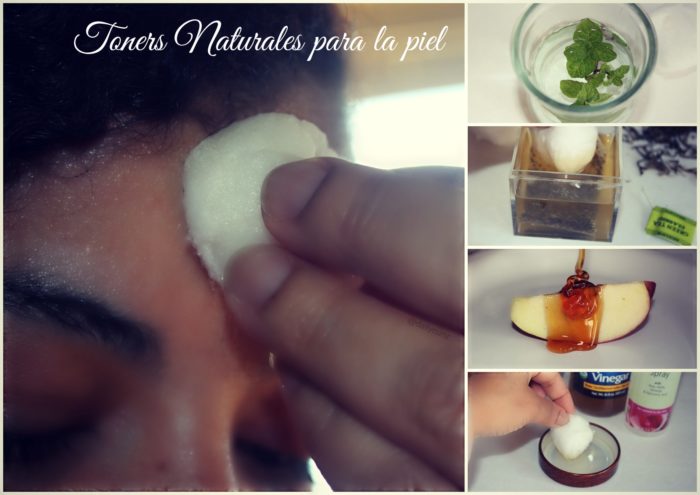 Tengo que admitir que el tóner o tónico es un producto que me confunde, no entendía bien el propósito del mismo. Incluso si piensas que los toners no son necesarios, estos pueden ser un gran soporte para los demás productos de la piel que ya estas usando. Los toners son un segundo paso en el proceso de limpieza y pueden ayudar a eliminar el exceso de grasa y células muertas de la piel. Los toners también pueden ayudar a que los otros productos que usas penetren mejor y mas rápido, ya que una piel húmeda y limpia absorbe mejor los productos.
Los mejores y más asequibles ingredientes para nuestra piel están en nuestra cocina, y si quieres empezar a incorporar tóner en tu régimen de la piel, esto puede ser un buen comienzo.
Tónicos para la piel a base de plantas: nada más fresco y fácil que las bolsitas de té, en particular me encanta todo lo relacionado con el té verde, por lo que no es ninguna sorpresa que lo use en el cabello y en la piel. El té verde es uno de los mejores antioxidantes que puedes encontrar, así que tomado y aplicalo para una piel mas suave y lozana. Sólo haces el té como de costumbre, deja que se enfríe, y luego lo aplicas en todo el rostro por la mañana, y no olvides de tomar el resto.
Otra excelente té para limpiar y suavizar su piel es el té de manzanilla.
Toner de Menta: si quieres una piel duper super limpia, trate de poner un puñado de menta en una taza de agua caliente, tapar y dejar reposar durante unos 10 minutos. Colar y aplicarlo en todo el rostro con un algodón.
Tonico de vinagre de cidra de manzana + Agua de Rosas. Ya sabes lo bueno que es el vinagre de cidra de manzana como agente anti-bacterial, por lo que este tonico es especialmente beneficioso si tienes problemas de acné. Cuando se agrega partes iguales de agua de rosas obtendrás una piel muy limpia y suave.
Toner de miel + manzana: este tóner tiene una gran cantidad de propiedades anti-bacteriales y deja la piel radiante y suave. En una licuadora agregar una manzana roja madura y 1 cucharada de miel 100% pura hasta formar una consistencia suave. Aplica la mezcla en tu rostro durante unos minutos y lava tu rostro con agua limpia.