Hello morning, hello coffee, yes, I can't start my day without caffeine, I think I have drunk coffee my whole life, my grandmother use to give me coffee with casabe (A crispy flat bread made from cassava "yuca" flour-center of the Taino diet) in the morning as a breakfast or snack. But coffee has a lot more use than drinking it, as a body scrub, it is excellent because of the coarse ground, making it an excellent exfoliate.Caffeine is a vasodilator, which means it constricts blood vessels in the skin. This action works to make blood vessels tighter and firmer very quickly, which is reflected in your skin texture.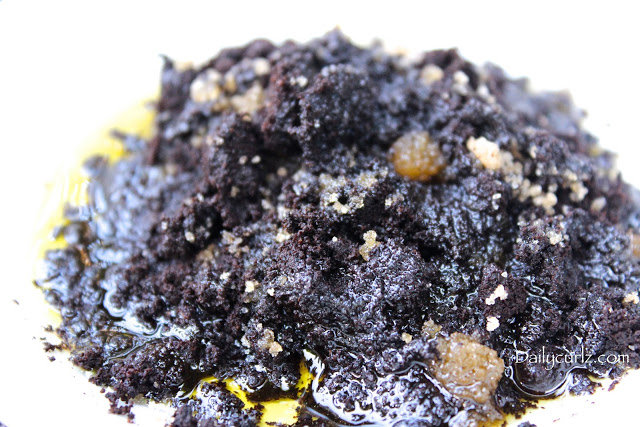 coffee/sugar scrub
1-.Anti-cellulite Coffee scrub
: caffeine enhances fat metabolism, when it is applied to the skin it absorbs and removes liquid and fat from your skin. Combine coffee ground, olive oil and brown sugar, apply coffee scrub to the problem area in a circular motion. Apply and rinse in the shower to avoid mess.
2.-Coffee Face scrub: This coffee scrub revitalizes and rejuvenates the skin. It removes dead skin cells and tightens pores acting as a natural toner for your face. 1/4 cup used coffee grounds 2 to 4 pinches sea salt
1 egg white. apply to your face and leave in on for 20 minutes, gently scrub the mix into your skin and rinse it out.  After a use of any scrub, you may need a use of a toner and or a moisturizer
3.-Coffee for hair Loss: according to a study where follicles were treated with a caffeine solution, it was found that caffeine blocks the effects of a DHT, the hormone that causes Male Pattern Baldness and damages the hair follicles, the reason why some hair lost shampoos use coffee as one of their ingredients.
4.- Coffee as color enhanced or dye: Some women have found great results when dying their hair with very strong coffee and leave it on for a few hours, specially from blond or light brown to a darker color. I particularly mix my henna with very strong coffee to give my curls a more brownish color. More Natural dyes here 
5.-Coffee before workout: Drinking coffee an hour or so before a workout can increase your energy and alertness, which can help you to undertake a more rigorous, focused workout. Coffee can also help dull joints and muscle pain. However, you may want to avoid drinking coffee immediately before exercising, as the acid coupled with the agitation from exercise may lead to an upset stomach. Read more about it here 
Coffee any one?
Hola mañana, hola café, sí, no puedo empezar mi día sin cafeína, creo que he tomado café toda mi vida; mi abuela me daba café con casabe (un pan plano crujiente hecho de harina de yuca, dieta principal de los Taínos) por la mañana como desayuno o merienda. Pero el café es mucho más útil que solo tomarlo, también lo puedes utilizar como un exfoliante corporal, lo que lo hace excelente es su textura arenosa gruesa. La cafeína es un vasodilatador, lo que significa que estrecha los vasos sanguíneos en la piel. Esta acción trabaja para hacer los vasos sanguíneos mas pequeños, apretados y firmes muy rápidamente, lo que se refleja en la textura de la piel.

1-. Exfoliante anti-celulitis  de café: la cafeína mejora el metabolismo de las grasas, cuando se aplica a la piel, absorbe y elimina el líquido y la grasa. Mezcla cafe molido, aceite de oliva y azúcar moreno, utilisa esta mezcla en el area con problema en movimientos circulares. Aplicar y enjuagar en la ducha para evitar el regueros
2.- Exfoliante Facial de café: Este exfoliante revitaliza y rejuvenece la piel, elimina las células  y cierra los poros, actuando como un tónico natural para la cara. 1/4 taza de café molido ya usado, ósea después de colado,  2 a 4 pellizcos de sal, la clara de un huevo. se aplica en la cara y se deja actuar durante 20 minutos, frota suavemente la mezcla en tu piel y enjuagalo. Después del uso de cualquier exfoliante, es posible que tengas que usar un toner y una crema hidratante.
3.-Café para la pérdida del cabello: según un estudio en el que los folículos fueron tratados con una solución de cafeína, se encontró que la cafeína bloquea los efectos de la DHT, la hormona que causa la calvicie de patrón masculino y daña los folículos pilosos, por lo que muchos champús para la calvicie utilizan café  como uno de sus ingredientes.
4 – Café como tinte para el cabello:. Algunas mujeres han encontrado un gran resultado cuando se tiñen el pelo con café fuerte y lo dejan actuar durante un par de horas, especialmente de rubio o castaño claro a un color más oscuro. Particularmente yo mezclo mi henna con café muy fuerte para dar a mis rizos un color más marrón. En este link encuentras mas alternativas naturales para pintar el cabello
5.-Café antes del ejercicio: Tomar café una hora antes de un entrenamiento puede aumentar tu energía y estado de alerta, que puede ayudarte a llevar a cabo un más riguroso, entrenamiento. El café también puede ayudar con el dolor articular y muscular. Sin embargo, es posible que desees evitar el consumo de café inmediatamente antes de hacer ejercicio, ya que el ácido junto con la agitación del ejercicio puede conducir a un malestar estomacal. Lea más sobre esto aquí

Quien quiere Café?