On a recent event I came across Agave Healing Oil, and as you maybe right now, I was really surprise. This product in particular promise to  restores and rejuvenates hair that's unmanageable, frizzy, dry or dull with hydrating sugars derived from the agave plant.  Agave oil with plant-extract ,conditions hair without the weight, building strength and resiliency, while helping boost vibrancy and color. Amino sugars lock moisture inside of the hair, adding strength, resiliency and elasticity. This oil also has beneficial botanicals like coconut, vanilla, sunflower, and safflower blended with Madagascar baobab seed oil to nourish and transform hair's outer layer. Ideal for all types of hair: fine, medium and course textures.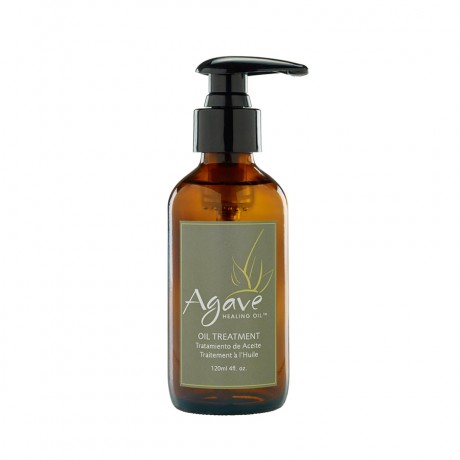 What is Agave nectar? Agave nectar is often called agave syrup which is often produced from the Blue Agaves that thrive in the volcanic soils of Southern Mexico. Agaves are a spiky, large plant very similar to a cactus and in the same family of Aloe Vera. You can use agave nectar in the same way you use honey for your homemade hair and facial treatments, just keep in mind that agave nectar is really sticky so you may only use a little. Agave Syrup or nectar soothes and humectant the hair while provides moisture and shine.
Let's chat.. Had you used Agave Nectar in your DIY hair treatment before? Do you like the results? 
Español
En un evento reciente me encontré con un producto llamado  Agave Healing oil, y como ctalvez  estés en este momento, yo ni sabia que existía y me quede muy sorprendida. Este producto en particular promete restaurar y rejuvenecer el cabello difícil de manejar, muy rizado, seco u opaco, con azúcares hidratantes derivados de la planta de agave. El aceite de Agave con extracto de la planta de agave acondiciona el cabello sin añadir peso, mientras que ayuda a mantener un color mas brillante. Aminoazúcares atrapan la humedad en el interior del cabello, agregando fuerza, resistencia y elasticidad. Tambien contiene extratos botánicos de coco, vainilla, girasol, cártamo, aceite de semilla de baobab de Madagascar para alimentar y transformar la capa externa del cabello. Ideal para todo tipo de cabello.
¿Cuál es el néctar de agave? El néctar de agave es a menudo llamado jarabe de agave que mayormente se produce a partir de los agaves azules que crecen en los suelos volcánicos del sur de México. Agaves son una gran planta de puntas largas muy similar a un cactus y en la misma familia del Aloe Vera. Puedes usar el néctar de agave en la misma forma en que usas la miel para tratamientos caseros para el cabello y tratamientos faciales, sólo ten en cuenta que el néctar de agave es muy pegajoso por lo que sólo puede usar un poco. El nectar de agave suaviza e hidrata el cabello al mismo tiempo que lo humecta y le da brillo.
Hablemos un poco… Has usado el Nectar de Agave en tus tratamientos caseros? Te ha gustado?