I get a lot of questions about Gel, most curly girls like the way gel leaves their hair but they don't like the crunchy feeling and the guilty pleasure that gel may damage their hair. I don't use it all over my hair because I don't like how my hair looks; I like soft, manageable, loosen curls, but in this post I will discuss all about gel and the best options for you if you like to use them.
The main ingredient in gels is a plastic called PVP; a polymer sealer that strengthens the hair cuticle to shape the hair. This PVP is dissolved in water or alcohol and form a clear film between each hair strand , attaching it to one another. 
When gel is applied to wet hair, the PVP or similar ingredient absorbs water quickly. When the gel dries completely, it forms a fixed connection between hair strands.
Since the main ingredient in hair gel is water-soluble, if you want to refresh your style, reactivate the gel by spraying a little water into your hair and reshaping.
To remove the gel, shampoo or rinse with water to break the PVP's water-soluble connections.
Since gel is water soluble, if it is rainy or especially humid, the gel might get sticky again or deactivate altogether.
The alcohols in some gels can dry out hair. Since curly hair is already dry, gels with alcohol are bad choices for us.
Gel builds on hair follicles over time, especially with everyday use. If you plan to use gel as your primary hairstyling product, you'll want to use a clarifying shampoo at least once a week.
There are low-quality and high-quality gels. For this reason if you are a gel lover, please choose a High quality one and with no alcohols.
Here are some recommendations: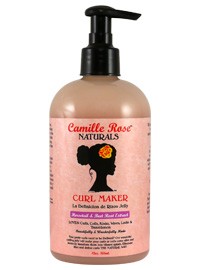 Camille Rose Curl Maker (review soon)
Size: 12 oz.
Price: $22.00
Ingredients: Ingredients: Dionized water, glycerin, pectin, coco nucifera(coconut )oil, panthenol, hydrolyzed wheat protein, equisetum arvense (horsetail) extract, urtica dioica (nettle) leaf extract, althaea officinalis (marshmallow) root extract, aloe barbadensis leaf juice , agava americana leaf extract, punica granatum (pomegranate) seed oil, oryza sativa (rice) bran oil, PEG-40, hydrogenated castor oil, xanthan gum, tocopheryl acetate (vitamin E),  cyanocobalamin (vitamin B-12), acrylates/C10-30, alkyl acrylate crosspolymer, aminomethyl propanol, pheoxyethanol, caprylyl glycol, tetrasodium EDTA.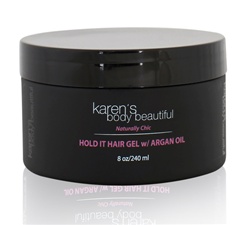 Karen's Body Beautiful "Hold it hair gel" (Review soon)
Size: 8oz
Price:$16.00
Ingredients: Water (Aqua), Argania spinosa (Argan) Oil, Sodium Carboxymethylcellulose (Cellulose Thickener), Panthenol, Aloe barbadensis (Aloe Vera) Oil, Sclerocarya birrea (Marula) Oil, Hydrolyzed Silk Protein, Fragrance (Parfum), Citric Acid, and Silver Citrate
Glycerin Free, Paraben Free, Silicone Free, Sulfate Free
Curl Gel-les'c – Curl Serum/Gel, please click here for my review and details
Another great natural choice is to make your own flaxseed gel (a lot of videos about it on youtube)
or Aloe Vera (click here to read my recipe ).
The key is to read the ingredients and find one that fits you budget and hair needs..
What is your favorite gel?
Please comment and follow the blog ☺

Español

Me llegan un montón de preguntas acerca de Geles para el cabello, a muchas chicas les gusta como les queda el cabello, pero no les gusta la sensación crujiente que dejan algunas geles, más el temor de que estas les pueda dañar el cabello. Honestamente a mi no me gusta como los gel me dejan el cabello , por tal razón solo lo uso en las orillas, pero en esta entrada te explicare un poco acerca de ellas y las mejores opciones para ti, si te gustan.
Los ingredientes principales de geles es un plástico llamado PVP, un sellador de polímero que refuerza  la cutícula del cabello para darle forma. Este PVP se disuelve en agua o alcohol y forma una película transparente entre cada hebra de cabello, y lo conecta uno con otra.
Cuando se aplica gel sobre el cabello mojado, el PVP o un ingrediente similar absorbe el agua rápidamente. Cuando el gel se seca por completo, se forma una conexión fija entre las fibras capilares.
Dado que el principal ingrediente del gel para el cabello es soluble en agua, si quieres refrescar tu estilo, vuelva a activar el gel pulverizando un poco de agua en el pelo sin necesidad de aplicar mas gel.
Para quitar el gel, date un champú o un enjuague con  agua para romper las conexiones del PVP
El mal sitio.
El lado Malo.
Dado que los gels  son solubles en agua, si esta lluvioso o húmedo, el gel puede volverse pegajoso o desactivarse de nuevo por completo.
Los alcoholes en algunos geles pueden secar el cabello. Puesto que el pelo rizado tiende a ser mas  seco, los geles con alcohol son una mala opción para nosotras.
Los Geles se acumulan  sobre los folículos pilosos con el tiempo, especialmente con el uso diario. Si vas a utilizar gel como producto primario, opta por un champú clarificante al menos una vez a la semana.
Hay geles de baja calidad y de alta calidad. Por esta razón, si eres amante del gel, por favor, elige uno de alta calidad y un sin alcoholes.
He aquí algunas recomendaciones:
Camille Rose creador de Doblez (reseña muy pronto)
Tamaño: 12 oz.
Precio: $ 22.00
Ingredientes: Ingredientes: agua desionizada, glicerina, pectina, coco nucifera (coco), aceite, pantenol, proteína de trigo hidrolizada, Equisetum arvense (cola de caballo), extracto de Urtica dioica (ortiga), extracto de la hoja, Althaea officinalis (malvavisco) de extracto de raíz, hoja de aloe barbadensis aceite de jugo, extracto de hoja de agave americana, Punica granatum (granada) de semillas, Oryza sativa (arroz) aceite de salvado, PEG-40, aceite de ricino hidrogenado, goma xantana, acetato de tocoferol (vitamina E), cianocobalamina (vitamina B-12), acrilatos / C10-30, polímero cruzado de acrilato de alquilo, aminometil propanol, pheoxyethanol, caprilil glicol, EDTA tetrasódico.
Karen's Body Beautiful "Hold it hair gel" (reseña muy pronto)
Tamaño: 8 oz
Precio: $ 16.00
Ingredientes: Agua (Aqua), Argania spinosa (Argan) Oil, carboximetilcelulosa de sodio (Celulosa espesante), pantenol, aloe barbadensis (Aloe Vera) Aceite, Aceite Sclerocarya birrea (Marula), proteína de seda hidrolizada, fragancia (parfum), ácido cítrico, y citrato de plata sin Glicerina, sin parabenos, sin silicona, sin sulfatos,
Curl Gel-les'c – Curl Serum/Gel, has click here para la reseña y mas detalles.
Otra gran opción natural, es hacer tu propio gel de linaza (hay una gran cantidad de videos en youtube )
o de Aloe Vera "sabila"  (video de como lo hago aqui).
La clave es leer los ingredientes y encontrar uno que se adapte a tu  presupuesto y necesidades particulares del cabello ..
¿Cuál es tu favorito gel? 
Por favor comenta y sigue este blog ☺